"IT'S BEGINNING TO LOOK A LOT LIKE CHRISTMAS" BY MARC MARTEL IS MOST ADDED SONG AT RADIO FOR SECOND WEEK IN A ROW;
Appearing At Andrew Peterson's Annual Christmas Event "Behold The Lamb Of God" At Nashville's Ryman Auditorium Dec. 11;
K-LOVE Christmas Tour Now In Full Swing, Headlining KSBJ's First Christmas Brown Bag Dec. 19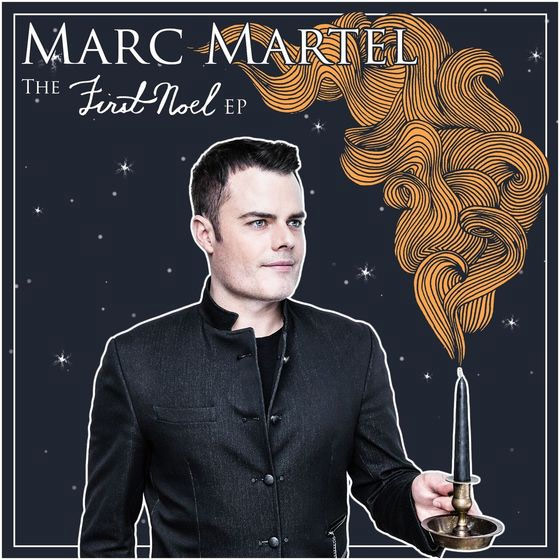 NEWS SOURCE: Merge PR
December 6, 2017
6 December 2017 - Nashville, TN - For the second week in a row, "It's Beginning To Look A Lot Like Christmas" from Marc Martel's recent holiday release The First Noel EP is the most added song at Christian radio. The song has been played on more than 100 radio stations across the U.S., including Sirius XM and K-LOVE Radio. This is unprecendented for Martel, an intentionally independent singer, songwriter and musician.
Additionally, since
The First Noel EP
released on November 24 stellar reviews have been coming in about the project. Outlets such as
CCM Magazine
gave it a 5/5 star review, and they also featured Martel in their Christmas edition of Features On Film with Andrew Greer. Be sure to view the interview
here
. Below is a highlight of a few reviews:
"...One of Christian music's most true and rarest talents, Martel doesn't hold anything back on this short set of Christmas favorites...How is so much substance, style, and range packed into such a brief, six-song project? One name: Marc Martel." - CCM Magazine
For the second year in a row, Martel and his heavenly pipes are coming together to release some more holiday spirit...
If you liked last year's The Silent Night EP
, you will greatly enjoy
The First Noel EP. Get into the Christmas spirit! -
JesusFreakHideout.com
"Both straightforward and surprising at times, Martel's new Christmas EP The First Noel balances fun and reverence for what is sure to be a crowd pleaser. Here's hoping it's not the last holiday collection to feature Martel, as his voice seems to make the season a little bit brighter. - NewReleaseToday.com
Martel is currently sharing "It's Beginning To Look A Lot Like Christmas" live, along with a few other favorite Christmas songs, on the
6th Annual K-LOVE Christmas Tour.
Now in full swing, the 19-city tour will wrap at New York City's historic Beacon Theatre on Sunday, December 17th. Martel appears alongside fellow artists Steven Curtis Chapman, Plumb, and We Are Messengers on the tour. For the most updated schedule and to purchase tickets, please visit
KLOVEChristmasTour.com
.
On December 11th, Martel is set to perform at Andrew Peterson's "Behold The Lamb Of God" tour. The annual concert, which is already sold out, will be held at Nashville's historic Ryman Auditorium. On December 19th Martel will headline KSBJ's first-ever Christmas Brown Bag concert in Houston. For more information about this event, please click
here
.
The First Noel EP
, the second in Martel's special solo series of Christmas music, officially released Friday, Nov. 24 and is available at
MarcMartelMusic.com
,
Amazon
,
iTunes
, and at all of his shows during the holiday season.
ABOUT MARC MARTEL: Martel spent years recording and touring as co-lead vocalist and songwriter for Downhere, an award-winning Canadian rock band with a sound, style and fanbase all its own. In 2011, Martel was hand-selected by members of the legendary rock band Queen, Brian May and Roger Taylor, to front their official tribute The Queen Extravaganza, which he continues to front to this day.
Martel's videos have been viewed more than 33 million times on YouTube and Facebook, and he's performed on "The Ellen DeGeneres Show," "American Idol," PeopleNow for People Magazine online, with the Philharmonic Orchestra of Mexico City, at the Kentucky Derby, and for numerous pro sports teams. Just last year he performed for Céline Dion, by her request, on Radio-Canada TV's "En direct de I'Universe."

In September of 2014, Martel released his first full-length solo album, Impersonator, a fuller view of who he is as a man, a songwriter, and a musician. "The album's title is blatantly tongue-in-cheek because it encompasses more of who I am personally and musically than anything I've ever released, and that is a great feeling," Martel shares. "I always want to keep coming back to writing and performing my own music. Nothing else is quite as fulfilling." Earlier this year he recorded at London's legendary Abbey Road Studios for an upcoming project, slated to release in 2018.
For more information, please visit MarcMartelMusic.com