Award-winning Writer of 'Rocket Man,'
Ritchie Valentine Smith
Releases WORDS OF FURY Volume 2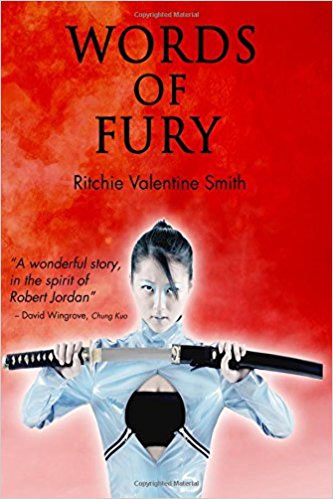 NEWS SOURCE: Mullen PR
December 7, 2017
WORDS OF FURY, volume 2 in the Words of Power samurai fantasy series, is now released in the U.S. by the UK-based indie publisher, RVSMedia (Amazon ISBN-13: 978-1544214832; paperback $17.99; also available as Kindle eBook).
Christians are being persecuted, but now the fight back to freedom has begun...
Imagine a great multi-cultural city called Jade, which trade has made rich. Now the walls are going up around Foreigners' Town and the persecution of Christians starts. However, a handful of heroes manage to escape by balloon. As they fight back, they must find sanctuary in a psychic fortress called "The Waning of the Moon" or their world will end…and so will ours.
WORDS OF FURY has real heart and real magic as well as real miracles. In it Emmanuel Kinross, 'Man' to his friends, has been exiled from Albion to samurai Japan, where steam-powered Europe is arriving. His opponent is the Lord of the North, but this entity isn't human, and doesn't just do dark magic: he represents cold, entropy, and the power of death. And for now, he is winning...
ABOUT THE AUTHOR:
Ritchie Valentine Smith is a poet, writer of international thrillers, and an award-winning playwright for 'Rocket Man' who has become a powerful voice in contemporary fantasy. The author has travelled extensively to write the Words of Power fantasy series, and was in Israel when Saddam Hussein invaded Kuwait. He has also visited Japan, where the story starts. Smith was at the British Fantasy Society's Fantasycon Sept. 29th-Oct. 1st, in Peterborough, where he launched WORDS OF FURY. He has been involved in SFF since he was a teenager, and was in anthologies with Brian Aldiss, Christopher Priest, Rob Holdstock, Ramsey Campbell, and Keith Roberts. A current member of the Crime Writers' Association, Smith's theatre work includes 'Rocket Man' and 'Kiss'. He is currently working on a sequence of fantasies, which will be on sale at Fantasycon. For more info, please visit the author's website at www.ritchievalentinesmith.com.
**Praise for the author's work:
David Wingrove (Chung Kuo) - "A wonderful story, in the spirit of Robert Jordan."
Thebookbag.co.uk (4 stars) - "...a story that comes to us dripping with fantasy-satisfying magic (and with) a thundering good denouement."
AMAZON READERS – "Magic, mystery and danger...hard to put down." "A very smooth read. The exotic samurai background is accessible and (the writer) really believes in what he's writing." "Extraordinarily well-written fantasy...twists and plot-turns all along the way."
METRO – "There is a latent power in the story that can't be ignored."
THREE WEEKS – "Decidedly explosive…you're left guessing until the very end. This goes with a bang."
***Coming in 2018: WORDS OF DARKNESS, volume 3 in the Words of Power series, is scheduled for 2018. Stay tuned for more info!