FIREFLIGHT RELEASES "DIE FREE" SINGLE AUG. 3
Song Features Kevin Young (Disciple),
Follows Fireflight's 10th No. 1 Radio Hit, "I Won't Look Back"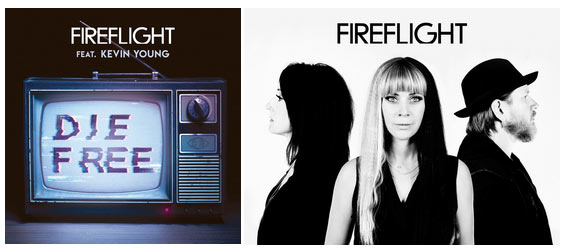 NEWS SOURCE: Hoganson Media
July 18, 2018
Grammy and Dove Award-nominated Fireflight releases its next hard-driving, barn-burner "Die Free" Aug. 3 to radio and digital retail outlets internationally. The single features Fireflight cofounders Dawn Michele (vocals), Wendy Drennen (bass, backing vocals) and Glenn Drennen (guitar) along with Disciple's lead vocalist Kevin Young.
Continuing the return to its rock roots, Fireflight's "Die Free (Feat. Kevin Young)" was produced by Fireflight and Josiah Prince (Disciple) and follows Fireflight's 10th No. 1 radio hit "I Won't Look Back," which continues to remain Top 5 on Billboard's Christian Rock national airplay chart.
"Obsessed with entertainment and possessions, we've become slaves to our most basic impulses," says Michele, revealing the impetus for the new single. "All of our attention is so completely captured by the fool's gold surrounding us, that we have become dulled to the voice of God and His great calling for our lives. It's time to wake up and realize that this world has nothing for us, only the power and love of God can ever fulfill the desires of our hearts and minds."
I won't let you hypnotize me
Take back your American day dream
I won't let you hypnotize me
I don't need anything that you're selling
You can't buy me, you can take my life, but I'll die free
(From the chorus of "Die Free")
"Die Free" and "I Won't Look Back" release during a season that finds Fireflight taking a step back from constant touring to be at home more as they raise their families. While not touring as much, the band members will continue to record and release new music they feel passionate about sharing with their fans. Watch for additional music in the months to come.
Playing their first concert in over a year on Aug. 11 with Disciple and The Protest in Columbus (Logan, OH), all the latest Fireflight news can be found at www.Fireflightrock.com, Twitter, Instagram, VEVO, YouTube, Bandsintown and Facebook, where the band has more than 442,000 likes.
About Fireflight:
With a Grammy nomination, 28 million views on VEVO, 10 No. 1 songs, seven Dove nominations and over 400,000 albums sold, Fireflight has built a fiercely devoted following across five studio albums, including: The Healing Of Harms (2006), Unbreakable (2008), For Those Who Wait (which cracked Billboard's Top 100 when it released in 2010), Now (the No. 1 Christian Rock Album released in 2012) and INNOVA (which sparked two No. 1 hit singles following its release in 2015). The band has also garnered numerous instrument endorsements and its music was featured in NBC's "Bionic Woman" promos and Taco Bell's "Feed The Beat" campaign that catapulted the band onto a performance at the Winter X Games. The band has further been featured on such record-breaking tours as Winter Jam and has performed at all the major Christian festivals.
###
For more info on Fireflight, visit the JFH Artists Database.