BIG DADDY WEAVE'S AWARD-WINNING NO. 1 SINGLE "REDEEMED" RECEIVES PLATINUM CERTIFICATION STATUS
World Vision Recognizes Band For 13-Year Partnership And Helping The Lives Of Tens Of Thousands Of Children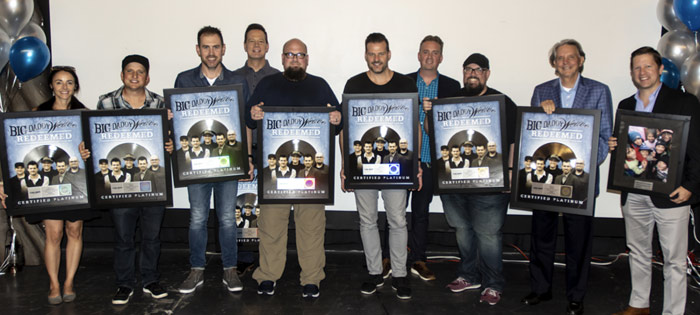 NEWS SOURCE: Merge PR
August 28, 2018
28 August 2018 - Nashville, TN - Curb | Word Entertainment is proud to announce that the No. 1 hit and multi award-winning song "Redeemed" from Big Daddy Weave has officially reached RIAA Platinum® certification. Earlier this week at an event in Nashville, the band members were presented plaques while being joined by their label, family and friends.
At the same event, World Vision celebrated their 13-year relationship with Big Daddy Weave for their impact off the stage. Through their partnership with the Christian humanitarian organization, the band has helped more than 31,000 children in poverty receive life-changing support through sponsorship.
"It is such an honor to celebrate the many achievements of Big Daddy Weave," shares Mike Curb, Chairman, Curb | Word Entertainment and Ryan Dokke, Sr. VP/General Manager, Curb | Word Entertainment. "The band has been together for an astounding 20 years, and has been part of our label family for nearly as long. We are thrilled to be able to share the news that their No. 1 single 'Redeemed' has reached platinum status. We also join with World Vision in celebrating the band helping more than 31,000 children get sponsored through their Artist Sponsorship Program. On behalf of all of us at Curb | Word Entertainment, we could not be more proud of the members of Big Daddy Weave. We know this is just the beginning of many more great things to come from the band!"
In their 20 years as a band, ministry has been at the heart of every Big Daddy Weave recording and concert, even as the group has grown to be one of Christian music's biggest headlining acts. The band has worked with World Vision for more than a decade, traveling all over the world to see poverty first hand and World Vision's transformational work in Ecuador, Tanzania, Cambodia, and Armenia. In their travels they've witnessed a wide variety of work and experiences, from the horror of human trafficking to the triumph of a family being able to support themselves for the first time.
"Big Daddy Weave's commitment to be the hands and feet of Christ through the work of World Vision has impacted more than 155,000 children in the most vulnerable places around the world," said Sarah Beth Hallada, Executive Director World Vision Artists. "We are honored to partner with Big Daddy Weave, and we value their dedication to share Christ's love to concert-goers and to children and families around the globe. Their example of service inspires us!"
Big plans are underway for the band for the rest of the year and into 2019. With a new album slated for release next year, their Jesus I Believe 2018 fall tour kicks off September 9. Be sure to visit the band's
tour page
for the latest information.
ABOUT BIG DADDY WEAVE
: Big Daddy Weave is one of Christian music's most beloved artists. A mainstay at radio, the band has achieved consecutive No. 1 singles, including "Love Come To Life," "Redeemed," "The Only Name (Yours Will Be)," "Overwhelmed" and "My Story." RIAA Platinum-certified "Redeemed" became an anthem of unprecedented impact when it spent 11 weeks at No. 1, was dubbed "Song of the Year" at the first annual K-LOVE Fan Awards, and earned Dove Award and Billboard Music Award nominations. Their follow-up hit "The Lion and The Lamb" has become one of the genre's most streamed songs. Now in their 20th year as a band, Big Daddy Weave members Mike Weaver (lead vocals, guitar), Jay Weaver (bass, vocals), Jeremy Redmon (guitar, vocals), Joe Shirk (saxophone, keys, vocals) and Brian Beihl (drums) have released eight full-length projects, amassed more than one million units in album sales and have received numerous honors, including a Dove Award, ASCAP and BMI Awards, and the prestigious Rich Mullins Artist Impact Award, among others. Visit
bigdaddyweave.com
ABOUT WORLD VISION: World Vision is a Christian humanitarian organization dedicated to working with children, families, and their communities worldwide to reach their full potential by tackling the causes of poverty and injustice. World Vision serves all people, regardless of religion, race, ethnicity, or gender.?For more information, please visit worldvision.org or on Twitter @WorldVisionUSA.
###
For more info on Big Daddy Weave, visit the JFH Artists Database.