ELLIE HOLCOMB IS A TWO-TIME TOP SELLER AT AMAZON;
Her Children's Project, SING: CREATION SONGS, Debuts Today At No. 1 On Amazon's Children's Music Album Chart;

Holcomb's Book Who Sang The First Song? Tops Children's Christian Fiction List Prior To Its Release On Oct. 4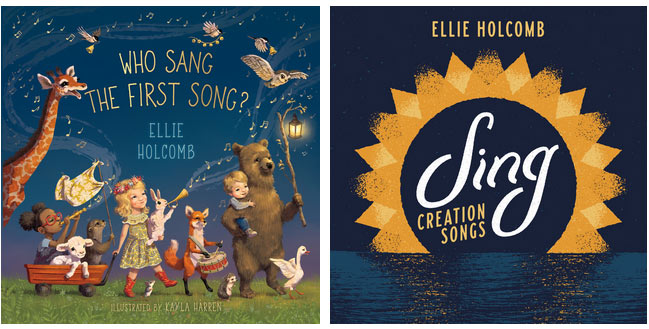 NEWS SOURCE: Merge PR
September 21, 2018
21 September 2018 - Nashville, TN - Renowned singer/songwriter Ellie Holcomb debuts her first collection of children's music today. The EP, Sing: Creation Songs (Full Heart Music), is available now on all digital formats and is already the top-selling children's album at Amazon!
The seven songs found on Sing: Creation Songs were inspired by her debut children's book, Who Sang The First Song? (B&H Publishing), which will hit shelves on October 4 and is also a top-seller at Amazon prior to its release.
With Sing: Creation Songs, Ellie Holcomb created a beautiful, Scripture rooted, children's musical project that fits perfectly with her current musical catalog. With this new collection, she wanted to write songs that were directly inspired by both God's word and His beautiful Creation, so each song is tied to specific Scripture and full of rich imagery from the world around us. She wants children to be able to sing these songs and see evidence all around them of what they are singing.
"I wrote most of the songs for this record during the spring, and I'm pretty sure I ended up moving outside each time I wrote," she shares. "I was completely inspired by Creations' song, whether it was the birds, or the stars, or the trees reaching high towards the heavens, or flowers blooming so colorfully that they looked ready for a party."
A new lyric video just debuted today for the song "Wide, High, Long, Deep," posted below.
Who Sang The First Song? releases Oct. 4, 2018. This engaging board book with whimsical art, where Holcomb asks a childlike question and answers with a lovely lyrical tale that shows young readers that God our Maker sang the first song and created us all with a song to sing. Holcomb's book idea was birthed out of a question her daughter Emmylou (5) asked one day in passing, "Mom, who sang the first song?"
Although its release is still just three weeks away, the book has already made the top selling list on Amazon's Children's Christian Fiction Books chart.
ABOUT ELLIE HOLCOMB: Singer/Songwriter Ellie Holcomb, a Nashville native, began her musical career by touring the country with her husband in Drew Holcomb and The Neighbors. After eight years, and with the birth of their daughter, Ellie opted to step out of the role of heavy touring. From that space came her debut solo album, As Sure As the Sun, which charted at #1 on the iTunes Christian chart and helped deem Holcomb the "Best New Artist" at the 2014 Dove Awards. Since then, Holcomb has been walking an unexpected path, one of suffering and loss but also peace and joy. She has come to the edge of the rushing river of confusion and experienced a God who made a way where there seemed to be no way. And it is from that place—of finding God in the dark and unexpected—that Holcomb wrote and recorded Red Sea Road, released in January 2017.
Visit EllieHolcomb.com for more information.
###
For more info on Ellie Holcomb, visit the JFH Indie Artists Database.