POWERHOUSE VOCALISTS NATALIE GRANT AND DANNY GOKEY DEBUT THEIR NEW DUET "THE PRAYER" LIVE ON TBN CHRISTMAS SPECIAL
Grant's and Gokey's annual Celebrate Christmas Tour held toy drive to benefit children affected by Hurricane Michael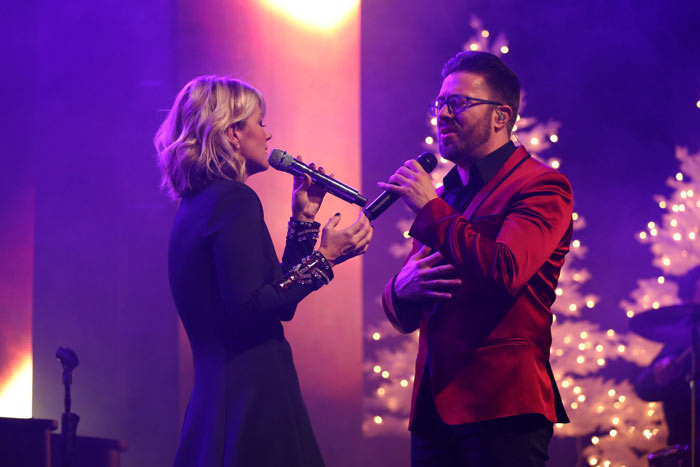 NEWS SOURCE: Wortman Works
December 14, 2018
NASHVILLE, Tenn. (Dec. 14, 2018) -- GRAMMY® nominated power-vocalists Natalie Grant and Danny Gokey released their version of the contemporary classic, "The Prayer," to radio and digital platforms nationally as they launched their 3rd annual Celebrate Christmas tour in November. The song has been a highlight moment each night in their show since they began their branded tour in 2016. Audience responses coupled with 2018 being the 20th anniversary of the original release became the impetus for the vocalists to record and release this new version. Now they're debuting their first televised performance of the song and the tour on TBN, December 21st at 8/7 CST. Click the link tree to listen HERE.

"This will be the third year of Natalie and I doing our Celebrate Christmas Tour," said Gokey, "and the challenge with touring at Christmas is you can only get in a few markets during the holiday time frame. We're thrilled that TBN has partnered with us this year to air a portion of the show as a Christmas special on the network. We've been singing 'The Prayer' as part of our tour set each year and now we'll get to share it with a national audience!" Check your local TBN listings for airdate.

Watch the video by Natalie Grant as she shares her personal message of how "The Prayer" is the perfect message for the Christmas season:
On the heels of a series of SOLD OUT shows on the tour, the duo also made a special stop in Bay County yesterday to deliver gifts from concert goers attending shows November 29 - December 8. Grant & Gokey heard about the devastation in Bay County and the surrounding areas and wanted to find some way to help. The artists enlisted their fans to bring toys to their first eight Christmas shows so they could deliver them prior to their Dothan, Alabama show on December 12th.

"The response has been amazing," said Grant. "People have just blown me away with their spirit of giving. We're excited to be able to help in some small way to bring a little Christmas cheer into a difficult time for the families impacted by the hurricane's aftermath."

"We realize that the need is so much greater than toys, but to a parent who is worried about so many other things following an event like this, we're happy we can help lighten the load, even in a small way," continued Gokey. "We also wanted to help raise awareness of what was really happening in the area, so that people could get involved on some level.
Natalie Grant and Danny Gokey Celebrate Christmas tour dates:
Nov. 29 Dayton, OH SOLD OUT
Nov. 30 Clarkston, MI
Dec. 1 Oshkosh, WI
Dec. 2 Rochester, MN SOLD OUT
Dec. 6 Williamsport, MD
Dec. 7 Youngstown, OH SOLD OUT
Dec. 8 Ashland, KY SOLD OUT
Dec. 9 Kenosha, WI SOLD OUT
Dec. 12 Dothan, AL
Dec. 13 Aiken, SC
Dec. 14 Newnan, GA
Dec. 15 Savannah, GA

About "The Prayer":
It was twenty years ago this fall that the legendary voices of Celine Dion and Andrea Bocelli took the David Foster, Carole Bayer Sager, Alberto Testa and Tony Renis penned song to the top of the charts. The song also won a Golden Globe for "Best Original Song," Academy Award for "Best Original Song" and a GRAMMY® for "Best Pop Collaboration with Vocal."

Uniquely, both Curb Records (Grant's long-time record label) and Capitol Christian Music Group (for whom Gokey now records) are jointly promoting the release to both radio and digital retailers. The single was produced by GRAMMY® winning Bernie Herms who worked with the song's composer and producer, David Foster, when it was released two decades ago.

About Natalie Grant:
Seven-time GRAMMY® nominated Natalie Grant is known for her powerful and soaring vocals, heart-gripping lyrics and passionate performances, and has remained one of the top-selling Christian & Gospel artists since her 2005 breakout RIAA Gold certified album, "Awaken." With nearly 4 million in career sales, The Gospel Music Association has named her Female Vocalist of the Year 5 times and she has had multiple number 1's on the Billboard singles and albums charts, including her most recent record titled, "Be One."

More than just music and awards, Grant has used her platform as an outspoken advocate for victims of human trafficking since 2005. She co­founded Hope for Justice International, which identifies and rescues victims of trafficking and then provides them with complete restorative care. The organization now has 20 locations spanning 10 countries and 4 continents.

In addition to her philanthropic efforts and impactful music career, Natalie is the author of several books, including a books series for tween girls titled, "Glimmer Girls." Her fashion and jewelry line, NG by Natalie Grant, has also seen great success.


About Danny Gokey:
Capitol Christian Music Group recording artist Danny Gokey became a favorite of millions of fans as a Top 3 finalist on Season 8 of American Idol. His first album, My Best Days debuted at #4 on the Billboard Top 200 album chart. Danny has since celebrated a series of #1 album debuts, including his first award-winning holiday album, Christmas Is Here, as well as singles including "Hope In Front of Me" and "Tell Your Heart to Beat Again" (which was just recently certified Gold by the RIAA). Gokey's latest album, Rise, reached #1 on the Billboard Top Christian Album chart and garnered Gokey his first GRAMMY® nomination. Its title track, marked his third, multi-week, multi-chart #1 single.

Outside of his musical career, Danny pursues his philanthropic efforts through his foundation, Sophia's Heart. Founded in 2008 in memory of his late wife, the foundation's mission is to motivate at-risk youth and families towards perpetual success through music and arts, transitional housing, leadership training, and family strengthening using a Christian-centered approach.
###
For more info on Natalie Grant, visit the JFH Artists Database.
For more info on Danny Gokey, visit the JFH Artists Database.