MOSAIC MSC EMBARKS ON CROSS-COUNTRY
'SEE THE LIGHT' TOUR WITH TRAVIS GREENE
23-City Circuit Kicks Off in Chattanooga, TN on February 14th
Los Angeles Music Collective Continues to Impact Culture and Build on Global Momentum with Debut Full-Length Studio Recording "HEAVEN" Out Now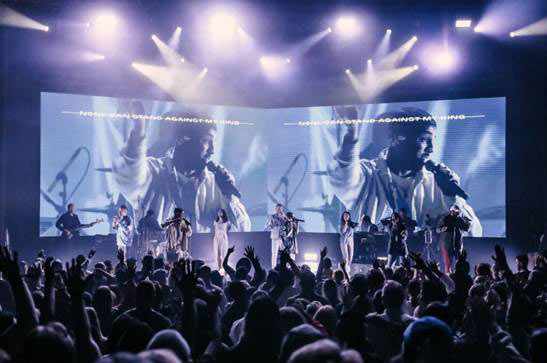 NEWS SOURCE: Rogers & Cowan PR
December 18, 2018
LOS ANGELES, CA (December 12, 2018) — MOSAIC MSC, a collective of some of Los Angeles' most talented and culturally diverse singers and musicians, will join multiple GRAMMY® nominated artist Travis Greene on the 23-city domestic 'See The Light' tour. Prior to the full U.S. circuit that kicks off on Feb. 14, the group will also appear at the national Passion Conferences for special arena performances in Dallas, TX and Atlanta, GA on January 2-3, 2019.
The announcement comes on the heels of the release of MSC's debut full-length studio album "HEAVEN," which follows the group's biggest hit single to date, "Tremble," from their 2016 live album "GLORY & WONDER." The breakout track spent 33 weeks total on the Hot Christian Songs chart and peaked at No. 19. Videos from verified YouTube channels for the breakout song have garnered an astounding 8 million+ cumulative views.
With over 95 million streams and over 1 million monthly listeners in over 65 countries, MSC continues to impact millions through their unique way of painting the musical soundscape of the current culture with their signature atmospheric, pop/rock energy and live performances across the globe. The group shared the stage with Elevation Worship, Bethel Music and Vertical Worship on the 2018 Outcry Tour, and was featured on the 2017 Worship Night in America Tour together with Chris Tomlin.
"We are so excited to start 2019 with Travis Greene on the 'See The Light Tour,'" says vocalist Mariah McManus Goss. "We have so much respect for him and the message he shares through his music – getting to lead worship in clubs and venues across our favorite cities is going to be incredible; we can't wait to introduce people to the music of 'Heaven' and hear the stories of lives that were forever changed from experiencing what we're working to build and create for every person who worships with us."
Tickets and VIP packages for select dates are on sale now with the tour's first show kicking off in Chattanooga, Tenn. on February 14, 2019. MSC will make stops in Memphis, TN; St. Louis, MO; Chicago, IL; Richmond, VA; Charlotte, NC; New York, NY; Baltimore, MD; Charleston, SC; Atlanta, GA; Orlando, FL; New Orleans, LA; Houston, TX; and more. For information on tickets and additional cities, visit www.MosaicMSC.com.
'See The Light' tour featuring MOSAIC MSC, along with Travis Greene
(dates & cities subject to change):
February 14th Chattanooga, TN The Signal
February 15th Memphis, TN New Daisy Theatre
February 16th St. Louis, MO The Ready Room
February 18th Chicago, IL House of Blues
February 19th Royal Oak, MI Royal Oak Music Theatre
February 21st Cleveland, OH House of Blues
February 23rd Silver Spring, MD The Fillmore Silver Spring
February 24th Richmond, VA The National
February 25th Charlotte, NC Knight Theater
February 27th New York, NY Irving Plaza
February 28th Glenside, PA Keswick Theatre
March 1st Baltimore, MD Baltimore Sound Stage
March 3rd Charleston, SC Music Farm
March 7th Atlanta, GA Masquerade – Heaven Stage
March 8th Orlando, FL The Plaza Live
March 9th Tampa, FL The Ritz Ybor
March 10th Ft. Lauderdale, FL Revolution
March 12th Birmingham, AL Iron City
March 14th New Orleans, LA Joy Theater
March 15th Houston, TX Warehouse Live
March 16th Dallas, TX Bomb Factory
March 21st San Diego, CA House of Blues San Diego
March 22nd Los Angeles, CA The Belasco
For more information on Mosaic MSC:
Website: https://www.mosaicmsc.com/
Facebook: https://www.facebook.com/MosaicMsc/
Instagram: https://www.instagram.com/mosaicmsc/
Twitter: https://twitter.com/MOSAICMSC
YouTube: https://www.youtube.com/channel/UCBXMiGbB2H78hq2Uc9Owxaw
Spotify https://open.spotify.com/artist/4hAridhpYF50cbO6o7jB3b?si=HBv71EvvT3OyhTi6xuANyA
About MOSAIC MSC
MOSAIC MSC is a collective of some of Los Angeles' most talented and culturally diverse singers and musicians born out of MOSAIC in Los Angeles, founded by cultural pioneer and best-selling author Erwin McManus. Comprised of a collective of young people that carries the culture of MOSAIC, MSC represents the versatile sound of the city and growth of the church in worship expression. Their first album "LIVE IN LA" (2015) released independently and debuted at No. 2 on the iTunes Christian & Gospel chart with single "NVR STP" landing in the Top 10 on the same chart and streaming with success on every major digital platform. MSC's "GLORY & WONDER" (2016), spawned multiple chart placements hitting No. 2 on iTunes Christian & Gospel chart with breakout single, "Tremble" landing in the Top 20 at #16 on Billboard's Christian chart. The track, spent 33 weeks on the Hot Christian Songs chart and peaked in the Top 20 at #19. The group's lyric video for "Tremble" has seen an astounding eight million cumulative views on YouTube, while "GLORY & WONDER" reached the Top 20 at #16 on the Billboard Christian Albums chart. MSC's 2018 debut full-length studio recording "HEAVEN," produced by GRAMMY® nominated Chad Copelin, quickly reached the Top 30 on the Billboard Top Christian Albums chart. The album features "Eyes on You," a soulful alt-rock driven song which has close to 900,000 streams on Spotify.
###