A RAGAMUFFIN BENEFIT FOR RICK ELIAS: THE JESUS RECORD LIVE CONCERT EVENT TO HELP DEFRAY MEDICAL EXPENSES FOR CCM LEGEND
February 2, 2019 Concert in Franklin, Tennessee, to Feature Rick Elias, Amy Grant, Michael W. Smith, The Ragamuffin Band and More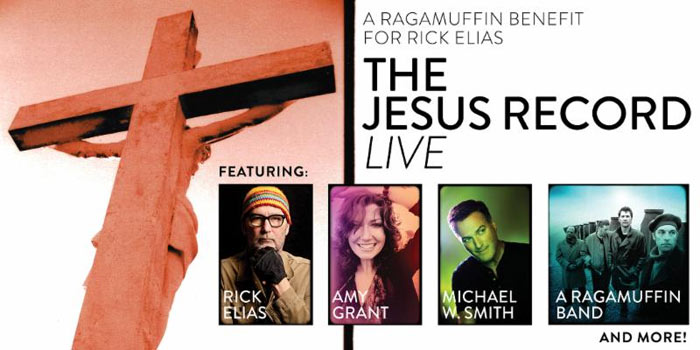 The Jesus Record will be performed live for the first time in 21 years during the upcoming concert event, A Ragamuffin Benefit for Rick Elias: The Jesus Record Live, which is slated for February 2, 2019 in Franklin, Tennessee. (Poster design by Chuck Hargett)

NEWS SOURCE: McCain & Co. PR
January 9, 2019
NASHVILLE, Tenn. (January 9, 2019) - Contemporary Christian music legend Rick Elias, a founding member of A Ragamuffin Band, was recently diagnosed with terminal brain cancer. Friends and colleagues have banded together to produce a benefit concert designed to help defray the enormous expenses associated with the treatment of his insidious disease.
A Ragamuffin Benefit for Rick Elias: The Jesus Record Live concert event, which is slated for February 2, 2019, at Christ Community Church in Franklin, Tennessee, is an opportunity for friends and fans of the award-winning singer/songwriter and producer to gather, raise money for his medical expenses, and hear The Jesus Record performed live in its entirety. The concert will feature performers from the original recording, including Elias, Amy Grant, Michael W. Smith, A Ragamuffin Band (Elias, Mark Robertson, Jimmy Abegg, and Aaron Smith), and more. Even the sound engineer, concert producers, graphic artist, select session players and others who contributed to the original album are donating their time for this significant evening.
The historic Jesus Record was scheduled to be the ninth release by the late Rich Mullins (1955-1997). When Mullins met an untimely death, his foundation, band, and record company determined to move forward with recording the project in Rich's honor with guest artists who were his friends. The project included two discs; Disc One--the nine rough song demos recorded by Mullins, and Disc Two--the studio version of the same songs, produced by Rick Elias. The Jesus Record was released on July 23, 1998. Shortly thereafter, A Ragamuffin Band toured the U.S., featuring music from The Jesus Record on their Homeless Man Tour.
"Earlier this year, I received a diagnosis that turned my world upside down," Elias confesses. "Nevertheless, we remain in God's faithfulness. My family and I are so thankful for the community that has rallied around us during this time. We are really looking forward to performing The Jesus Record live for the first time in 21 years."
"It was a privilege to work with Rick and the Ragamuffins 21 years ago when we recorded The Jesus Record at Myrrh Records," says former Myrrh Records Vice President/General Manager Jim Chaffee, one of the organizers of the event. "And it's an honor to join with everyone again to celebrate this great project and help our friend Rick. How appropriate that music focused on our Savior continues to bring us together and offer healing in our time of need."
"We are all ragamuffins," adds Loren Balman, former President, Word Entertainment Label Group and one of the event's organizers. "Aside from being an extraordinary friend, Rick has taught me much about life, love, and laughter. No matter the storm, Rick continues to point us all towards Jesus."
Tickets to A Ragamuffin Benefit for Rick Elias: The Jesus Record Live concert event may be purchased online at eventbrite.com/e/the-jesus-record-live-a-ragamuffin-benefit-for-rick-elias-tickets-54243200874?aff=erellivmlt.
All proceeds from the event will go toward medical treatment for Elias's brain cancer. Those who are unable to attend the concert can still support this worthy cause by making a generous donation to the Rick Elias Medical Expenses GoFundMe campaign. To donate, visit gofundme.com/rick-elias-medical-expenses.
About Rick Elias:
Legendary singer/songwriter and producer Rick Elias is perhaps best known as a founding member of A Ragamuffin Band, formed by the late Rich Mullins in the early 1990s. Elias performed with Mullins until his untimely death in September 1997.
At the request of Mullins's family, estate, and record label, Elias resumed the production of his posthumous release, The Jesus Record, which went on to win two Dove Awards, and produced two Number 1 hit radio singles, "My Deliverer" (performed by Elias) and "Nothing Is Beyond You" (performed by Amy Grant).
Elias is a respected producer in both the contemporary Christian and mainstream recording industries, working with such artists as Amy Grant, Michael W. Smith, and Aaron Neville, to name just a few.
Elias burst onto the national consciousness when his music was featured in hit motion pictures, including the enormously popular My Big Fat Greek Wedding and Tom Hanks' directorial debut, That Thing You Do!, as well as in television shows, including Dawson's Creek.
In addition, Elias's work has received awards and nominations from the Gospel Music Association, The United Catholic Music and Video Association, and the Nashville Music Awards. His debut solo album, Rick Elias & the Confessions, was voted by CCM Magazine as one of "100 Greatest Albums in Christian Music."
For more information on Rick Elias, visit ccmclassic.com/artists/rick-elias.html.
To make a generous donation to the Rick Elias Medical Expenses GoFundMe campaign, visit gofundme.com/rick-elias-medical-expenses.
###
For more info on these artists, visit the JFH Artists Database.