GETTY MUSIC PRESENTS SING! AN IRISH CHRISTMAS FEATURING KEITH AND KRISTYN GETTY AND FRIENDS TO APPEAR AT THE SCHEMERHORN SYMPHONY CENTER ON MONDAY, DECEMBER 23, 2019 AT 7:30 PM
The Gettys will be joined by special guests Matt Papa and Andrew Peterson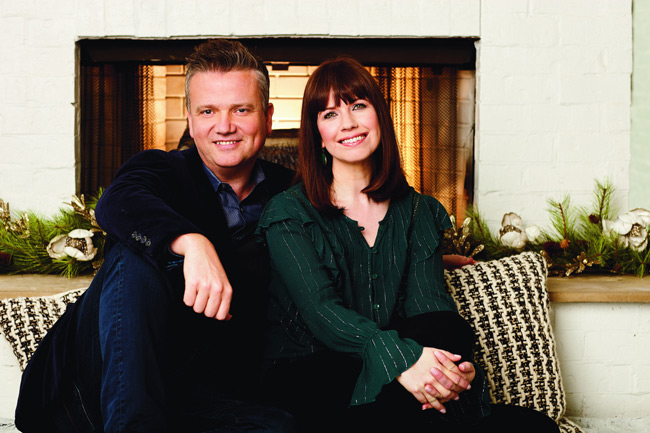 NEWS SOURCE: Wortman Works
December 2, 2019
NASHVILLE, Tenn. (December 6, 2019) – The award-winning and chart-topping Keith and Kristyn Getty and friends embark on their ninth-annual world-class Sing! An Irish Christmas tour, featuring songs from the #1 album. They will appear at the Schermerhorn Symphony Center in Nashville on Monday, December 23, 2019, at 7:30 PM.
WHO: The award-winning and chart-topping Keith and Kristyn Getty and friends.
The Gettys will be joined by Matt Papa and Andrew Peterson
WHAT: Sing! An Irish Christmas tour. Ticket prices range from $35.00-$95.00
For tickets, please visit,
WHEN: Monday, December 23, 2019
7:30 PM
WHERE: 1 Symphony Place
Nashville, TN 37201

Keith Getty states, "We are so thankful and honored to be able to produce this unique and special tour. This tour joyfully celebrates the true story of Christmas that unites tradition and innovation in a vibrant celebration. We look forward to this every year and are thrilled to bring along some of our friends that help make this tour so special. Please join us in some of the country's most prestigious concert halls and sing for the season."

The Gettys, who have helped to reinvent the modern-hymn form, are now invigorating Christmas carol singing in cities across America. Keith Getty was recently awarded the "Officer of the Order of the British Empire" (OBE) by Queen Elizabeth II for his contribution to "music and modern hymn writing." The Getty's Christmas concert tour has grown to be one of the largest annual Christmas concert tours in the nation and has been broadcasted on public television to over 45 million households across the country. They will be joined by their award-winning band of instrumentalists - fusing Celtic, bluegrass, Americana, modern and classical music as well as cultural dance and the choral sounds of the holiday.

"We believe that there is no more imperative time for believers to gather together in song than at the Christmas season," says Keith Getty. "For many, this season represents celebration and joy, yet for others, it can be a painful reminder of those we've lost. In any instance, we are all strengthened when we declare our faith through singing, and the great Christmas carols are some of the best expressions we have of the truths we believe."

Many of the songs featured will be from the recent collection of uniquely inspired interpretations of classic Christmas songs such as "O come O Come Emmanuel" and the 300-year old masterpiece "Joy to the World" as well as a modern hymn offerings like "Joy Has Dawned, " and "Sing We the Song of Emmanuel." You can hear these and others on Spotify and Apple Music.
Also, please tune in to TBN (Trinity Broadcasting Network) on Friday, December 20th for Sing! An Irish Christmas!

Getty Music gratefully acknowledges the support and sponsorship of Christian Healthcare Ministries (CHM), the nation's original health cost-sharing ministry providing compassionate, faith-based healthcare cost solutions for Christians in all 50 states and around the world.

Purchase Tickets:
https://www.gettymusic.com/christmas

Group Ticket Sales:
https://www.gettymusic.com/christmas-groups

ABOUT KEITH & KRISTYN GETTY:
Keith and Kristyn Getty occupy a unique space in the world of music today as preeminent modern hymn writers. In re-inventing the traditional hymn form, they are creating and cultivating a catalog of songs teaching Christian doctrine and crossing the genres of traditional, classical, folk and contemporary composition, which are sung the world over. In 2017, Keith Getty was made an "Officer of the Order of the British Empire" (OBE) by Queen Elizabeth II for his contribution to "music and modern hymn writing," marking the first time the award had been given to an individual involved in the world of contemporary church music. Keith and Kristyn Getty are the authors of "Sing! How Worship Transforms Your Life, Family, and Church," published in 2017 by B&H Publishing Group.

Bringing their world-famous and unique blend of Irish/American bluegrass and modern approach to traditional hymns, Getty Music has given us timeless treasures for the church and the Christian life. From classics like "In Christ Alone" and "The Power of the Cross" to several albums recorded especially for children and the family, all ages are sure to enjoy their inclusive feel to their musical performance and world-class professional tour.
For more information on Getty Music and the Sing! Initiative, visit www.gettymusic.com.
ABOUT CHM:
Christian Healthcare Ministries (CHM) enables its hundreds of thousands of members to participate biblically, affordably and compassionately in paying each other's medical bills. A nonprofit organization, CHM began in 1981 and is America's original Christian health cost sharing ministry. CHM enables its 21st-century Christian members to live the Book of Acts example of first-century Christians sharing to meet each other's needs—spiritually and financially—through some of life's most challenging circumstances. CHM is an eligible option under the Affordable Care Act; it is a Better Business Bureau Accredited Charity; it is the only health cost sharing ministry heard on The Dave Ramsey Show, and its members have shared over $3 billion in each other's medical bills. The CHM website is
www.chministries.org
.
ABOUT MATT PAPA
Matt Papa is as likely to quote
G.K. Chesterton
in casual conversation as he is to describe himself as a "weird dude." He is a delightful combination of gifted musician and songwriter, loving husband, father, and inquisitive theologian. And with all those roles and attributes, he remains ever focused on a singular goal: to help people see the beauty and glory of Jesus.
The past few years for Matt, his wife Lauren and their four children have been shifting sands, to say the least. They uprooted from North Carolina, where their family began, then lived in Georgia for a year before settling in Nashville.
ABOUT ANDREW PETERSON
Recording artist, songwriter, producer, filmmaker, publisher and award-winning author of The Wingfeather Saga, Andrew Peterson's is also founder and president of The Rabbit Room, which has published thirty books to date and fosters community and spiritual formation through music, story, and art. Recently launching the film and TV production company, Shining Isle Productions, to produce an animated film based on his bestselling books, his The Warden and the Wolf King (2014) won Children's Book of the Year in 2015 from WORLD Magazine.

Known for songs like "Dancing In The Minefields," "Be Kind To Yourself," "Is He Worthy," "Don't You Want To Thank Someone," "The Silence Of God," "Nothing To Say," "You'll Find Your Way" and more, Peterson has also been named "one of the foremost singer/songwriters around" and has received multiple "best album of the year" nods from critics along with three Dove Award nominations.
###