SKILLET RECEIVES TWO GMA DOVE AWARD NOMINATIONS FOR ROCK/CONTEMPORARY ALBUM, SONG
LEDGER RECEIVES FIRST-EVER NOMINATION FOR ROCK CONTEMPORARY SONG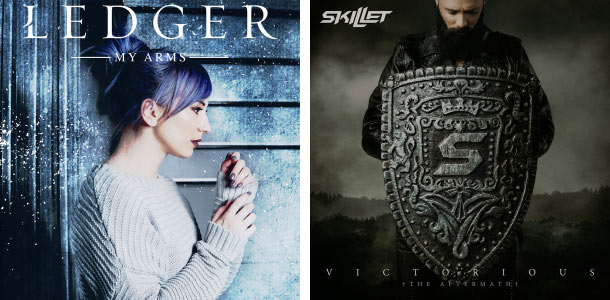 NEWS SOURCE: The Media Collective
August 14, 2020
NASHVILLE, TN....August 14, 2020 - Multi-Platinum rock band SKILLET received two nominations for the upcoming 51st Annual GMA Dove Awards, both for Rock Contempoary Album of the Year, the critically acclaimed Victorious, and Rock Contemporary Song of the Year, "Legendary," which hit top 10 on mainstream Active Rock radio. LEDGER, of course also known as Skillet's drummer and vocalist, received her first nomination with her latest single, which hit Top 10 on Christian Hot AC/CHR, "My Arms," up for Rock Contemporary Song of the Year.
"It was a privilege and a dream to perform with TobyMac at the Dove Awards last year," remarked LEDGER. "To fast forward to this year, and receive a nomination not only for Skillet's song "Legendary," but to also receive my first ever nomination as the solo artist LEDGER for "My Arms" feels truly surreal! Thank you so much!"
Skillet recently announced the upcoming, September 11 release of their Deluxe Edition project, Victorious: The Aftermath. The project will feature all twelve original tracks from Victorious, plus eight additional tracks, including 2 brand new unreleased songs, and 5 reimagined songs. Also coming this fall is their second graphic novel, EDEN II: The Aftermath.
The 51st Annual GMA Dove Awards will air exclusively on TBN (Trinity Broadcasting Network) on Friday, October 30th. Due to COVID-19, in lieu of the association hosting its annual awards show on TBN live, the show will be a variety of unique pre-recorded performances and acceptance speeches. For further information, please visit
www.doveawards.com
.

ABOUT SKILLET:
On Victorious, one of the best-selling rock bands of the 21st century, two-time GRAMMY® Award-nominated, Pandora Billionaires Club recipients, multiplatinum Wisconsin quartet SKILLET—John Cooper [lead vocals/bass], Korey Cooper [guitar/keys], Jen Ledger [drums/vocals], and Seth Morrison [lead guitar]—write the soundtrack to triumph. An undying spirit humbly asserted and affirmed the band as one of this generation's most successful rock acts. However, as all classic underdog stories do, it happened quietly under the radar. By 2019, they not only garnered a pair of GRAMMY® Award nods and sold over 12 million albums worldwide, but they also took home a Billboard Music Award for the double-platinum Awake. Its breakout single "Monster" remains "one of the most-streamed rock songs of all-time" with over 3 Billion global audio streams. 2016's Unleashed bowed at #3 on the Billboard Top 200. Going #1 on Rock Radio, the lead single "Feel Invincible" cracked 150 million global audio streams and went platinum. Meanwhile, the gold-certified Unleashed became their fourth consecutive album to receive either a gold, platinum, or double-platinum status. To date, nine original tunes earned RIAA recognition in tandem with high-profile syncs by everyone from WWE and Marvel to ESPN and NFL. Between selling out arenas on four continents, the group performed on CONAN and graced the pages of USA Today and The New York Times, to name a few. In 2018 alone, the band clocked 1 billion streams. This momentum continues on their 2019 tenth full-length, Victorious. With the bulk produced by Korey and John, it lives up to its name for Skillet as their most triumphant body of work yet. On top of Victorious, Skillet debuted their first graphic novel, EDEN: A Skillet Graphic Novel with Z2 Comics, which has become the publisher's best-selling book of all time.
ABOUT LEDGER:
Jen Ledger's unique vocals and powerful stage presence have given her a distinct role in Skillet since joining as the band's drummer when she was just 18. Ledger has had the privilege of being a part of Skillet as they have cemented their place as one of the 21st century's most successful rock bands, selling more than 12 million units worldwide, receiving two GRAMMY® Award nominations and winning a Billboard Music Award for the multi-platinum-certified Awake.

With an engaged and ever-growing social media presence, LEDGER released her self-titled debut in 2018 with Atlantic Records and Hear It Loud to critical acclaim, followed by two hit singles, "Completely" and the Dove-nominated "My Arms."
Get Connected With Skillet:
Website:
www.skillet.com
Facebook: @Skillet
Twitter & Instagram: @skilletmusic
###
For more info on SKILLET, visit the JFH Artists Database.
For more info on LEDGER, visit the JFH Artists Database.