SINGER/SONGWRITER AND CHILDREN'S AUTHOR ELLIE HOLCOMB NOMINATED FOR TWO GMA DOVE AWARDS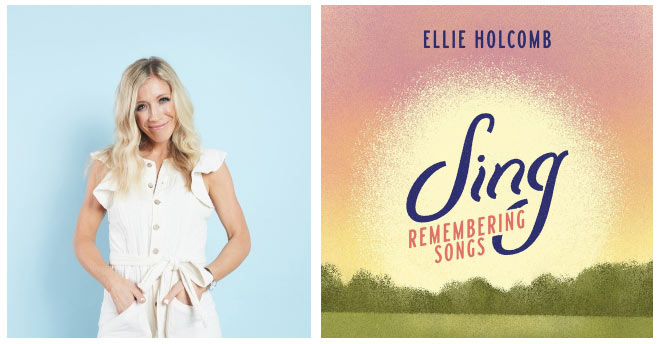 NEWS SOURCE: Merge PR
August 25, 2020
NASHVILLE, TENN. (AUGUST 25, 2020)
Dove-Award winning singer/songwriter
Ellie Holcomb
was honored with two GMA Dove Award nominations earlier this month. Holcomb is nominated for "Children's Music Album of the Year" for her project
Sing: Remembering Songs
, and for her work on the song
"Elizabeth,"
which is nominated for "Bluegrass/Country/Roots Song of the Year." Her children's album nomination is a back-to-back nomination as she earned the nomination in 2019 for her project
Sing: Creation Songs
. The 51st Annual GMA Dove Awards will be held Friday, October 30 on Trinity Broadcast Network (TBN).
Holcomb's nominated project debuted earlier this year at No. 4 on Billboard Children's Album chart, No. 1 Release on the iTunes Children's chart and the No. 1 Top-Selling Children's album on Amazon. Sing: Remembering Songs is a companion piece to her best-selling children's book, Don't Forget To Remember (B&H Publishing Group), which was a No. 1 New Release in Christian Children's Books on Amazon. The album is a beautiful, scripture rooted, children's project that she wrote inspired by God's word and His love for all of His children.
In addition to releasing her children-focused projects, Holcomb released her new single,
"Constellations."
This was her first single since
Red Sea Road
in 2017. This raw, emotional song impacted listeners with its message that there is an echo from somewhere else that reminds us that we are not alone. Due to the pandemic and not being able to go into the studio at the time, she released the song that features the recording of her vocals captured on the first take during the writing session with co-writers David Leonard and Jon Guerra.
During the quarantine season Holcomb and her musician husband Drew Holcomb (of Drew Holcomb & The Neighbors) creatively invited fans into their home multiple nights each week for "Kitchen Covers," where they performed a cover song. The response was so favorable, the couple released limited vinyl recordings of these songs on three different volumes. The also recently released "Kitchen Covers Collection" on digital platforms with some of the favorites from the series. She is also featured on the new NEEDTOBREATHE song,
"Survival"
, with Drew from the band's upcoming album.
Ellie Holcomb is currently working on new music. Follow her socials for updates and more information.
ABOUT ELLIE HOLCOMB: Ellie Holcomb, a Nashville native, began her musical career by touring the country with her husband in Drew Holcomb and The Neighbors. After 8 years, and with the birth of their daughter, Ellie opted to step out of the role of heavy touring. From that space came her debut solo album, As Sure As The Sun, which charted at No. 1 on the iTunes Christian chart and helped deem Holcomb the "Best New Artist" at the 2014 Dove Awards. In 2017, she released Red Sea Road (Full Heart Music), which debuted at No. 3 on the Billboard Christian Album sales chart and on the Top Current Album Sales, overall chart. In 2018, she became a best-selling author with the release of Who Sang the First Song? (B&H Publishing Group) and Dove-nominated EP, Sing: Creation Songs. She followed-up those projects with Don't Forget To Remember (B&H Kids), and accompanying EP, Sing: Remembering Songs.
Holcomb is Capitol Christian Music Publishing songwriter and has numerous song credits to her name including all of her own songs ("The Broken Beautiful," "He Will," "Find You Here"), along with "Christmas For You and Me" (Amy Grant), "Everything Is Mine In You" (Christy Nockels), "Hung The Moon" (Drew Holcomb and The Neighbors), "Let The Light In" (Francesca Battistelli), "I'm Gonna Let It Go" and "New Song" (Jason Gray). Ellie, her husband, Drew, and their three children live and make music in Nashville.
###
For more info on Ellie Holcomb, visit the JFH Indie Artists Database.