ALEX HENRY FOSTER RELEASES STANDING UNDER BRIGHT LIGHTS TRIPLE-VINYL / DOUBLE-CD, CONCERT FILM TODAY
American Songwriter, Vancouver Sun, More Praise Album

Lead Singles "The Son Of Hannah," "Winter Is Coming In" Receive Hundreds-Of-Thousands Of Plays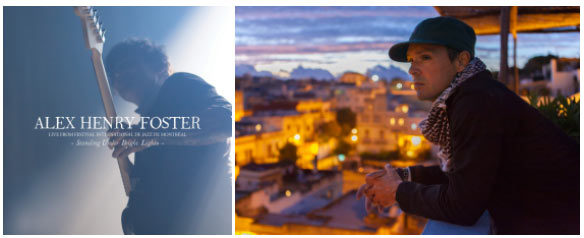 NEWS SOURCE: Hoganson Media
April 16, 2021
Alternative, post-rock's Alex Henry Foster releases today (April 16) his live triple-vinyl / double-CD and concert film Standing Under Bright Lights. Available at digital and streaming outlets everywhere from Hopeful Tragedy Records, the project was recorded live in front of a sold out Club Soda (July 2019) while Foster headlined the Montreal International Jazz Festival.
From Montreal and now residing in the highlands of Virginia, Foster's full production, 11-piece band concert, Standing Under Bright Lights, was named one of the top five events not to be missed by Canada's national TV/Radio broadcaster CBC. Originally set to release October 8, 2020, which would have been his late father's birthday, Foster decided to utilize the extra time the worldwide pandemic would give him to produce the recording and concert film.
Along with lead singles "The Son of Hannah" and "Winter Is Coming In" that have received hundreds of thousands of plays across numerous playlists, Standing Under Bright Lights features every song from Foster's debut solo album, Windows in the Sky, which hit No. 1 multiple times on the Billboard Canadian Albums chart, staying in the Top 40 on the chart for a full year after its release. The songs from this celebrated album were re-invented for the live recording as the band performed along with a movie projection produced by Foster. Almost 2 hours and 30 minutes long, the concert at which Standing Under Bright Lights was recorded is now considered among the best concerts throughout the 40 years of the Montreal International Jazz Festival.
The Vancouver Sun says, "This is the kind of live album that used to establish artists" while American Songwriter agrees that the Standing Under Bright Lights performance "captivated concert-goers every second with improv, emotions, darkness, poetry laden lyrics, spoken word vocals and experimental music that transported everyone in attendance to a different plane." Its "sheer energy and intimate reveal is now available to the world."
"What a privilege it was to share once more with my friends from @AmerSongwriter, this time about not only my first concert at @MtlJazzFestival, but also about how I wanted to approach the songs for the first time they'd be played live," tweets Foster.
Along with the aforementioned coverage, Foster has been recently featured by Rolling Stone, Prog Magazine, Glide Magazine, ICI Premiere(CBC), Montreal Gazette, Interview Under Fire, Montreal Rocks, Sound Vapors, Louder Than War, FYI Music News, PAN M 360, Rebel Noise, All Rock and many more. Foster also shares his Spotify Playlist at BrooklynVegan.
Following the release of the Standing Under Bright Lights, Foster and his band are preparing to tour internationally with 23 dates in Europe set to begin in May, pandemic allowing.
For all the latest Alex Henry Foster tour, music news and more, go to http://alexhenryfoster.com/, Facebook, YouTube, Instagram, Twitter, Spotify, Apple Music, Bandcamp and Hopeful Tragedy Records Store.
About Alex Henry Foster:
Rolling Stone, Paste- featured Alex Henry Foster launched his debut solo album Windows in the Sky Nov. 9, 2018. The album's critical and mass success would once again propel Foster to the forefront of the Canadian music scene where he stood for about a decade as the lead singer for Juno Awards-nominated, post-rock band Your Favorite Enemies before going on hiatus the moment he left for Tangier to mourn his father's passing. This grieving period, which would last two years, became a journey to the end of his sorrowful desperation and is what would ultimately inspire and give life to the No. 1-selling Windows in the Sky. From Montreal and currently living in Virginia, Foster is using his music and lyrics to bring something greater than ourselves, and shares from personal experiences about depression, dreams, grief and hope. Along with the live album and concert film Standing Under Bright Lights, Foster is preparing to release his book If Only the Voices In My Head Couldn't Lie later this year.
###