NORDEN PASS RELEASES PERSPECTIVE-SHIFTING NEW SINGLE, "GOD OF MIRACLES"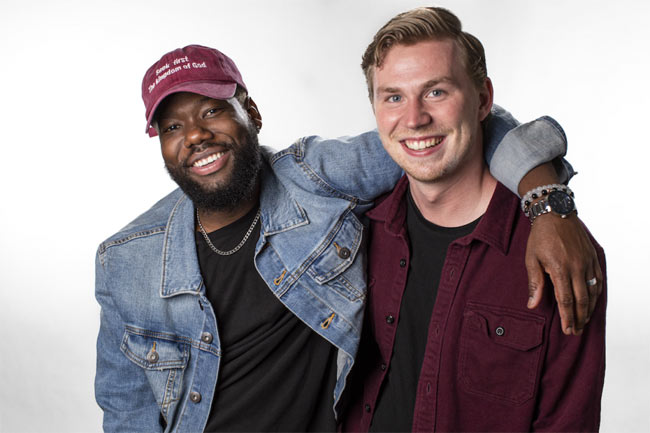 NEWS SOURCE: Marketing with Wisdom
June 25, 2021
NASHVILLE — Inspirational worship-pop duo Norden Pass announces the much-anticipated release of their third internationally released single, "God of Miracles", to all streaming outlets as of June 25, 2021.

The song is the first one of 2021 for the group — made up of Tuakah Edward Whiangar Jr. and Micah Reierson — and continues Norden Pass's signature contributions to the modern worship landscape, both lyrically and musically.

"I've never been this excited about a song release!" Whiangar shares. "It's been a long time coming."

With "God of Miracles", songwriters Whiangar, Jonathan Gamble, and Jason Earley penned lyrics that challenge believers to view the obstacles of life the way God does, as opportunities for Him to show up.

"When we live our lives intentionally being aware of the presence of the Lord around us, we can begin to experience a peace within our current battle," Reierson shares. "This song has continued to minister to me throughout the different hardships of the last year."

The first words of the song capture the heart of this perspective shift: "When I see canyons, You see grounds you're gonna move / When I see mountains, You see peaks you'll take me to."

Produced by Christian Hale of Centricity Music, "God of Miracles" continues to bring Norden Pass's big, atmospheric modern worship sound, paired with soulful pop vocals and a rare synergy of acoustic and electronic instruments.

The June 25 single release is the first for Norden Pass since July of 2020, when they released "The Rock." In March of 2020 they released their debut single, "Heaven's on the Way." This slow, methodical approach to releasing music shows how much Norden Pass puts into each track they release.

The words Norden Pass shared with their college campus newspaper as a new band in 2018 still apply today.

"Making music is a journey," Whiangar shared with The USF Vessel. "I would say that I'm not the same person I was yesterday. I'm not the same person that I was at the start of this project; I have grown."

Like the singles before it, "God of Miracles" shows Norden Pass's commitment to honing their craft and tapping into a holy moment.

"God offers us an invitation from death to life through his son Jesus Christ," Whiangar says. "Our prayer is that our music continues to point people to a place where they can respond to this invitation!"

Listen to "God of Miracles" on your favorite platform, and learn more about Norden Pass on Facebook, Instagram and YouTube.
About Norden Pass: Norden Pass exists to point people to experience an authentic and transformative encounter with Jesus. They formed in 2017, when Tuakah Edward Whiangar Jr. and Micah Reierson started making music while attending the University of Sioux Falls.
###