SOCIAL CLUB MISFITS' MARTY SANTIAGO PENS EXCLUSIVE SONG, PERFORMS FOR VITOR BELFORT VS. EVANDER HOLYFIELD BOXING MATCH;
Duo Grabs Three GMA Dove Award Nominations, Including Rap/Hip Hop Album Of The Year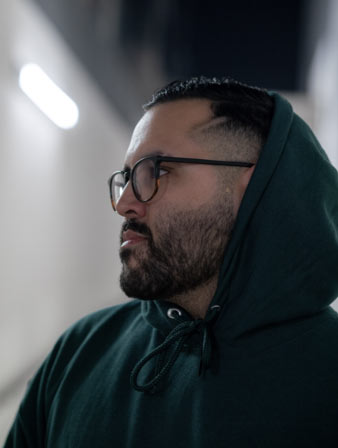 NEWS SOURCE: Merge PR
September 17, 2021
17 SEPT. 2021 - NASHVILLE, TN - Martin (Marty) Santiago of the award-winning duo Social Club Misfits exclusively penned the song "Psalm 144-Marty" for MMA fighter turned pro boxer Vitor Belfort and the now legendary boxing match against Belfort and Evander Holyfield. Held last weekend in Hollywood, Florida, Santiago performed the song live, walking with Belfort during his entry into the ring.
"Vitor called me and asked me to create an intro anthem for his match with Evander Holyfield," Santiago shares. "When I sent [him] the song he loved it so much he asked me to walk out with him. I was able to produce this with 703izzy, Datin, who helped me write a song based on Psalm 144, and Luis Cancion, who mixed and mastered the song in one day."
"Goliath lost, David made his giants fall 'cause he relied on God, that's how I defy the odds / I am charged because I'm powered by a higher source, Ima march into battle fearlessly and Ima brawl / Blessed be the Lord, my rock, who trains my hands for war and my fingers for battle / He anoints my head with fresh oil and my cup shall overflow" - lyrics from "Psalm 144-Marty"
Additionally, it was announced last month that Social Club Misfits received three nominations for the upcoming 52nd Annual GMA Dove Awards. Recognized for Rap/Hip Hop Album of the Year (
Feared By Hell)
, Rap/Hip Hop Song of the Year ("Is That Okay?"), and Short Form Video of the Year ("Is That Okay?"), the winners will be announced live and in-person on October 19th at Allen Arena in Nashville and will air exclusively on TBN on October 22nd. The duo also has various tour dates over the next few months so be sure to visit their
site
for more information.
ABOUT SOCIAL CLUB MISFITS
: Jam-packed with riveting beats, compelling lyrics, and loads of energy, south Florida hip-hop duo Social Club Misfits is the result of two distinctive personalities meshing together to create an invigorating sound. Comprised of Martin Santiago (Marty) and Fernando Miranda (Fern), the self-monikered "Misfits" are disruptors in every sense, challenging norms and bringing other misfits along for the ride. With a host of projects and EPs under their belt, including the Billboard-charting full lengths
Feared By Hell, MOOD//DOOM, INTO THE NIGHT
, and
The Misadventures
, the GMA Dove Award-winning rappers have made a sport of pushing boundaries and redefining the possibilities of what faith-based music can accomplish on their way to amassing more than 264M global career streams. From headlining sold-out tours across the country to spawning imitators the world over, it's clear the duo has struck a chord with listeners from all walks of life. For more information, visit
SocialClubMisfits.com
###
For more info on Social Club Misfits, visit the JFH Artists Database.