BRANDON HEATH RELEASES HIS FIRST SINGLE OF 2022, "SEE ME THROUGH IT"
K-LOVE Adds Single As Heath Extends "Brandon in The Backyard Tour" Into 30 Cities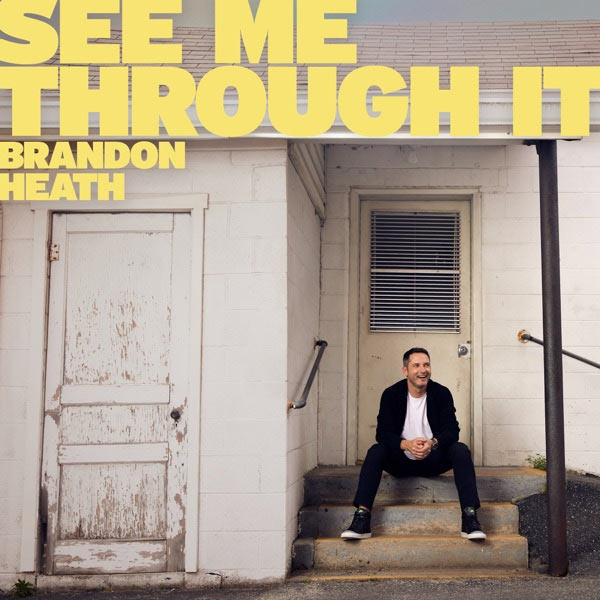 NEWS SOURCE: Hoganson Media
January 14, 2022
Five-time GRAMMY®-nominated, eight-time Dove Award-winning Brandon Heath reveals "See Me Through It" today (Jan. 14) marking his first single of 2022 and third song unveiled from his upcoming Centricity Music album debut set to release in April. Available now at digital and streaming outlets everywhere, "See Me Through It" follows Heath's fall release, "Another Song About Love," and last summer's radio hit, "Human Nature."
Co-written by Heath, Kyle Williams (We Are Messengers), GRAMMY Award-winner Ran Jackson and Heather Morgan, "See Me Through It" has already been added to rotation on the K-LOVE Radio Network and is encouraging listeners that they are never alone in whatever life is throwing at them.
"We all walk through difficult seasons in our lives. That's definitely nothing new, but one thing that is particularly unique about right now is that we all seem to have a very similar challenge," says Heath. "And for some of us, it feels like rock bottom. But, we can know what Rock we're standing on, and He's not going anywhere. So, stand tall fam. No matter how lost we feel or how difficult things get, He sees us where we are, and He's going to see us through it."
I know you're gonna see me through it
If anybody can you can do it
God I know in the trial and the pain
Fire and the rain
You're gonna see me through it
("See Me Through It" chorus.)
Like many of his most recent songwriting ideas, the seeds of for Heath's new songs were planted in his backyard, a place where he's spent a good portion of time over the past year thinking, praying and mowing his steep plot of land that includes a small creek, a play set for his young daughters and a fire pit for the men's group that meets at his house. Essentially, his backyard is the place where his next album, due in 2022, has grown.
Ironically, when the pandemic shut down touring in 2020, Heath spent an unexpected amount of time in other people's backyards. He decided to play small, safe outdoor shows by invitation-only in select backyards across the country. These "Brandon in the Backyard" dates were so enjoyable that Heath is making plans now to play an additional 30 backyards this spring and summer. Traveling with his family in an RV, Heath leads these events with his guitar; and more times than not, he's completely unplugged.
"It's been this new connection with my core fanbase, and it's made me really excited about playing and how I play," shares Heath.
Signed last year to both Centricity Music and Centricity Publishing, Heath is not only partnering with a new label, but is collaborating with songwriters he's never written with before and producers with which he has not previously worked. Whether creating music with new colleagues or joining longtime friends, like recently with CMA award-winner Deana Carter on stage as she headlined the famed Ryman Auditorium for the first time, Heath brings his uncanny ability to both craft and then deliver songs to audiences around the world.
For all the latest Brandon Heath music, tour and more news, go to: www.brandonheathmusic.com, Spotify, Facebook, Instagram, YouTube and Twitter.
About Brandon Heath:
A Nashville native, Heath quickly won the hearts of listeners when he released his major label debut in 2006. Along with his GRAMMY nominations, an American Music Award nod and an Emmy Award, Heath has three Billboard No. 1 singles to his credit, including "I'm Not Who I Was," "Your Love" and the RIAA Platinum-certified "Give Me Your Eyes." His eight Dove Awards include two consecutive Male Vocalist honors (2009, 2010) and a win for Song of the Year ("Give Me Your Eyes"). He has also been recognized as a top lyricist in his field with numerous songwriting accolades, including being named BMI's 2014 Songwriter of the Year. Heath's artistry and ability to connect with audiences have compelled wide media coverage across the nation to platform his story and music. Highlights include coverage in The New York Times, Billboard, People,The Wall Street Journal, Relevant, CBS Evening News, The Discovery Channel and as a presenter on the 54th Annual GRAMMY® Awards.
About Centricity Music:
The No. 1 Billboard Top Christian Albums Imprint for the third consecutive year, Centricity Music is an independent Christian music company based in Franklin, TN. Founded in 2005 with a commitment to artist development and stylistic diversity, its artist roster includes Andrew Peterson, Apollo LTD, Brandon Heath, Chris Renzema, Coby James, Cross Point Music, Jason Gray, Jonny Diaz, Jordan Feliz, Lauren Daigle, North Point Worship, Patrick Mayberry, PEABOD and Unspoken. Providing label and publishing services, Centricity is a family-owned organization, and they like it that way. The committed work of its staff and artists has yielded successes such as Grammy Awards, Billboard Awards, Dove Awards, K-Love Fan Awards, and multiple Gold and Platinum Albums and Singles. For more Information on Centricity Music, visit https://centricitymusic.com/.
###
For more info on Brandon Heath, visit the JFH Artists Database.