Sidewalk Prophets with Instruments Of Joy to Give Huge Thanks to Fans; Announce Free July 4th Concert at the Ryman Auditorium
Tickets Available 5/13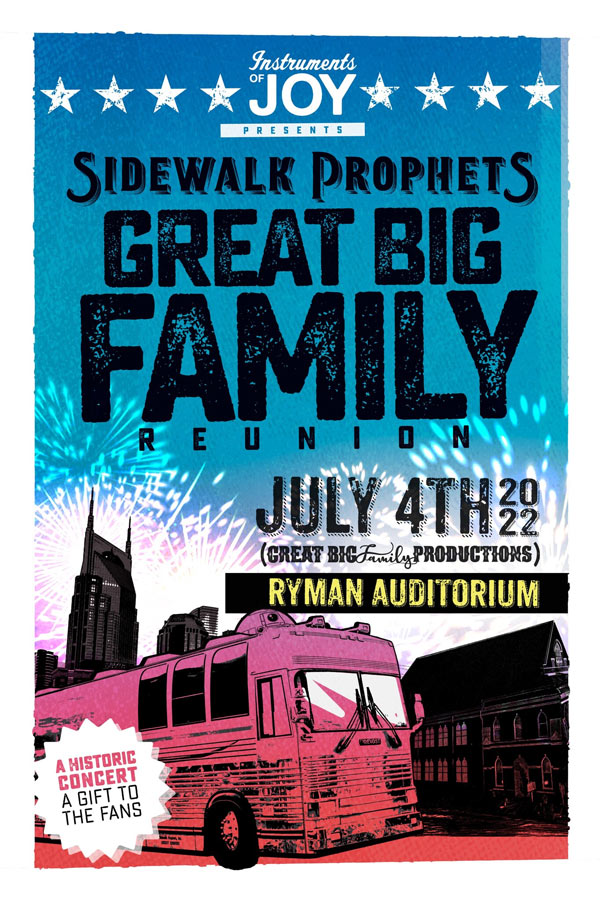 NEWS SOURCE: Curb | Word Entertainment
May 4, 2022
Nashville, Tenn. (May 4, 2022) – Curb | Word Entertainment's Sidewalk Prophets, along with Instruments Of Joy, is excited to announce their Great Big Family Reunion event at the historic Ryman Auditorium on July 4, 2022, making good on the promise of a free show before the release of their last album, The Things That Got Us Here, in 2020, as the event was postponed due to the COVID-19 pandemic. To thank their fans, who claimed all tickets for the original show in 2020 within six hours of release, for all the love and support over the years, the event will be free. The Great Big Family Reunion will also be the band's first ever fan destination event, hosting Sidewalk Prophets' biggest fans from across the country. Tickets will be released through AXS starting 5/13 HERE – all tickets are non-transferrable and require a photo ID.
Sidewalk Prophets front man Dave Frey shares, "We've been waiting a long time for this moment. It's a time to appreciate the fans for all that they've done for us over the years, and of course we might throw in surprises too. We can't wait to share this experience with everyone!"
Fans can expect to hear music from the band's entire catalog, including their most recent release, The Things That Got Us Here. Following the show, fans can enjoy Nashville's Let Freedom Sing! Music City July 4th fireworks, set to be the largest fireworks show in the city's history. Title sponsor Instruments Of Joy, a Christian-based 501(c)(3) nonprofit organization, will be collecting instruments at the show to donate to impoverished communities. Fans are encouraged to bring a gently used, high quality instrument to the Instruments Of Joy donation center on site. In addition, financial contributions of $200 or more will purchase an instrument for a musician in need and $20 will purchase a gig bag. Donations can be made at the concert or on their website at www.instrumentsofjoy.org.
For more information regarding Sidewalk Prophets, go to www.sidewalkprophets.com. For Great Big Family Reunion tickets available 5/13 via AXS, click HERE. For more information regarding Instruments Of Joy, click HERE.
About Sidewalk Prophets:
One of Christian music's most beloved bands, Sidewalk Prophets, marked nearly two decades of making music together with the release of their latest album, aptly titled The Things That Got Us Here.With a career spanning four major label studio releases and a celebrated holiday offering, the Dove Award-winning act remains a mainstay at Christian radio with numerous hits, including Gold-certified "The Words I Would Say," "You Love Me Anyway," "Come To The Table" and "Live Like That," among others. In total, Sidewalk Prophets boasts five No. 1 songs, nine Top 5 radio singles, more than 54.7 million views on YouTube and 350 million career streams. The band originally formed at Indiana's Anderson University, and since signing with Curb | Word Entertainment, they've been nominated for a Billboard Music Award, three K-LOVE Fan Awards and five Dove Awards, taking home the New Artist of the Year Dove in 2010. Known for spending more days on the road than anywhere else, Sidewalk Prophets has played for more than 2.5 million people, and their most recent tours have morphed into interactive evenings for their fans, whom they affectionately call the "Great Big Family." An early leader in immersive online experiences, the group has headlined nearly 100 livestream events since 2020, including a show at Nashville's iconic Ryman Auditorium. Their annual "Great Big Family Christmas Tour" aims to tangibly serve families in need in the communities they visit, with a goal to give away $1 million in 10 years. Sidewalk Prophets' current single, "I Believe It Now (feat. Olivia Lane)," is available now.
About Curb | Word Entertainment:
In 2016, Curb Records acquired Word Entertainment, combining two of the music industry's most respected global brands, and more than a century of collective experience. Today, Curb and Word are two of the world's leading independent music companies. Owned and operated by Mike Curb, the Curb | Word family includes the labels Curb, Word, Squint, Fervent, Sidewalk, MCC and IVAV, as well as Curb Publishing, Word Publishing, 25 Live, Curb Films, Word Films, Word Entertainment, and Curb Sports, representing top artists and entertainers in Country, Christian, Pop, Rock, and Hip-Hop. For more information, visit www.curb.com.
About Instruments Of Joy:
On a short-term mission trip to Malawi, Instruments of Joy founder Joshua MacLeod met an orphan with immense musical talent who couldn't afford a quality musical instrument. Providing that young man with a quality guitar was the start a ministry that would serve musicians in more than 60 countries. The vision and mission of Instruments of Joy is to see more than 10,000 individuals and communities provided with hope, inspiration and joy through the gifts of musical instruments given in Jesus' name.
###
For more info on Sidewalk Prophets, visit the JFH Artists Database.