ISRAEL & NEW BREED RELEASE POWERFUL NEW RECORD 'WORSHIP ANYWHERE' - AVAILABLE TODAY (10.7)
14-Track Project Features Collaborations with Adrienne Bailon-Houghton, Joe L. Barnes, DOE, Nate Diaz and more
Will Perform on SHERRI (check local listings) on Tuesday, Oct. 11th
Listen here:
streamlink.to/WorshipAnywhere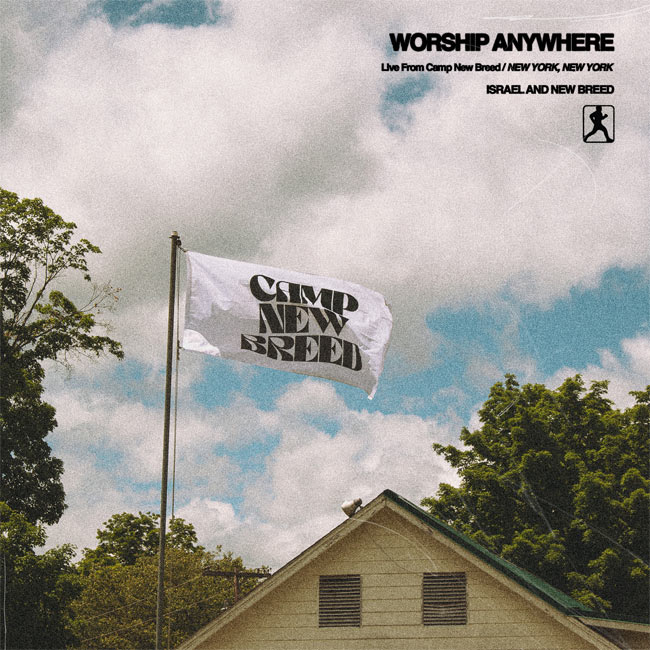 NEWS SOURCE: Shore Fire Media
October 7, 2022
Today (10.7), 3x GRAMMY-winning collective Israel & New Breed unveil their new live project 'Worship Anywhere' via District 11 Entertainment. The moving 14-track album was recorded live at Camp New Breed in Nassau, NY, and features spirited collaborations with Adrienne Bailon-Houghton, Joe L. Barnes, DOE, Nate Diaz and more — all led by 6x GRAMMY-winning artist, songwriter and producer Israel Houghton.
LISTEN TO 'WORSHIP ANYWHERE' HERE
"My wife Adrienne always has these wild ideas at 5AM, and one day she said, 'I know what we're gonna do. We're recording the new record at a camp with adults,'" Houghton explains. "After thinking about it for a while, I was totally on board. We always say you can worship anywhere, and I think this project is a testament to that. It's also a testament to the fact that, in today's day and age, you can record anywhere too. It was really important for this album — when you watch the videos and even when you just listen to the music — to feel like fans are truly immersed in the process, and I was like, 'What is more immersive than 45 people in a circle in worship?' Drop some mics into that - that's immersive. So, while the recording process was very challenging, it was also extremely rewarding and fun, and I hope fans feel like they are alongside us at Camp New Breed when they listen to this new music."
Pulling from the group's past work, the impressive project opens with "New Breed Anthem" — a stomp-clap singalong that will get all New Breed fans on their feet and ready to dive into the record. The thumping, fiddle-driven "Wrong About You" featuring Joe L. Barnes is a must-listen for all who have experienced a troubled relationship with faith, as the group details the journey to opening their eyes to the joy that God truly brings. "Blessing and Honor" featuring Anna Sailors is a simple, yet beautiful, worship anthem that flows straight into the powerfully harmonious anthem "Worthy."
New Breed strips back the noise on "Flow Like A River," taking a moment to reflect on the great healing works being done in our daily lives before the high-octane energy returns on the heart-thumping call-and-response title track. The driving spirit continues in "Campfire Coritos," which features Israel's wife Adrienne Bailon-Houghton and sister-in-law Claudette Bailon and is sung entirely in Spanish. The album closes with a compilation of traditional worship songs in "Spirit Medley."
'Worship Anywhere' Tracklist
1. New Breed Anthem
2. Miracle, Signs and Wonders
3. Fun (Feat. DOE)
4. Wrong About You (Feat. Joe L Barnes)
5. Yes, Jesus Loves Me (Wrong About You)
6. Witness (Feat. Cristabel Clack)
7. Blessing and Honor (Feat. Anna Sailors)
8. Worthy (Blessing & Honor)
9. Flow Like a River
10. Certainly
11. Need to Know
12. Worship Anywhere (Feat. Linny Smith, Chenee Campbell)
13. Campfire Coritos (Feat. Claudette Bailon, Adriene Bailon-Houghton, Nate Diaz)
14. Spirit Medley (Feat. Lucia Parker, Onaje Jefferson)
Israel Houghton is a 6x GRAMMY-winning gospel singer-songwriter, band leader, and innovator whose 23-year career with the musical collective New Breed has taken him around the world, growing and adapting in surprising ways over a very transformative stretch of music and cultural history. Since the release of his first studio album in 1997, Houghton has looked to the live performance format as a means to blur the lines between band, family and audience, including 2004's 'Live From Another Level' and 2005's 'Alive in South Africa,' the latter of which won the GRAMMY Award for Best Traditional Gospel Album. Houghton would later take home three awards for Best Pop / Contemporary Gospel Album and eventually a Best Gospel Album award for 2015's 'Covered: Alive In Asia.' Israel recently welcomed his first child with wife Adrienne Bailon-Houghton, baby Ever James.
###
For more info on Israel Houghton, visit the JFH Artists Database.