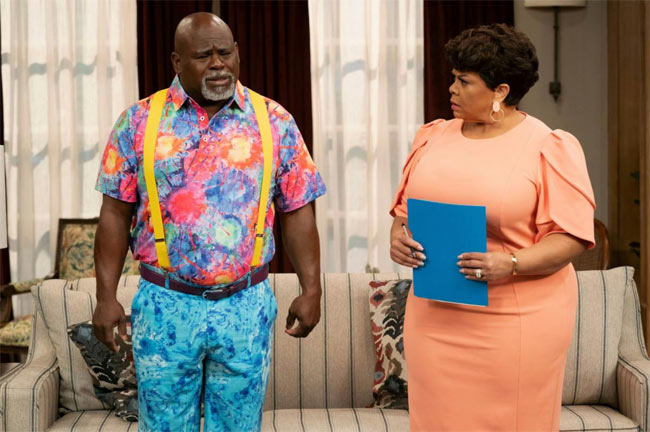 Pictured From L-R: "Mr. Brown" played by David Mann, and "Cora" played by Tamela Mann.
(Photo credit: Charles Bergmann/BET/Tyler Vision, LLC)
Additionally, Tamela and David can also be seen in the highly anticipated midseason premiere of Tyler Perry's Assisted Living, airing Wednesday at 8:30pm ET/PT on BET and BET Her.
Episode #311 "Don't Chi Away"– With the Assisted Living facility not proving very profitable and Sandra preparing to go off to college, Jeremy is re-assessing the family's financial future.
Marking her sixth studio offering, Overcomer: Deluxe Edition is heralded as some of the Tamela's best work. Propelling upon the original version's themes of resilience, strength, purpose and the beauty of faith, the deluxe edition features both reimagined renditions of fan favorites and all-new music, including single, "Superheroes Prayer" featuring Yolanda Adams and the new live version of "Finished." The album features additional special guests including industry heavy-hitters Wyclef Jean, Kirk Franklin, Tim Rogers & The Fellas, and Todd Dulaney. Overcomer: Deluxe Edition is distributed by The Orchard and is available to stream here. The album is also available as a physical CD wherever gospel music is sold.
WHEN/WHERE:
Wednesday, October 12th
Tamron Hall Show
Check your local listings here
Tyler Perry's Assisted Living
8:30pm ET/PT on BET and BET Her
Follow Tamela and David Mann:
Facebook: @DavidTamelaMann
Instagram: @DavidandTamela
Twitter: @DavidandTamela
Tik Tok:@TheRealTamelaMann
Website: TillyMannMusic.com
ABOUT TAMELA MANN
Overcomer: Deluxe Edition is the latest accomplishment in Tamela's storied career. An accomplished songwriter, producer, actress, and businesswoman, Tamela has amassed a Grammy® Award, BET® Award, Billboard® Music Award, and multiple NAACP Image® Awards and Stellar® Gospel Music Awards. Her Billboard No. 1 album Best Days garnered three consecutive No. 1 singles including the No. 1 platinum single "Take Me to The King'' and received Billboard's "Album of the Decade" for 2010-2019, in the Gospel category. Tamela's Billboard No. 1 album, One Way, garnered two No. 1 singles, including "Change Me" and "God Provides," which earned the singer her first Grammy® Award in 2017. In 2018, Tamela and her husband, NAACP Image® Award winning actor David Mann, released their first book and joint album, Us Against the World. The book won an NAACP Image® Award for Outstanding Literary Work and the album continues to garner top-charting singles including the Urban AC track, "Ups & Downs." Tamela and David together helm Tillymann Entertainment. They starred in the NAACP Image® Award-winning docu-series "The Manns," the hit comedy "Mann & Wife," and are currently starring in "Tyler Perry's Assisted Living" and "Mann Family Dinner" on their MANNTV YouTube channel, where Tamela is also hosting her cooking show, "Mama Mann's Kitchen". Tamela's athleisure apparel and shapewear line, the Tamela Mann Collection, is available atTamelaMann.com and in select retail stores.
ABOUT DAVID MANN
David Mann, the multi-faceted actor, comedian, and NAACP Image® Award winner for "Outstanding Actor in a Comedy Series". A native of Texas, David masterfully showcases his God-given talents in a most dynamic and distinguished way. His musical and theatrical talents brilliantly epitomize ingenuity at its best. Along with his wife, Gospel singing sensation Tamela Mann, David has co-starred in numerous film, stage, and television comedies and currently stars in "Mann Family Dinner" on their MANNTV YouTube channel. David helms Tillymann Entertainment with wife Tamela. He is also an award-winning music producer and provides creative direction for all Tillymann music, video, touring, film and television projects. When David is not on set or working at Tillymann Entertainment, he brings his live comedy show to venues around the country playing to capacity crowds.