THE WELCOME WAGON RELEASES NEW SINGLE "MATTHEW 7:7" AVAILABLE NOW
New Album Esther To Be Released on November 4th via Asthmatic Kitty Records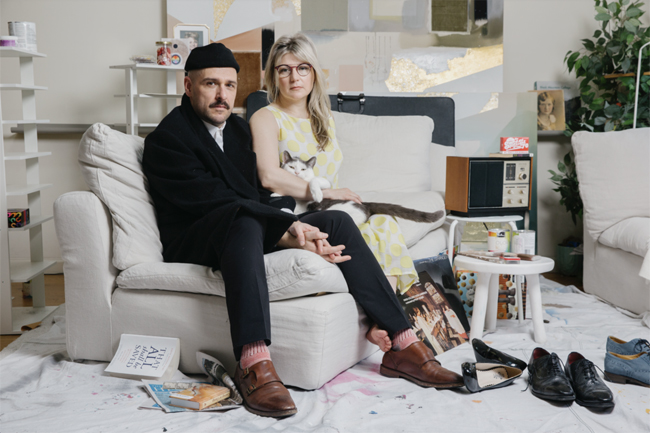 NEWS SOURCE: Merge PR
October 13, 2022
NASHVILLE, TENN (OCTOBER 13th, 2022)
Brooklyn indie folk duo (Vito Aiuto and Monique Aiuto)
The Welcome Wagon
are thrilled to release their new single "Matthew 7:7" – available now. "Matthew 7:7" is the second single released off the band's new album
Esther
set to release November 4th via Asthmatic Kitty Records.
The Welcome Wagon have also released a corresponding
music video
to the song, directed by Alex and Aaron Craig and filmed in Brooklyn, featuring the duo and friends in a church setting. Watch the video below.
Esther
is The Welcome Wagon's fourth album and is part of an ongoing audiovisual collaboration between Monique and Vito. Monique has made a painting to correspond to each of Vito's songs on the album, three of which are featured in the album's artwork, with a limited edition print of the piece
"Isaiah, California"
available as part of a special LP bundle.
Click HERE to listen to "Matthew 7:7"
ABOUT THE WELCOME WAGON:
The Welcome Wagon is a married couple, the Reverend Thomas Vito Aiuto and his wife Monique, who execute a genre of gospel music that is refreshingly plain. Their hymns are modest and melodic takes on a vast history of sacred song traditions, delivered with the simple desire to know their Maker—and to know each other—more intimately. Read more about The Welcome Wagon
here.
###