Celebrate the Holiday Season with The Merry and Bright Tour Featuring DENVER AND THE MILE HIGH ORCHESTRA and Kate Stanford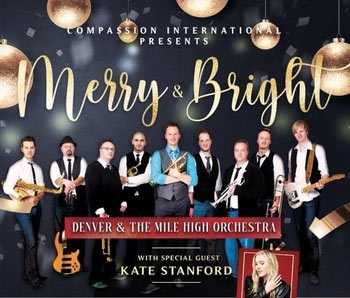 NEWS SOURCE: Biscuit PR
November 3, 2022
Nashville, TN - Denver and the Mile High Orchestra (DMHO) are a fixture of the Christmas season for many, having released four incredibly popular Christmas albums. Additionally, for nearly two decades, the band has extensively toured the country with their annual Christmas tour, bringing their joyful, signature big band sound to listeners of all ages. Just after Thanksgiving, Denver and the Mile High Orchestra will launch their Merry and Bright Tour with rising star Kate Stanford as support.
"We are thrilled to be able to get back on the road and share some of our favorite Christmas songs," shares band-leader and founder Denver Bierman. "This tour is always a highlight of the year for us and we are excited to be able to share the holidays with our friends and fans, old and new."
For the past 23 years, the band has built a solid fanbase, releasing 17 albums and touring consistently around the world. Known for their red-hot horn section and power-pop vocals, DMHO flawlessly combines these elements with their jazz and big band roots, creating a power-funk sound that defies description. This unique sound event propelled the band to the finale of the American Idol spin-off The Next Great American Band.
Currently DMHO is completing their next album, "One Hope," slated for a spring 2023 release. The first single, "Come Rescue Me," will be featured during the Merry and Bright Tour. A modern Christmas song, it shares the incredible truth that the reason Jesus came to earth was to rescue us. The song shares a message longing for a Savior, then transitions to proclaiming the names of Jesus from the book of Isaiah.
"Come oh come, King of Kings
Come of come, be my Prince of Peace
The only gift that I really need
Is for you oh Lord to come and rescue me
Oh come…"
Joining the tour will be Kate Stanford, a rising voice in the world of Christian music. Her newly-released Christmas EP, King of Angels, was produced by Cindy Morgan and offers a collection of fresh arrangements of carols and Christmas hymns.
A native of Baton Rouge, Louisiana, Kate grew up singing anywhere she could lend her voice. Since 2019, she has released a series of acclaimed pop singles that have quickly found an audience on radio and streaming. Kate has also managed to balance her career with her education, staying focused on both her calling as an artist, and as a senior at the University of Texas. "I can't think of a better way to get into the Christmas spirit than to listen to Denver and the Mile High Orchestra," she shares. "To get to share the stage with these incredible musicians, celebrating the birth of Jesus through song is such an honor. I can't wait to share the joy of Christmas this year with this incredible group!"
See the Merry and Bright Tour with Denver and the Mile High Orchestra and special guest Kate Stanford in these cities:
Dec 2 - Colby, KS
Dec 3 - Plymouth, IN
Dec 4 - Lebanon, Ohio *DMHO only
Dec 7 - Pass Christian, MS
Dec 14 - Kane, PA
Dec 15 - Greenwood, DE
Dec 16 - Greenwood, DE
Dec 17 - Marian, NC
Dec 18 - Florence, SC
For a complete list of tour dates, please visit https://www.denvermho.com/
###