THE ROCKET SUMMER Dives Into Fresh Waters On New Album SHADOWKASTERS - Out May 12
"Sing At The Top" Out Friday March 24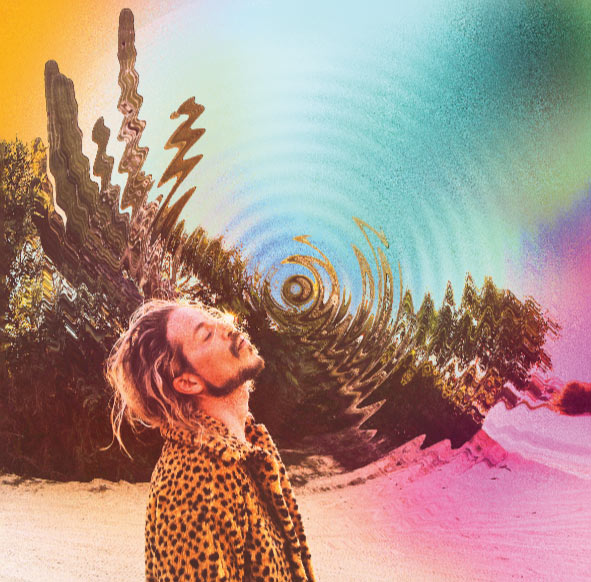 NEWS SOURCE: Reybee, Inc
March 21, 2023
MARCH 21, 2023 (Dallas, TX) -- "I let myself tap in and reset with this one creatively," says THE ROCKET SUMMER brainchild Bryce Avary about his newly announced studio album SHADOWKASTERS, due out on May 12 (pre-save digitally here and pre-order physically on 180 Gram Black Vinyl, Eco Mix Mystery Color Vinyl, CD, and Glow In The Dark Cassette tapes, alongside pin sets hoodies and shirts here). This follows the release of previous singles "M4U," and "Stuck Inside Your Light" (Named by Rolling Stone as a Song You Need To Know). A departure from what some might expect from the piano-driven alt–pop rocker, the new album dives deeper into the synth-enriched waters he waded in on his most recent albums and swims effortlessly into darker, keyboard-driven and affected guitar depths. "I felt this tangible tug to tap into the long inherent but sonically neglected places of my heart and simply begin exhaling from there," continues Avary. "What happened was a creative release and outflow that I've never really had before."

SHADOWKASTERS truly chronicles The Rocket Summer's exploration of these electronic textures, all while still supporting Avary's love of 90s indie music that has always influenced him. The next taste of SHADOWKASTERS comes this Friday, March 24, when The Rocket Summer's brand new single "Sing At The Top" will be released (Pre-save here).

"I had begun writing fictional stories as a creative exercise," explains Avary. "I started to make what I referred to as 'tiny soundtracks' to these unreleased films in my mind. Ultimately that process opened long inherent but sonically neglected places of the soul and, from there, I began to exhale. I kept drawing from that well to the point where there was a hard drive full of all of these unique songs with this special energy. I feel like I went through the wardrobe into Narnia and returned with this album."
The Rocket Summer "Sing At The Top (Preview)"
The tone of SHADOWKASTERS evokes the sounds one might envision within the walls of electronic dance clubs, UK dance punk halls, and R&B-thumping venues, but with a mix and filtering unique to Avary's creative lens, as inventive and penetrating amongst his evolving discography.

There are the slow synth stutters and freakouts over Avary's soaring vocals on "Eyes 2 The Skies," as well as the sitar-infused with blasts of intergalactic electronica on "Do You See Your Dreamscapes In Your Dreams Before The Dreams Escape When The Sun Beams." "Disco In Circles" transforms turntable screeches turned into a percussive, eerie backdrop over Avary's placid singing. Meanwhile, "Off The Hinge" features a breezy piano intro, before evolving into a blast beats tinged gritty punk wail.

"A lot of this album has been done for quite some time and was made during the isolation period of the pandemic," says Avary. "So it's almost like a compilation album of songs recorded over a couple of years that I felt made sense together in a sequence. I've always played all of the instruments on Rocket Summer albums. Still, there was a different energy that fueled many of these songs that came from seeking joy by way of discovering, manipulating, and getting lost in new sounds because I was simply alone for so much of it. It is by far the most instrumentally nuanced album I've ever made." Bryce Avary of THE ROCKET SUMMER

Dubbed "a master of creating anthems" by Paste Magazine and named by Alternative Press as "100 Artists You Need To Know", multi-instrumentalist, songwriter, and producer The Rocket Summer has been a musical force since exploding onto the scene as a teenager in the early 2000s. Charging out of Texas and onto the international stage, fans have flocked to Avary's optimistic and exuberant songcraft, polymath live show, and the fan community it inspires.

"I suppose I hope people feel the magic I felt when I was making it and that it ultimately leads to joy and inspiration," concludes Avary. "A lot of these creative explosions were my lifelines during such a wild era."

SHADOWKASTERS by The Rocket Summer will be released on May 12 on Aviate Records. "Sing At The Top" will be released on March 24. You can pre-save SHADOWKASTERS digitally here and physically here. You can pre-save "Sing At The Top" here. The Rocket Summer is available for interviews.
THE ROCKET SUMMER
SHADOWKASTERS Tracklisting

1. M4U
2. Eyes 2 Skies
3. Sing At The Top
4. Stuck Inside Your Light
5. Do You See Dreamscapes In Your Dreams Before The Dreams Escape When The Sun Beams
6. Hope Is A Treacherous Drug I'm Getting High Though
7. Disco In Circles
8. Off The Hinge
9. Vanillanor Figby
10. Aloha, Hello
11. I Say, I Say
The Rocket Summer "M4U"

Website Twitter Facebook Instagram Spotify
###
For more info on THE ROCKET SUMMER, visit the JFH Artists Database.