World's Largest Christian Music Festival Returns to the Ark
Free Concerts with Ark Encounter Paid Admission—40 Days & 40 Nights of Christian Music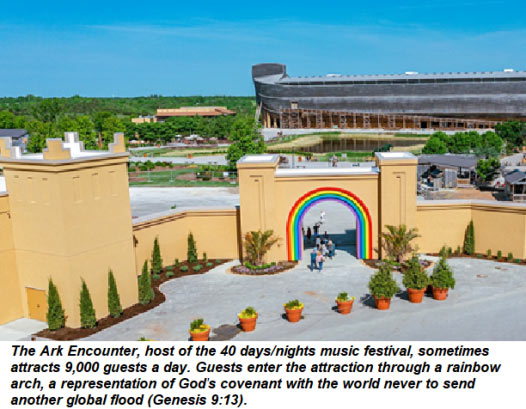 NEWS SOURCE: A. Larry Ross
March 27, 2023
WILLIAMSTOWN, Ky., March 27, 2023 – The world's largest Christian music festival makes an encore this summer at the Ark Encounter in Williamstown, Ky. The large-scale event, with 150 music artists—playing a variety of music styles—and speakers, is called "40 Days & 40 Nights of Christian Music"* at the Ark Encounter and will run August 1 - September 9, 2023. Abraham Productions has organized multiple concerts that will be held Monday through Saturday; on Sunday afternoons, TrueSong will hold worship concerts and the Ark will provide a special speaker.
Attending concert performances is free with regular admission to the Ark Encounter or Creation Museum (the Ark's sister attraction) for that day. Both faith-based attractions are located in N. Kentucky.
The musical roster features over 100 artists who will be performing country, bluegrass, southern gospel, inspirational, worship and other musical styles over 40 days and nights at the attraction's huge 2,500-seat Answers Center. Musical performances will also be held at the Creation Museum, 45 minutes away in Petersburg, on Wednesdays and Thursdays. In addition, outdoor concerts will be held during the day at Noah's Village at the Ark Encounter, Monday–Saturday, with the main-event concerts at 4 p.m. in the Answers Center. On Sundays at 4 p.m., the Ark's resident artists TrueSong will lead a special worship time with speakers from Answers in Genesis, operators of the Ark and museum.
Music artists and groups include:
Cain the Band
The Isaacs
Jimmy Fortune
Selah
Triumphant
The Hoppers
Ernie Haase & Signature Sound
Karen Peck and New River
TrueSong (the Ark's resident artists)
And dozens and dozens more
Music enthusiasts will hear from speakers such as Ark founder and popular speaker Ken Ham, nationally broadcast pastor Dr. Robert Jeffress, Tim Lovelace and many more.
"Millions of people across America love these various styles of Christian music," Ham said. "Abraham Productions and the Ark Encounter offer a unique combination of award-winning groups, all coming to the world's leading Christian themed attraction." The Ark Encounter was recently voted again as the #1 Best Religious Museum in a USA Today poll and the Creation Museum finished second. Ham added: "The Ark and Creation Museum are the top Christian family friendly destinations in America. Guests at the music festival can tour the life-size Ark, explore the beautiful grounds, take their children or grandchildren to the playground and large carousel, and meet the zoo animals."
Abraham Productions is well known for producing large gospel music events, such as "Singing In The Sun," a 6-day event with 30 major artists and national speakers, taking up the entire 250,000 square foot Myrtle Beach Convention Center in Myrtle Beach, S.C., next month. Abraham Productions is also known for some of the most successful national concert tours and Christian music cruises.
"We believe '40 Days & 40 Nights' will be our largest-attended music event to date," said Ray Flynn, president of Abraham Productions. "We expect many guests will come for more than one day, so the final attendance might end up being even higher than last year's event, which was almost 50,000."
Daily admission to the Ark Encounter gives free access to all the concerts and speakers that day and allows guests to explore the Ark, which at 510 feet long is the largest timber-frame structure in the world. Built according to the dimensions in the Bible, the Ark features three decks of striking teaching exhibits.
Ham, founder of AiG, which owns and operates the Ark Encounter and Creation Museum, declared: "I'm thrilled our world-renowned Ark attraction will once again host this ambitious music festival. We expect to welcome visitors from all over the country—and even from abroad as travel restrictions have waned."
Ham added: "Each concert is included with general admission to the Ark Encounter. Likewise, the Wednesday and Thursday concerts at the Creation Museum are included with a regular museum ticket. To encourage people to attend as many concerts as possible, we want visitors to consider purchasing a Bouncer Pass, with three-day and annual options. The three-day pass lets guests 'bounce' between the attractions with unlimited access to both the Ark and museum for three days within a seven-day period." Ham continued: "There's even a new one-year Ultimate Bouncer Pass, which gives an individual, couple, or family twelve months' worth of bouncing between the two attractions, with free parking. Yes, all 40 days of our music festival can be enjoyed with the Ultimate Bouncer Pass."
Admission prices, discounts, Bouncer pass information, hotel options and additional details are available at www.40daysofchristianmusic.com. Tickets and Bouncer passes can be purchased through www.arkencounter.com or by calling the Ark Encounter at 800-721-2298.
Abraham Productions, Inc., was founded in 1998 and is one of the largest and most-respected concert production companies in the gospel music industry. The "40 Days & 40 Nights" music festival at the Ark is sponsored by the Museum of the Bible, along with Christian Health Care Ministries, Templeton Cruises & Tours, and Singing News.
Ray Flynn, President and CEO of Abraham Productions, Inc., said: "We are extremely honored and thankful to have the opportunity to partner once again with the Ark Encounter and Creation Museum in presenting this mega Christian Music Festival at the top Christian family destinations in America."
Answers in Genesis is an apologetics (i.e., Christianity-defending) ministry based in northern Kentucky, near Cincinnati. For more information on the two attractions, visit http://www.creationmuseum.org and http://www.arkencounter.com.
*"40 days and 40 nights" is the well-known phrase from Genesis 7:4 of the number of days it rained during Noah's Flood.
###