PLATINUM-SELLING UNITED DROPS "OF DIRT AND GRACE: LIVE FROM THE LAND (EXPANDED EDITION)" FEATURING UNRELEASED VERSIONS OF SONGS RECORDED LIVE FROM THE HOLY LAND
NEW ALBUM AVAILABLE WORLDWIDE TODAY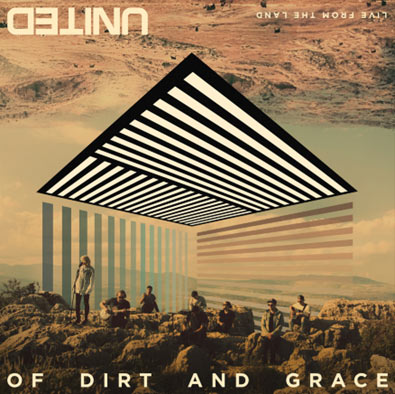 NEWS SOURCE: Rogers & Cowan
March 31, 2023
LOS ANGELES (March 31, 2023) — Today, multi-award-winning and platinum-selling artist UNITED releases "OF DIRT AND GRACE: LIVE FROM THE LAND (EXPANDED EDITION)" album. In 2016, UNITED released "Of Dirt and Grace" (200 million global streams) - a collection of songs that were intentionally re-imagined within the fabric of the landscape where their inspiration, Jesus, walked and turned the world on its head. This Easter, UNITED adds new unreleased songs to the 2023 live project that is one of the group's most unique to date.

Featuring breathtaking imagery and impacting visuals and audio, the 19-track compilation includes never-before-heard versions of "Grace to Grace," "Man of Sorrows," "Praise the Name," and "No Other Name," all of which were recorded live and on location in Israel – from Jerusalem up to Tiberius around the Sea of Galilee. Listen to "OF DIRT AND GRACE: LIVE FROM THE LAND (EXPANDED EDITION)" here.

"We were thinking about what we could bring to hopefully bless the church or to bless you during this Easter season and we were reminded that we did this project a few years ago that some people know about it, and a whole lot of people don't know about it - but it's my favorite thing that we ever did!," says UNITED's Joel Houston. "We went (to Israel) without a plan and just recorded a ton of songs. The reason we sang them in those places at that time was because it was Easter and we were in the very places where the events that changed the world, changed our lives, and continue to change lives all around the world took place. At this moment in history, we've put together some of the songs that we have never released and we're praying that they will be a blessing to you at a future moment in history."

UNITED recently wrapped their multi-city co-headline Tomlin UNITED tour, performing for packed arenas in major markets around the nation. Heralded as one of the biggest Christian music tours of 2022 with 34 dates in total and a quarter million attendees, the Tomlin UNITED Tour provided an intimate night of worship, where fans joined together to experience some of the biggest songs that have shaped modern faith today. This May, the group will embark on its Europe "ARE WE THERE YET" TOUR MMXXIII visiting the UK, Germany, the Netherlands, Croatia, Switzerland, Poland and Hungary.

For more information on UNITED, visit www.hillsongunited.com or @hillsongunited on all social platforms.

"OF DIRT AND GRACE: LIVE FROM THE LAND (EXPANDED EDITION)" TRACK LIST
Here Now (Madness)
Say The Word
Heart Like Heaven (Falling)
Touch The Sky
Street Called Mercy
When I Lost My Heart To You (Hallelujah)
Even When It Hurts (Praise Song)
Prince Of Peace
Empires
Rule
Captain
Closer Than You Know
I Surrender
Oceans (Where Feet May Fail)
Scandal of Grace (I'd Be Lost)
O Praise the Name (Anástasis)
Grace to Grace
Man of Sorrows
No Other Name

About UNITED
UNITED is a multi-award-winning, platinum-selling artist whose chart successes (repeatedly no. 1 on Billboard's Christian charts and up to #5 on Billboard 200) are only bested by the millions of lives they've impacted across the globe. The modest band born from a youth ministry out of Hillsong Church in Australia touts a reach of over 15.8 million across all major social network platforms to date, including 6 billion minutes garnered from YouTube viewers. Comprised of an evolving, eclectic mix of musicians and songwriters, the band is led by Joel Houston and Taya, names that have become synonymous with Christian radio, dominating airwaves with every new release. Their last four studio albums have each topped the USA Christian chart, with "Zion" and "Empires" charting no. 1 ("Zion" recently also went Gold in the US); "Oceans," written by Houston and band member Matt Crocker recently went triple platinum in the States, counting 200+ million streams and reigning on top of the Christian songs chart for a record 54 weeks.

In studio, on tour or at home, UNITED is committed to writing songs that speak truth, create a unique sound and connect people everywhere with God, evident by the success they've seen globally. With over 50 countries and six continents visited, UNITED continues to sell out arenas and stadiums around the world, including sold-out nights at the Forum, STAPLES Center and The Hollywood Bowl in Los Angeles, The Toyota Center, Oracle Arena, Air Canada Arena, American Airlines Arena (Miami and Dallas), and Red Rocks to scratch the surface. UNITED functions from the deep understanding that everything they do is an expression of a really extraordinary God doing what only He can do, through really ordinary people.
###
For more info on Hillsong UNITED, visit the JFH Artists Database.