The Inspirations' Retrospective Collection, Ageless Treasures, Out Now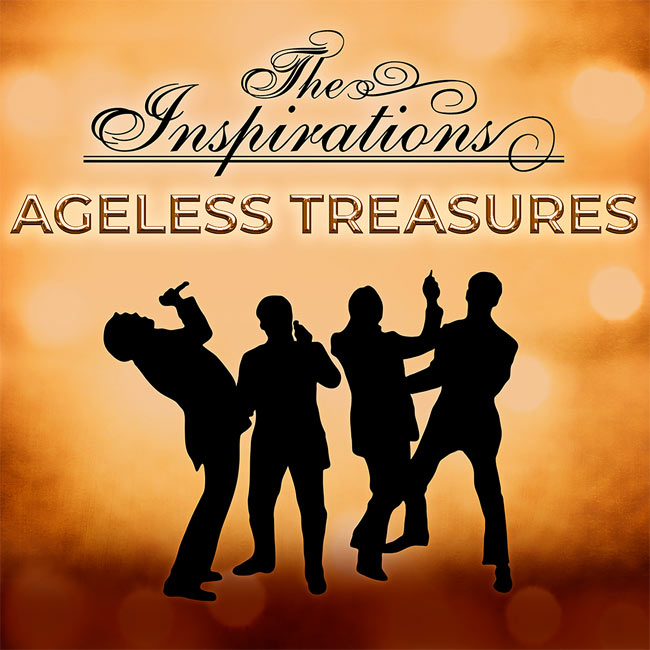 NEWS SOURCE: Crossroads Entertainment & Marketing
April 14, 2023
Arden, North Carolina (April 14, 2023) —
Throughout the last few years, the latest generation of storied Southern Gospel quartet
The Inspirations
were a highlight of the
National Quartet Convention
, featured on the cover of
Singing News magazine
, and winners of the publication's
fan awards
for
favorite album
and
favorite young artist
. As the group prepares to record new music, they are pausing to look back at decades of music with
Ageless Treasures
, a
two-disc retrospective
of fan-favorite songs
out now
from
Horizon Records
.
Since forming in 1964, The Inspirations' distinct sound has always been instantly recognizable and has changed little across 57 years of recordings — no matter who was singing. This sound carries through the 30 songs on Ageless Treasures, which features #1 songs "I'll Not Turn My Back On Him Now," "If You Only Knew" and "I Have Not Forgotten"; fan favorites like "We Need To Thank God" and "In The Twinkle Of An Eye"; and classics such as "They're Holding up The Ladder" and "I'll Have A New Life."
Says lead vocalist Roland Kesterson, "For the last 22 years, The Inspirations have been blessed to have been on the Horizon Records label. Over the span of two decades, we have recorded some songs that have become fan favorites, songs that we still stage today and have requests for each night. Every song we sing is special to us, however, only a few stand the test of time and become ageless, in other words songs that never get old."
"As you listen to this collection," he continues, "it's our prayer that each song not only blesses your heart but fills your mind with memories of the first time you heard them and how God has used these songs to minister to you as well as us. We hope you can once again enjoy our Ageless Treasures."
Listen to
Ageless Treasures
HERE
.
About The Inspirations
The Inspirations first formed in 1964 in Bryson City, North Carolina and became full time in 1969 after hosting their first "Singing In The Smokies" event. With a number of hit songs through the 1970s, the group rose to national attention and joined the Gospel Singing Jubilee Television program. In January of 1970, they secured their first #1 song on the Singing News Chart, "Jesus Is Coming Soon," marking just the beginning of their chart-topping success. In November of 1973, The Inspirations held the #1 spot for 12 months with "Touring That City." It was followed with the success of "When I Wake Up To Sleep No More" in 1974 and "Jesus Is Mine" in 1976. In 2001, The Inspirations recorded their first album with Horizon Records, titled Pure Vintage. The album's first song, "I'll Not Turn My Back On Him Now," returned the group to the top of the Singing News chart after 26 years. It was followed with more #1 tracks with "I Have Not Forgotten" and "If You Only Knew." The Inspirations are Roland Kesterson, Luke Vaught, Wyatt Austin and Isaac Moore.
About Crossroads:
Crossroads
is a market leader in the Southern Gospel, Bluegrass, and Americana fields. Established in 1993, following the combination of Horizon Music Group and Sonlite Records, Crossroads now operates several divisions including Crossroads Label Group (Horizon Records, Sonlite Records, Mountain Home Music, Skyland Records, Pisgah Ridge Records, Crossroads Records, and Organic Records), Crossroads Distribution, Crossroads Radio Promotions, and Crossroads Recording Studios. Led by a strong executive team of Christian music and Bluegrass music veterans, Crossroads combines cutting-edge technology with creative innovation to connect fans with our artists' music.
###