BETHEL MUSIC ANNOUNCES 2023 WORSHIP SCHOOL TO TAKE PLACE JULY 17-21
15-TIME GRAMMY AWARD WINNER
CECE WINANS TO JOIN AS SPECIAL GUEST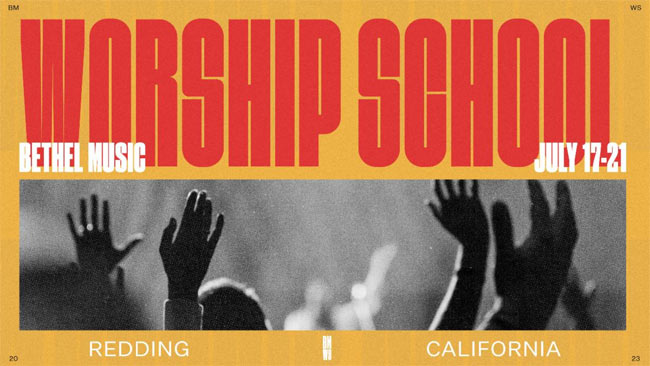 NEWS SOURCE: PFA Media
May 8, 2023
This summer, Bethel Music Worship School will take place in Redding, CA from July 17-21. The renowned and much anticipated event, which began over two decades ago, is an opportunity for passionate worshipers, leaders, songwriters, musicians, and creatives to come together to grow, learn, and expand their craft. This year guest speakers Bill Johnson and Ray Hughes will be joined by special guest 15-time GRAMMY Award winner and gospel music's most highly decorated female artist CeCe Winans as well as members of the Bethel Music Collective. Registration for Bethel Music Worship School is now open HERE.
"It's an absolute dream and honor to have CeCe a part of school this year!!" shares Bethel Music President Jenn Johnson. "As a personal hero of mine, far beyond her incredible gift and songs, is her integrity, longevity and the way her life gives all the glory to God."
Over the course of five days, participants will have the opportunity to attend over 50 classes led by teachers who are experts of their field ranging from worship leading and songwriting to music publishing and studio production. The Bethel Music Collective including Brian and Jenn Johnson, Kristene DiMarco, John Wilds, Paul and Hannah McClure, Josh Baldwin, Bethany Wohrle, Emmy Rose, David Funk, Zahriya Zachary, and Edward Rivera will be in attendance to share their testimonies and experiences creating music for the Lord.
Learn more about Bethel Music Worship School HERE.
About Bethel Music
Bethel Music is a worship movement dedicated to pursuing the presence of God and capturing fresh expressions of worship out of Redding, California. Since forming in 2001, Bethel Music has grown from a local church music ministry to a global collective of songwriters, artists, and musicians. The movement was co-founded by Brian and Jenn Johnson with a mission to raise up worshippers who take hold of their true identity and pursue intimacy with God above all else.
The Bethel Music collective has released 17 worship albums each of which carry a unique theme and feature some of the most recognized artists in the genre, the most recent releases being Homecoming (2021), Peace, Vol. II (2021), and Simple (2022). In 2021, the label was nominated for 6 Dove Awards, followed by another 11 in 2022, spanning categories from Songwriter of the Year and Worship Album of the Year to Inspirational and Rock/Contemporary Songs of the Year.
As a youthful label of only 13 years, Bethel Music has broken records, consistently ranking in CCLI's top 25 songs since 2013. Most notably "Goodness of God" holds the record for most weeks at No. 1 with 68 weeks and "This Is Amazing Grace" has ranked in the 25 songs since 2014, "No Longer Slaves" since 2016, and "The Lion and the Lamb" since 2017. In addition, "Reckless Love" has appeared in the top 10 since 2018 and "Living Hope" in the top 10 since 2019. Hitting a new stride over the last few years, Bethel Music has continually ranked at #6 in the top 10 radio market share.
In 2023, Bethel Music is looking forward with a number of new releases, beginning with their most ambitious album to date, Come Up Here. The project, two years in the making, was recorded in the heart of the Redwoods of Northern California and embodies everything that Bethel Music stands for musically, lyrically, and visually.
###
For more info on Bethel Music, visit the JFH Artists Database.