Soccer Moses Presents: Nuns N' Moses
Free Show Benefitting Nashville Humane Association, Friday, Aug. 25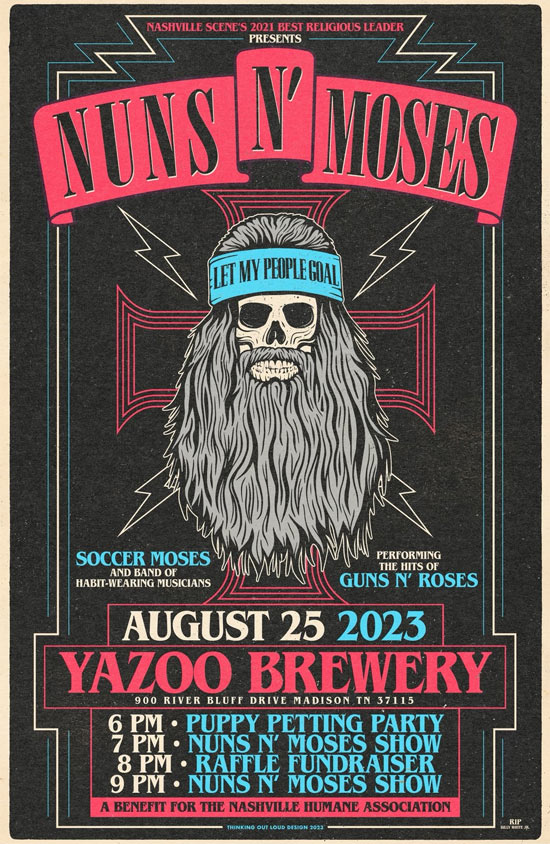 NEWS SOURCE: Marushka Media
August 10, 2023
What: Nuns & Moses, a tribute to Guns 'n' Roses. Two 45-minute musical sets featuring different Nashville performers singing Guns & Roses hits
When: Friday, August 25, 6pm - 10pm (24hrs before Guns N' Roses play Geodis Park)
Who: Soccer Moses, a band of Musical Nuns, and a cast of rotating Axls
Where: Yazoo Taproom, 900 River Bluff Drive, Madison TN, 37115
Why: To raise money for Nashville Humane Association.
**All profits from sales of Nuns N' Moses concert posters, t-shirts, and stickers (designed by Nashville designer and artist Keith Brogdon), as well as raffle ticket sales, will be donated to Nashville Humane Association.

Donate directly to Nashville Humane Association via Venmo @nashvillehumane.

Soccer Moses, Nashville Scene's 2021 Best Religious Leader and second favorite sports mascot, has organized a concert to benefit the Nashville Humane Association.

Alongside a band of habit-wearing musicians, he'll be performing the hits of Guns N' Roses, under the moniker "Nuns N' Moses".

In addition, the songs will be performed by a cast of "rotating Axls", featuring Diana DeGarmo from Broadway and American Idol, owner/operator of Sid Gold's Kira Small, stage and theater performers Laura Matula and Melodie Madden Adams, Nashville singer/songwriters Bre Kennedy and Kenny Foster, and Nashville visual artist and avant-garde performer J. Todd Greene.

They'll perform two shows (7pm and 9pm), with a raffle of guitars and other items to benefit the Nashville Humane Association at 8pm — details below.

Details:
6pm: Puppy Petting Party with Nashville Humane Association
7pm: Nuns N' Moses, set 1
8pm: Raffle including 2 guitars supplied by Guitar Center, 6 Tickets to see Nashville Soccer Club supplied by MAPCO, Soccer Moses merchandise, Nuns N' Moses Merchandise, Yazoo Gift Baskets, and gift cards to local businesses including Dino's, Plato's Closet, Lipstick Lounge, and more
9pm: Nuns N' Moses, set 2

All night:
Exclusive re-brewing of Let My People Gold! Lager from Yazoo on tap
Bad Luck Burger Club (food truck)
Pied Piper Creamery Ice Cream
Nuns N' Moses merchandise designed by Keith Brogdon
Soccer Moses merchandise
Sound and Lights Donated by PTP Live

A Reading From The Book Of Soccer Moses:
And it came to pass that Guns N' Roses would play at Geodis Park on Saturday August 26th. Soccer Moses did ponder this event and how he could use it to spread joy to the people and raise money for a good cause.

And The Lord spoke to Soccer Moses and said, "Gather from among your number the finest musicians, and robe them in the garments of my daughters. By this method you shall bring joy to the people! Then find a worthy non-profit from the locality. Join hands with them and offer prizes to the people in return for funds for the non-profit. By this method you shall raise money for a good cause."

Soccer Moses called out to his tribe, and gathered from among their number a group of willing and over-qualified musicians and clothed them in habits and wimples, and found a number of incredible vocalists to lead the band, each in a different song.

He was overcome with joy and puns, and thus was born Nuns N' Moses, featuring a cast of Rotating Axls.

He then called out to the leaders of The Nashville Humane Association. They did jump at the chance to be involved and offered to bring a number of small beasts for the people to snuggle.

And they all came together on Friday, August 25th at Yazoo Brewery in Madison, TN and made a joyful noise.

And the people rejoiced.

Nuns N' Moses
Court Clement - Guitar
Jon Schneck - Guitar (Relient K)
Stephen Mason - Guitar (Jars of Clay)
Joe Garcia - Guitar
Charlie Lowell - Keys (Jars of Clay)
Matty Adams - Bass
Rob Mitchell - Drums (Wes Cunningham/Sixpence None the Richer)

Matt Nelson - Cello
Bethany Bourdeaux - Violin
David Madeira - Whistles, BGVs
Jenny Piper - BGVs
Neil Konouchi - Tuba (Nashville Symphony)

Rotating Axls
Diana DeGarmo
Bre Kennedy
Laura Matula
J Todd Greene
Melodie Madden Adams
Kenny Foster
Kira Small

About Soccer Moses:
The Legend of Soccer Moses was born at Nashville Soccer Club's first match in the MLS, when the soccer prophet held aloft a banner that read "Let My People Goal!" and the moment was broadcast to the nation by ESPN. His prophetic message was then amplified by countless highlights packages, mentions on international podcasts, and features in worldwide soccer magazines.

Far more than a one-trick-prophet, the man behind the fake beard, Stephen Mason, is a three-time GRAMMY Award-winning musician, and is also known to his barbershop clients as "The Handsomizer." In his persona as Soccer Moses he was voted as Best Religious Leader in the 2021 Nashville Scene Readers Poll, as well as being voted second best sports mascot and third best barber.

When faced with any opportunities, the guiding questions Soccer Moses asks himself are 1) will it bring joy to the community, and 2) is there an opportunity to make a difference to a good cause?
###
For more info on Jars of Clay, visit the JFH Artists Database.
For more info on Relient K, visit the JFH Artists Database.