LOUANN LEE OFFERS A HAVEN OF "GOD'S PEACE" WITH HER SONG "MY PEACE I PROMISE YOU"
Witness the Embodiment of God's Tranquility on Christian Radio Today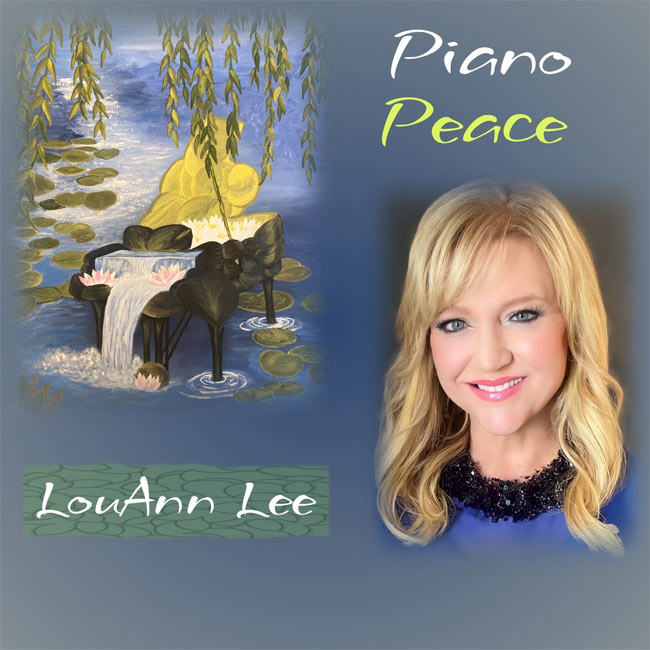 NEWS SOURCE: INOV8 PR
September 12, 2023
NASHVILLE, TENNESSEE (September 12, 2023) – Renowned Christian artist LouAnn Lee unveils her latest radio single, "My Peace I Promise You," delivering a message of God's peace and the hopeful anticipation of reunion, to Christian radio stations nationwide today. This cherished piece, culled from her well-received album "Piano Peace," stands as a testament to her deep-rooted faith and devotion to spreading God's message of peace through music.
Lee, speaking on the inspiration behind the song, shared, "In these trying times, 'My Peace I Promise You' stands as a beacon of God's tranquility, offering solace to weary hearts and encouraging listeners to find refuge in God's unwavering promises."
Under the aegis of the Eternal Perspective label, with Lee at the helm as the producer and the creative force penning the lyrics, the single beckons listeners to a space of safety and God's peace. Its resonant lyrics and melodious tune aim to elevate spirits, fostering a sanctuary of serenity in the hearts of those who tune in.
The song mirrors LouAnn Lee's extensive journey as a faith leader, showcasing her dedication to being a conduit of God's message as a pastor's wife, worship leader, and holding pastoral responsibilities at Celebration Community Fellowship in Meadow Vista, California. Through her nurturing voice, she seeks to extend a musical hand of reassurance, encouraging a steadfast grip on the promises of God in turbulent times.
Following a lineage of chart-topping releases, including her prior hit "Greater is He" which debuted at the prestigious #1 spot on the CRC Radio charts, Lee is set to touch hearts once more, offering a reprieve through her comforting lyrics and tranquil melodies. Her legacy, rich with tracks that echo God's love and care, stands as a testament to her tireless dedication to sharing messages of hope and God's peace through her music.
As "My Peace I Promise You" airs today, it brings with it the encompassing warmth of its home album "Piano Peace," inviting listeners to find solace in the arms of God's tranquility, painted through harmonious melodies and profound lyrics that echo with promise and hope.
We invite you to embrace this beautiful journey of reassurance and God's peace as "My Peace I Promise You" graces Christian radio stations worldwide today, reflecting LouAnn Lee's continual commitment to be a harbinger of God's tranquility through her evocative music.
Connect with LouAnn Lee:
http://www.louannlee.com/
https://www.facebook.com/LouAnnLeeMinistries
https://www.instagram.com/louann.lee/
https://twitter.com/louannlee
About LouAnn Lee:
LouAnn Lee is a Christian artist with a rich history of accolades and accomplishments in both music and academia. From securing a record deal in her early career to pivoting to a path of faith-driven music, her commitment to her craft and her faith has never wavered. A decorated student, LouAnn graduated Summa Cum Laude with a 3.9 grade point average from UTA in Arlington, Texas, standing out as "best musician" and "most likely to succeed."
LouAnn has demonstrated her versatile talents not only as a singer but also as a revered author, with her Bible study book "Extravagant Love, How Will You Be Remembered?" making waves in over 400 churches globally. Recognized by industry giants, she has seen her compositions recorded by the likes of Crystal Lewis and Bryan Duncan.
An individual of manifold achievements, she has garnered over 9 #1 singles on radio charts, has been featured in Worship Leader Magazine, and has impacted more than 37,000 lives, guiding them to Christ both in the USA and overseas. With an unyielding drive and supported by her family and industry stalwarts, LouAnn continues to be a beacon in the Christian music landscape, illustrating the extraordinary power of music and faith.
###