CHARISMATIC AND DYNAMIC VOCAL GROUP GIRLS NEXT DOOR RELEASE NEW GOSPEL SINGLE, "LIVIN' IN THE RAIN"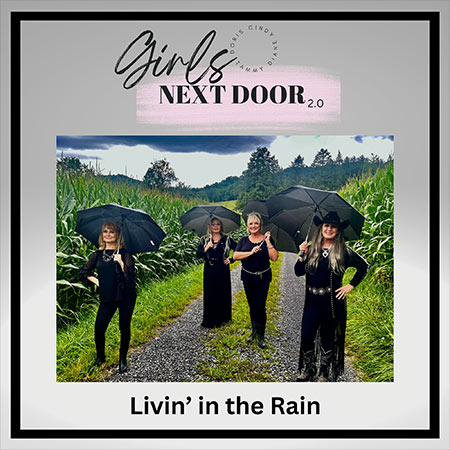 NEWS SOURCE: B! Noticed PR
October 4, 2023
NASHVILLE, TN - (October 4, 2023) - Charismatic and dynamic vocal group Girls Next Door, well-known for their exquisite harmonies, are excited to announce the release of their new Christian Gospel single, "Livin' in the Rain." Lending itself exceptional gospel harmonies, acapella singing and a relatable spiritual message, the song hits the mark and is available now for download and streaming on all digital streaming and download platforms at https://taplink.cc/gnd_livinintherain.

Girls Next Door shared, "We listened to many possibilities and after hearing Jeff and Sheri Easter sing 'Livin' in the Rain,' we knew we had found our song! While the single contains only bass and percussion instrumentation, we mostly sing this acapella in a live situation. We were immediately drawn to the possibilities and we are not disappointed!"

"What happens when four incredible vocalists take you on a journey from their gospel roots to the streets of New Orleans?" asked Engineer and Producer Tom Harding. "You get the Girls Next Door singing 'Livin' in the Rain.' Let the journey begin."

"When four people sing as good as Girls Next Door, just snap your fingers and the magic begins!" exclaimed Duane Allen of The Oak Ridge Boys. "'Livin' in the Rain' will have you snapping your fingers too, and singing along!"

"...Gonna stay outside in the waterfall,
There ain't nothing to worry about.
I'm gonna jump right in, get my bare feet wet
'Cause His mercy keeps a-coming down

I've been livin' in the rain, child,
I've been livin' in the rain
Soaking up the blessing of the good Lord
I've been livin' in the rain
I don't need to find a shelter,
Don't want the weather to change
'Cause all my days are better now,
Since I've been livin' in the rain
All my days are better now, since I've been livin' in the rain
All my days are better now, since I've been livin' in the rain..."

"Livin in the Rain" was penned by Twila J. Labar and Simon Hawkins. Producers were Tom Harding and TW Hale, with Joel McKenney serving as Assistant Engineer. It was recorded at Ronnie's Place and mixed at Tombstone South by Tom Harding.
Lonnie Wilson and TW Hale played percussion and Mark Burchfield was on bass.

Stay current with Girls Next Door on their Official Website girlsnextdoormusic.com. Like and follow them on Facebook, Twitter (X), TikTok, Threads and Instagram and watch and subscribe to videos on the official YouTube channel.

Stream and download Girls Next Door music on Spotify, Amazon Music, Apple Music/iTunes, Pandora, YouTube Music and more.

About Girls Next Door:
Vocal quartet, Girls Next Door, came onto the country music scene strong during the mid-80s. Cindy, Diane, Doris and Tammy knew one another while performing in the live shows at Opryland Music Park. The idea of this group was sparked by producer Tommy West, who knew Doris. West hailed from the days of Manhattan Transfer and mentioned to Doris his dream to produce a female vocal group. The rest is history. West was brought on as the head of A & R at the new Nashville label, MTM Records, and he brought Girls Next Door with him.

Right out of the gate, the group scored a #14 hit on the Billboard charts with their first single, "Love Will Get You Through Times of No Money, Better Than Money Will Get You Through Times of No Love." They followed that single with the top 10 single, "Slowboat to China" which went to #8 on the Billboard charts. All in all, Girls Next Door charted nine songs in their nearly ten years together. They released two albums on MTM Records with West, and one on Atlantic Records with producer Nelson Larkin.

During Girls Next Door's touring days, they traveled extensively with The Oak Ridge Boys, The Statler Brothers and Lee Greenwood. They also performed with The Judds, Randy Travis, Exile, Loretta Lynn and Sawyer Brown to name a few. If you ask the girls, they will tell you their favorite events were with the legendary George Jones at The Kennedy Center and with the Oak Ridge Boys at Caesars Palace in Las Vegas. Television appearances include The Today Show, Entertainment Tonight, and TNN shows – Nashville Now, Crook and Chase, On Stage, Hee Haw and Video Country. The girls also made several appearances on the Grand Ole Opry stage!

In 1991, Girls Next Door performed for the last time on Nashville Now with Ralph Emery. It was bittersweet, but these girls had no problem prioritizing family. Being with their husbands, children, and parents was where their hearts were.
There were several brief reunions over the years, but nothing seemed to stick. It wasn't the right time. There were aging parents and teenagers and Doris and Diane are both cancer survivors. Faith is an important component of their lives, and they knew things would come together in God's timing – and it appears that now is God's timing.

After 30 years, Girls Next Door is back with a new album titled, appropriately, Girls Next Door 2.0 - NOW or NEVER, produced by H2 Productions, TW Hale and Tom Harding. The first single release is titled "What's This Thing You've Got About Leaving" and right off the bat you will recognize their sound as if never left. On this album, each girl is featured, but come together with those tight, bright vocal harmonies you know and love. In their 2.0 version, they are lively, fun, confident, and entertaining. You won't be disappointed!
The group consists of original members Cindy Nixon Psanos, Diane Williams Austin, Tammy Stephens Smith, and Doris King Merritt.
###