EMANUELDAPROPHET MAKES TAMLA RECORDS/ENCOURAGEMENT MUSIC/QUALITY CONTROL DEBUT WITH NEW SINGLES "HOLY STEPPIN" & "GHETTO GOSPEL" FEAT. RICH THE KID
MICHIGAN-BRED RAPPER MARKS FIRST ARTIST RELEASED ON NEWLY LAUNCHED ICONIC LABEL
VIDEOS FOR "HOLY STEPPIN" & "GHETTO GOSPEL" PREMIERE TODAY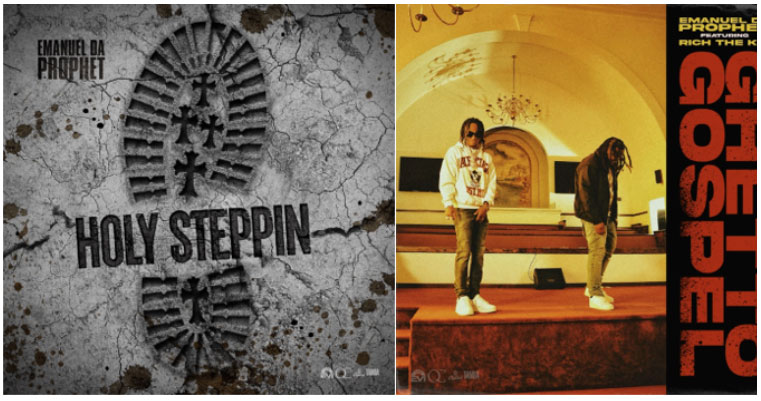 NEWS SOURCE: Capitol Music Group
November 3, 2023
November 3, 2023 — (Hollywood, CA) — Today, breakout rapper/songwriter EmanuelDaProphet makes his Tamla Records debut with two powerhouse singles and their accompanying videos: "Holy Steppin," and "Ghetto Gospel" feat. Rich The Kid. The Michigan-bred rising star is the first artist to emerge from the much-buzzed-about partnership between the newly relaunched Tamla Records/Capitol Christian Music Group and Encouragement Music, backed by Quality Control and founded by longtime QC engineer/A&R Thomas "Tillie" Mann. Listen to "Holy Steppin" and "Ghetto Gospel" HERE; go HERE to watch the video for "Holy Steppin" and HERE for the "Ghetto Gospel" video.
Hailing from the small town of Jackson, EmanuelDaProphet approaches his music with an unstoppable passion for speaking the truth about the struggles that shaped him. Like many young people in his hometown, he grew up with few opportunities to build a life beyond gun violence, drugs, and dead ends. After being shot, he discovered a renewed sense of purpose and dedicated himself to showing others that there is a better way. Now at work on his debut album — featuring major stars like Lil Yachty, Quavo, and Rylo Rodriguez along with Rich The Kid — EmanuelDaProphet infuses everything he creates with a strong-minded message of inspiration and empowerment.
EmanuelDaProphet said, "It's a real dream come true to partner with these teams, from Encouragement Music and QC, to the historic Tamla Records. It's a lesson to never give up on anything you start, because one day your life can change in a blink of an eye."
Both singles produced by Thomas "Tillie" Mann (Lil Baby, Lil Yachty, Drake, Migos), "Holy Steppin" and "Ghetto Gospel" make for a powerful introduction to EmanuelDaProphet's music. On "Holy Steppin," he brings his rapid-fire flow to a potent backdrop of piano-driven beats, sharing his story of how finding faith saved his life. Hard-hitting and hypnotic, "Ghetto Gospel" finds EmanuelDaProphet further reflecting on how Christianity transformed his entire existence, with Rich The Kid dropping in for his own heartfelt verse.
"I'm blessed to be part of such a powerhouse alliance," said Thomas "Tillie Mann. "Pee & Coach taught me the game, and now it's time to continue the QC legacy and dominate the charts with my TAMLA family. This partnership will redefine what positive music is to the mainstream masses. We will change the culture."
"Tillie is one of the hardest-working guys I know," said Quality Control Co-founder Kevin "Coach K" Lee. "He's one of the greatest mix engineers out there, but he has an incredible ear for music on the A&R side. The moment he said that he wanted to start his own label, I told him that Pee and I have his back."
Directed by TBA, the video for "Holy Steppin" adds some humor to EmanuelDaProphet's storytelling as he plays the part of a fed-up driver for a food-delivery app. Meanwhile, the "Ghetto Gospel" video (directed by TJK+ and The Director Frazier) offers an up-close glimpse at his world, following EmanuelDaProphet through city streets, to the barber shop, and to the altar of a church where he's joined by Rich The Kid.
With his commitment to making faith-formed and culture-forward music, EmanuelDaProphet is an ideal artist to usher in the new era of Tamla Records — a label first founded by music visionary Berry Gordy nearly 65 years ago before he changed its name to the now-iconic Motown Records. With its past roster including legends like Stevie Wonder, Marvin Gaye, and Smokey Robinson & The Miracles, Tamla Records relaunched earlier this year by Capitol Music Group (CMG) and Capitol Christian Music Group (Capitol CMG) with a focus on positive hip-hop and R&B music. Overseen by EJ Gaines (SVP of Marketing for Capitol CMG, and Executive Director of Tamla Records and Motown Gospel), the label previously announced Mann and his label Encouragement Music as the first partner under the revived imprint.
Said EJ Gaines, "I couldn't be more excited about Emanuel and our collaboration with Encouragement Music and QC. I'm hopeful that fans and creators of hip-hop, alike, will see this as a movement that shifts the genre in a positive direction."
###