NEW ARTIST STEPHANIE SMITH PARTNERS WITH SOLES4SOULS AT TENNESSEE SCHOOL FOR THE BLIND SHOE DONATION
Artist Performs Song From Her Upcoming 2008 Gotee Records Debut
NEWS SOURCE: Word Records
November 11, 2007

(Nashville, Tenn.) November 9th, 2007 – Stephanie Smith, Gotee Records' up-and-coming female pop-rocker, performed her hit song "Superstar" as part of today's Soles4Souls shoe donation at The Tennessee School For The Blind.
Soles4Souls staff was on hand to fit each student of the Tennessee School for the Blind (115 Stewarts Ferry Pike, Nashville) with their new pairs of shoes. This is part of a month-long series of donations that will include 25 locations across the U.S. with over 25,000 pairs of new shoes to be given to those in need during this Holiday season.
23-year old Stephanie Smith is already turning heads with an early introduction to her forthcoming debut album Not Afraid by Stephanie Smith, slated for an early 2008 street date. At radio, the first two singles "Superstar" and "Not Afraid" are gaining momentum with growing support weekly. "Superstar" is also available online at the iTunes store. Fans can download the song for $.99.
Smith, who has a passion for reaching the youth culture, is also actively involved with the Pure Freedom conferences (www.purefreedom.com) and the Secret Keeper Girl Tours, founded by top-selling youth author Dannah Gresh (And The Bride Wore White/Moody).
"This is such an exciting time in my life; I don't want to take that for granted, "asserts Smith who will be partnering with Soles4Souls through her live concert ticket sales and merchandise sales.
ABOUT SOLES4SOULS
Nashville-based Soles4Souls™ facilitates the donations of shoes, which will be used to aid the hurting worldwide. The organization has distributed more than 3 million pairs of shoes since January 2005 (or one pair of shoes every 28 seconds). Shoe companies, retailers, and individuals can donate both new and "gently worn" footwear. Soles4Souls is a 501(c)(3) recognized by the IRS; donating parties are eligible for tax advantages. For more information about Soles4Souls, please call (866) 521-SHOE, or visit www.giveshoes.org or www.soles4souls.org
For more information on Stephanie Smith, check out www.gotee.com OR www.stephaniesmithisagirl.com
# # #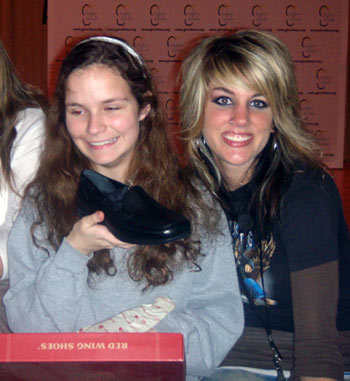 CAPTION: After a special performance at Tennessee's School For The Blind, Gotee new artist Stephanie Smith hangs with some of the students. Smith, who has recently partnered with Sole4Souls, was on hand for a shoe donation at the Nashville-based school. Smith's debut album is slated to release in early 2008.

[2022]
Jan. | Feb. | March | April | May | June | July | Aug. | Sept. | Oct. | Nov. | Dec.
[2021]
Jan. | Feb. | March | April | May | June | July | Aug. | Sept. | Oct. | Nov. | Dec.
[2001 - 2022]
Visit our complete MUSIC NEWS ARCHIVE