Introducing Thieves & Liars on new label Dreamt Music
NEWS SOURCE: Facedown Records
November 15, 2007
Today marks the dawn of Dreamt Music, an imprint record label founded by Jason Dunn of Facedown Records. After 10 successful years owning and operating the widely known metal/hardcore record label, Jason has set his sights on genres completely out of the realm of Facedown's jurisdiction.
Dreamt Music will focus on a diverse assortment of rock bands, attuning to a much wider audience. Citing Facedown's staunch branding in the heavy-music field as one of his main priorities, Jason explained the basis for the Dreamt Music platform. "It is very important that we keep heavy music associated with Facedown so that fans know what they can expect when they see the logo on an album. Dreamt Music affords us the opportunity to allow Facedown's focus to remain specific to its genre while simultaneously giving us the freedom to explore more rock-oriented bands." His sentiment represents that of the entire Facedown staff, all of who are looking forward to hand-selecting fresh talent for the new label's roster as well as the chance to delve professionally into a broader range of music.
The birth of Dreamt Music is not just the realization of a long-term goal for Jason but also a window for him to work more closely with Facedown band members in a new way. The inaugural Dreamt Music release has strong ties to the Facedown Family; Thieves & Liars is a blues-rock outfit ala Pink Floyd that boasts founding member Corey Edelmann, formerly of Facedown's long-standing hardcore band No Innocent Victim. Jason and his staff are tremendously excited about the release of the Thieves & Liars debut album When Dreams Become Reality. "This album has been playing in the Facedown office non-stop for months and it is an honor to be involved with an album of this caliber," says Jason.
Dreamt Music makes Facedown Records available to support their artists as they freely write the music they love, giving the artists a new expressive outlet. "Good music is good music, and this is a great opportunity for us to use the resources we have built up over the last 10 years with Facedown."
Dreamt Music will be distributed nationwide by RED Distribution and will be serviced to all industry outlets by the Facedown staff.
Thieves & Liars: http://www.myspace.com/weareallthievesandliars Dreamt Music: http://www.myspace.com/wedreamtmusic
Thieves & Liars bio:
Rock and Roll is not dead. This statement resonates on every track of When Dreams Become Reality, the debut album from Thieves & Liars. The San Diego-based power trio have spent the last several years constructing a concept record that will saturate your senses and take you on an epic journey of dreams and betrayal, loss and hope. The Zeppelin-meets-Floyd production came through a painstaking transfer process. Using recording techniques from the late 60's and early 70's, the band tracked most of the record live, giving the songs a very natural and warm sound. Kyle Rosa's thundering yet graceful drumming provided the necessary foundation for bassist Joey Bradford, whose playing solidifies the rhythm section with tasteful lines of expression. The aggressive and soulful guitar of Corey Edelmann completes the massive sound of this three-piece. Bradford's energetic and passionate vocals flow seamlessly between songs, showcasing his ability to sound natural whether screaming on "Betrayed by Blood" or pouring his heart out on "Alone". The attention to detail and thought put into every song is evident in the production, which included organ, a boys choir, and strings. The violinist's Stradivarius will move you on the ballad "Forgotten", while the harmonizing boys' chorus will haunt you on "The Author of Dreams". This 71 minute masterpiece is sure to instill hope in today's rock and roll scene; there is a revival coming, and the preachers are Thieves & Liars.
# # #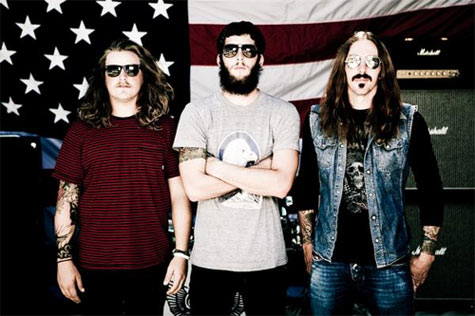 [2021]
Jan. | Feb. | March | April | May | June | July | Aug. | Sept. | Oct. | Nov. | Dec.
[2020]
Jan. | Feb. | March | April | May | June | July | Aug. | Sept. | Oct. | Nov. | Dec.
[2001 - 2020]
Visit our complete MUSIC NEWS ARCHIVE