AVALON TO LAUNCH "WE WILL STAND" TOUR
Michael English, Daniel Doss Band and CADIA Join
NEWS SOURCE: Savvy Media
February 19, 2008

(NASHVILLE, Tenn.) Feb. 19, 2008—Award-winning Sparrow Records vocal act Avalon is preparing for the "We Will Stand" tour, its first headlining tour in three years. Joining Avalon are labelmate Daniel Doss Band, Curb Records industry veteran Michael English and emerging Fervent Records female duo CADIA. The tour kicks off on March 27 in Pittsburgh and will visit more than 30 cities through May.
"Avalon is very excited about the upcoming tour," says Avalon founding member Janna Long. "We are anxious to hit the road again with these other talented artists and embrace new and old listeners alike."
In support of the tour, participating artists together recorded new song "We Will Stand," which they will perform to close each show. The song will also be serviced for play at Christian radio. Additionally, EMI Christian Music Group will highlight the tour as part of its "Music for the Entire Family" promotion at CBA retail outlets. A promotional display will feature all four artists' new albums, releasing Feb. 26, a tour CD sampler and English's new book, The Prodigal Comes Home. For more information and an up-to-date list of dates, visit the tour's web site at www.myspace.com/standtour.
Formed in 1996, Avalon set a new standard for modern spiritual music. In review of its 2006 project, Faith: A Hymns Collection, All Music Guide lauded the group's "vocal efficiency and personalized stylings that place Avalon among the elite singing groups in contemporary Christian circles." To date, the quartet has sold more than three million albums, charted 20 No. 1 singles, and won an American Music Award plus numerous Dove Awards such as the 1999 Pop/Contemporary Song of the Year for "Testify to Love." That song, a listener favorite, has also been specially re-recorded for the group's Feb. 26 release, Another Time, Another Place. For more information, visit www.avalonlive.com.
Michael English returns with his first studio album (Curb Records) in nearly eight years. Michael's most personal collection of songs to date, The Prodigal Comes Home is complimented by an autographical book sharing the same title. Michael's journey has been slow and painful but it is one that has brought him back to the overwhelming place of hope and redemption. A journey that shows how God's grace shines even in our darkest hours and a story for every one of us who knows what it means to feel lost and in need of a Father who will welcome us home.
Daniel Doss has a deep sense of calling on his life – a passion to lead people to an encounter with a great God. On his band's Sparrow Records debut, Greater Than Us All, there are songs that usher you deep into worship ("Love Like Rain" and "Sing Your Name") songs of hope ("Hold On" and "God In Me"), reminders of grace ("I Need You"), and God's greatness ("Great God" and "Abba Father"). An important element of Daniel's calling is to be an encourager to the church and church pastors. As a worship leader of an emerging church in Clarksville, TN, Daniel witnesses the journey of fellow believers each week and in response writes songs that not only minister to them but to all who hear his music.
Nashville-based CADIA comprises longtime friends Courtney Myers and Tori Smith, both 19 years old. The two became fast friends while participating in a junior high school play and continue to perform together. The duo will release its Fervent Records, self-titled debut on Feb. 26. Produced by Otto Price (BarlowGirl, Out Of Eden, SONICFLOOd) and Rob Hawkins (pureNRG, Jackson Waters), the record addresses themes of honesty, empowerment, self-esteem, compassion, and confidence in God, issues that both Courtney and Tori have confronted on their own journey to adulthood. In addition to providing fun, meaningful pop music, the record also aims to encourage other teens facing similar life experiences. The record's track "Inside Out" was featured last fall as the theme song/video for Women of Faith's "Revolve Tour," geared toward teen girls. For more information on CADIA, visit www.CADIAonline.com.
WE WILL STAND TOUR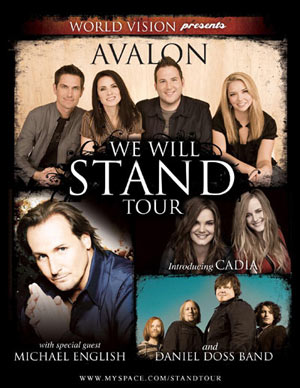 DATE / CITY / ST
27-Mar Pittsburg PA
28-Mar Charleston WV
29-Mar Poughkeepsie NY
30-Mar Binghamton NY
1-Apr Cincinnati OH
4-Apr Minneapolis MN
5-Apr Kansas City MO
6-Apr Mount Vernon IL
7-Apr Des Moines IA
10-Apr Mobile AL
11-Apr Orlando FL
12-Apr Clearwater FL
13-Apr Ellijay GA
15-Apr Charleston SC
17-Apr Charlotte NC
18-Apr Jacksonville FL
19-Apr Baxley GA
20-Apr Vero Beach FL
25-Apr Summit MS
26-Apr Little Rock AR
27-Apr State University AR
1-May Tulsa OK
2-May Dallas TX
3-May Abilene TX
4-May Wichita KS
6-May Westerville OH
8-May Greenville SC
9-May Washington DC
##### Fredrick MD
##### Atlanta GA
*all dates subject to change*
- ### -