- PROVIDENT'S FRIDAY BUZZ -
FOR THE WEEK ENDING MARCH 7, 2008
MICHAEL W. SMITH ON "LARRY KING LIVE"

CASTING CROWNS AND JOHN WALLER SPEND TIME WITH AUTHOR JOHN ELDREDGE

MATT MAHER SET TO BE MUSIC GUEST DURING BREAKAWAY'S FATHER-SON ADVENTURES 2008 IN THE ROCKY MOUNTAINS

FIREFLIGHT DEBUTS SOPHOMORE ALBUM UNBREAKABLE TO STELLAR REVIEWS

PILLAR'S FOR THE LOVE OF THE GAME DEBUTS AT NO. 71 ON THE BILLBOARD TOP 200 ALBUM CHART; NO. 4 ON CHRISTIAN ALBUM CHART

LEELAND'S OPPOSITE WAY GOING IN THE RIGHT DIRECTION

BRANDON HEATH'S BENEFIT SHOW RAISES NEARLY $20,000 FOR TENNESSEE TORNADO VICTIMS
NEWS SOURCE: Provident Label Group
March 7, 2008
Casting Crowns and John Waller Spend Time with Author John Eldredge: Recently during a Casting Crowns tour stop in Colorado, the top-selling artist along with tour mate John Waller met up for coffee with best-selling author and sought-after speaker John Eldredge in his hometown of Colorado Springs. The group exchanged stories of how Eldredge's works had impacted the ministries of several Casting Crowns band members and even Waller's inspired songwriting. Eldredge shared his family's love of their music. His books include Wild at Heart and The Sacred Romance. Casting Crowns' headlining tour has already played to 97,000 fans on the spring leg of The Altar and The Door Tour.
Matt Maher Set to be Musical Guest During Breakaway's Father-Son Adventures 2008 in The Rocky Mountains: Singer/Songwriter/Worship Leader Matt Maher will be on-hand to lead worship during Breakaway Magazine's Father-Son Adventures 2008 "Rocky Mountain 7-Day Adventure," on Saturday, June 21, 2008. The excursion will be based at Horn Creek Retreat Center next to Colorado's Sangre de Cristo Mountains, where attendees will enjoy nonstop camp fun, including evening worship, powerful speakers, a first-rate recreation center, hiking in the Rockies, rafting the Arkansas River, and more. The breathtaking wilderness will set the scene for making lifetime memories and forming deeper relationships. Maher's Essential Records debut, Empty & Beautiful, will hit stores on April 8, 2008.
Fireflight Debuts Sophomore Album "Unbreakable" to Stellar 5-Star Reviews: On Tuesday, Orlando-based rock band Fireflight released its buzz-worthy sophomore album Unbreakable to tremendous applause from media and rock radio. In addition to feature stories on the band running this month in HM and CCM magazines, the new album is credited with exceptional reviews across the industry including a rare 5 out of 5-star perfect rating from the acclaimed editorial music site JesusFreakHideout.com, saying "Fireflight just might have something approaching – dare I say it – 'epic' status on their hands with the anthem-laden Unbreakable." The album's title track and lead radio single sits at No. 1 for a fourth week at Christian rock radio and No. 8 on the CHR format with the most-increase in spins of any song this week.
Pillar's For The Love Of The Game Debuts at No. 71 On The Billboard Top 200 Album Chart; No. 4 On Christian Album Chart: GRAMMY-nominated, rock band Pillar's fifth studio album, For the Love of the Game, which hit stores on Feb. 26, 2008, debuted on the Billboard Top 200 album chart at No. 71, while coming in at No. 4 on the Christian (overall) album chart. Pillar's For The Love Of The Game is big, fun, infectious rock and roll that further solidifies Pillar's position as fearless leaders in the Christian Rock world. The Dove Award-winning rockers are currently enjoying the ninth, Pillar-headlining tour, the "For the Love of the Game" Tour, sponsored by World Vision, TVU and RadioU. The full tour line-up is: Pillar, Building 429, Wavorly and introducing Brooke Barrettsmith. All dates are listed below and additional dates are still being added. For the most up-to-date schedule, and to view and download the latest, band-created Pillar Tour Podcasts, visit www.pillartour.com.
Leeland's Opposite Way Going in the Right Direction: GRAMMY and Dove Award-nominated band Leeland's brand new, second in-studio album, Opposite Way(2/26/08), is certainly heading in the right direction, as it debuted this week at No. 72 on the Billboard Top 200 album chart, and at No. 5 on the Christian (overall) album chart. Additionally, as of Tuesday, "Count Me In," the initial single from Opposite Way, is being counted in to the Top 10 of the R&R CHR Chart. Leeland is currently on tour with multi-platinum Christian rock band, Casting Crowns, on "The Altar and The Door Tour." For the latest tour dates, visit www.myspace.com/leelandmusic.
Brandon Heath's Benefit Show Raises Nearly $20,000 for Tennessee Tornado Victims: This past Sunday night, acclaimed singer/songwriter Brandon Heath assembled Nashville's Christian music community for a free concert benefitting their neighbors in Macon County, Tenn., hit hard by a tornado on Feb. 5. The local event raised $18,690 and committed 85 volunteers to join in the clean-up efforts and help rebuild the storm-torn area. Held at Fellowship Bible church, Heath invited fellow artist-friends to a songwriters-in-the-round show featuring intimate performances by Bebo Norman, Christy Nockels, formerly part of husband/wife duo "Watermark," and SESAC's Songwriter of the Year Jason Ingram. Plus, Michael W. Smith made a surprise appearance and performed several songs to close out the night. A news segment from the benefit will air tomorrow on the Gospel Music Channel on the network's primetime TV show "Kitchen Sink" at 8pm EST. Check local listings. Viewers will be able to send donations to www.gospelmusicchannel.com/benefit.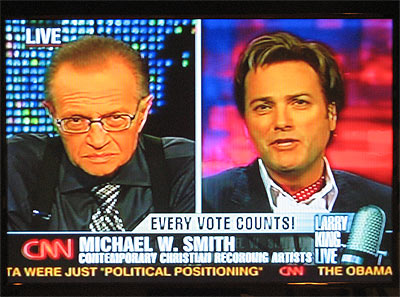 Michael W. Smith on "Larry King Live":
GRAMMY-winning recording artist Michael W. Smith appeared on CNN's "Larry King Live" on Monday night. Smith was part of a panel discussion called "Every Vote Counts," which also included cycling champion Lance Armstrong, "Heroes" actress Hayden Panettiere and fellow artist Wyclef Jean.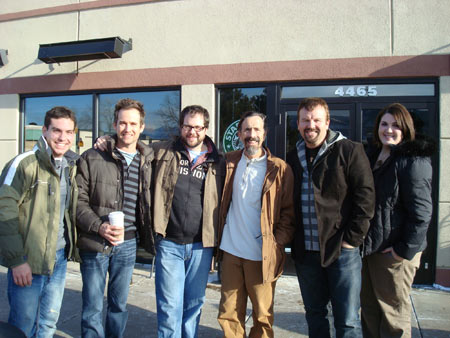 Pictured (L-R): Hector Cervantes, John Waller, Juan DeVevo, John Eldredge, Mark Hall and Megan DeVevo.
###