MATTHEW WEST HEADLINES THE FALL 2008 "SOMETHING TO SAY" TOUR
Sparrow Records Singer/Songwriter Josh Wilson Joins Tour Bill; World Vision to Sponsor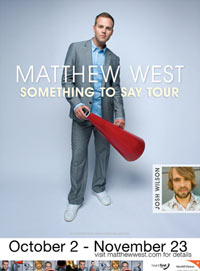 NEWS SOURCE: Savvy Media
August 28, 2008
(NASHVILLE, Tenn.) Aug. 28, 2008—Dove Award-winning singer/songwriter Matthew West announces the fall 2008 "Something To Say" tour with special guest, Sparrow Records' newest talent Josh Wilson. The tour, to be sponsored by World Vision with additional promotion from Hear It First, will visit 25+ cities through the middle of November.
Just prior to recording Something to Say last year, West was diagnosed with a serious vocal chord injury that required major surgery. Following the procedure in May 2007, he entered a 2-month period of complete silence. It was during this time, while sitting in church one Sunday, that West's pastor quoted C.S. Lewis: "God whispers to us in our pleasures, speaks in our conscience, but shouts in our pains; it is His megaphone to rouse a deaf world." This quote so resonated with West that he made it the central theme of his latest project, released in January 2008, as well as the forthcoming tour. He comments, "God is at work in every circumstance of our lives…even the silence. He wants to take the part of our lives we consider damaged goods and turn it to good."
In addition to great music, the tour will feature clips from, "Nothing to Say," a DVD documenting West's journey through surgery and recovery. Also unique to the tour is media partner HearItFirst.com, who has pledged its support through e-mail notifications to members, a site-skinning promotion, tour page, and exclusive content including video updates from the road. A current list of tour dates follows this release.
"I can't wait for the 'Something to Say Tour' to begin this October," says West. "I know many people have only heard my music on the radio, but never in a live concert setting. This fall, all that will change. My hope for this tour is that our concerts will be more than just another show, but an experience that takes the audience on a journey. We are also teaming up with World Vision to give all who attend the concerts something to say about helping children in need all over the world. I hope you won't miss this 'something to say' experience!"
"World Vision is so excited to be partnering with Matthew on the 'Something to Say' tour," says Ben Greene, artist representative for World Vision. "His heart and passion for the most vulnerable children of the world is contagious, and we know that all in attendance will receive an experience to remember."
West catapulted onto the Christian music scene in 2003 with his debut single, "More," which was the most played Christian AC song of 2004. The multi-Dove Award nominee and sought-after songwriter released two critically-acclaimed recordings, Happy (2003) and History (2005); has been a mainstay at Christian radio with memorable hits like "Only Grace," "History" and "Next Thing You Know"; and has toured with such artists as tobyMac and Jeremy Camp on the wildly popular 2008 "Boomin Beyond Measure" tour. In addition, West has penned songs for Rascal Flatts, Billy Ray Cyrus, Natalie Grant and Mandisa, among others. West's third studio recording, Something To Say, released January 15, 2008 and debuted on Nielsen SoundScan's Christian Retail Chart at #10, while West was the best-selling Christian artist on iTunes the week of its release. The album's debut single "You Are Everything" additionally peaked at No. 1 on Christian AC radio and its present single "Something to Say" is currently in the Top 10 at AC radio. For more information on Matthew West, visit. www.MatthewWest.com or www.myspace.com/matthewwest.
Josh Wilson is a singer-songwriter from Lubbock, TX. Growing up in the church his dad pastored, Wilson was involved from the get-go. He learned piano and guitar at a young age which allowed him to lead worship for the youth group. After high school, Wilson moved to Nashville to attend Belmont University. While at Belmont, he won the Christian Music Showcase his junior year. Some record executives from his now label, EMI - Sparrow, were in attendance and amazed at his ability to "loop" his guitar. He signed a record contract with EMI - Sparrow in June of 2006, one month after he graduated from Belmont. His major debut album is titled, Trying To Fit The Ocean In A Cup. The album's current single "Savior, Please" went for adds at AC and CHR radio on Aug. 22.
World Vision is a Christian humanitarian organization dedicated to working with children, families, and their communities worldwide to reach their full potential by tackling the causes of poverty and injustice.
DATE CITY
10/3 Ft Wayne, IN
10/4 Heartland, WI
10/5 Madison, WI
10/8 Winston Salem, NC
10/9 Chattanooga, TN
10/10 Greenville, SC
10/11 Huntington, VA
10/17 Amery, WI
10/18 Bismarck, ND
10/19 St Cloud, MN
10/23 Rock Island, IL
10/24 Grand Rapids, MI
10/25 Canton, OH
10/30 Kansas City, MO
10/31 Oklahoma City, OK
11/1 Omaha, NE
11/2 Junction City, KS
11/4 North Platte, NE
11/6 Casper, WY
11/7 Ft. Collins, CO
11/8 Grand Junction, CO
11/11 Phoenix, AZ
11/14 Irvine, CA
11/15 Merced, CA
11/16 Merced, CA
11/18 Visalia, CA
11/20 Olympia, WA
11/21 Portland, OR
11/22 Redmond, WA
###