sixstepsrecords WELCOMES 7 AWARDS AT THE 40TH ANNUAL DOVE AWARDS
LEADING DOVE NOMINEE CHRIS TOMLIN RECEIVES TWO AWARDS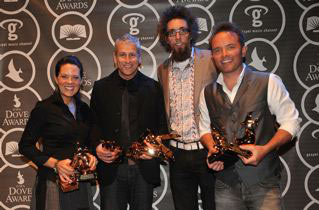 *photo: Christy Nockels, Louie Giglio, David Crowder
and Chris Tomlin (wireimage)
NEWS SOURCE: The M Collective
April 24, 2009
April 24, 2009…Nashville, TN…sixstepsrecords welcomes seven awards at this year's 40th Annual Dove Awards, which were held at the Grand Ole Opry in Nashville and broadcast LIVE on Gospel Music Channel. The Atlanta-based record label received five trophies for their compilation disc Passion: God Of This City for Special Event Album of the year.
Passion: God Of This City featured all sixstepsrecords' artists: Chris Tomlin, David Crowder* Band, Charlie Hall, Matt Redman, Christy Nockels and Kristian Stanfill.. Each of the artists received a Dove Award for their involvement on this record.
"Last night was a special night for us as a label family, both seeing others we love and respect being recognized for their contributions to God's unfolding story and the Dove nod for Passion: God Of This City," said Louie Giglio, Passion and sixstepsrecords founder and director. "The album win was a huge surprise, and a great honor to our artists and the movement which carried the hope of the title track, 'greater things have yet to come', to the cities and students of the nation and world during the recent Passion World Tour."
Leading Dove nominee, Chris Tomlin takes home two awards for Best Gospel Recorded Song "How Great Is Our God" and for his participation in Passion: God Of This City. Tomlin also gave a powerful performance singing his latest single "I Will Rise" from his Dove nominated sixth studio album Hello Love.
For more information on sixstepsrecords and any of their artists please go to www.sixstepsrecords.com.
###
WWW.CHRISTOMLIN.COM
WWW.DAVIDCROWDERBAND.COM
WWW.268GENERATION.COM
About sixstepsrecords:
Founded in 2000 by Louie Giglio, sixstepsrecords (www.sixstepsrecords.com) is a worship label and a division of Passion Conferences. sixstepsrecords' artists include Chris Tomlin (HELLO LOVE), David Crowder* Band (Remedy), Charlie Hall (The Bright Sadness), Matt Redman (Beautiful News), and Passion (Passion: God Of This City). The label partners with Sparrow Records/EMI CMG Label Group for A&R, marketing, sales and distribution operations.
About EMI CMG Label Group:
Brentwood, Tennessee-based EMI CMG Label Group is comprised of Sparrow Records, Forefront Records, and Credential Recordings, in addition to providing A&R and marketing support for sixstepsrecords via a joint venture and licensing partnership. Balancing freedom, discipline, creativity, profitability and ministry, EMI CMG Label Group strives for excellence in artist development. The Label Group is a division of EMI