M I K E S C H A I R
Self-Titled Debut Releases This Week
First Single Already Top 5 At Radio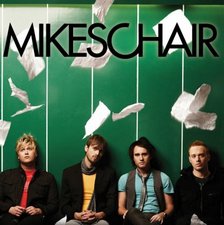 NEWS SOURCE: Vining Media
July 14, 2009
Nashville, TN - July 14, 2009 - It's been said that the music of MIKESCHAIR demands attention; that it entertains as well as inspires those who listen. You already know this if you've heard their top 5 hit single, "Can't Take Away," which is being played on radio stations nationwide, or if you have your very own copy of their self-titled CD just released today from Curb Records. No matter what, these talented four young men - Mike Grayson, Sam Tinnesz, Jesse Hale, and Jon Haire - agree in stating that their music inspires action to change the world through love.
Along those lines, here are just some of the reviews from those who have been inspired by MIKESCHAIR:
"...considering this disc's excellent production, accessible slick rock and maturing ability, the young band has honed a formula for success that shows no sign of failing." - CCMmagazine.com
"...a very good debut...by a promising new band...In the past couple of years, Rush of Fools, Tenth Avenue North and Fee have made a big impact as new bands on the Christian music scene, all having been nominated for best new artist and I expect a similar outcome for MIKESCHAIR. This whole album is very encouraging and always stays true to themes of hope, faithfulness and praise to our Great God!" - ChristianMusicReview.com
"The upbeat songs are catchy and...exciting, and the slow songs give you time to sit back and relax and just enjoy some decent music. There are also lyrics that rank higher than most of what you hear on pop radio, which is really what this genre needs these days." - JesusFreakHideout.com
MIKESCHAIR is spreading their message by spending street week on a promo tour, taking them to major markets such as Dallas, Tulsa and Tampa. The band has already appeared on CBN News Channel's New Release Tuesday/CBN News Tonight segment and have taped a performance and interview for CBN's "One-Cubed," set to air in the coming weeks. In addition, first day album sales have already dipped into the top 10 for iTunes' Christian/Gospel album downloads, while MIKESCHAIR has also been featured at NewReleaseTuesday.com as well as at HearItFirst.com. The band is set to appear in future issues of Christian Retailing, Encounter, and more.
ABOUT MIKESCHAIR:
Hailing from Belmont University in Nashville, TN, this quartet's blend of soulful rock guitars and bass grooves, violin and electronic textures is tagged with catchy pop sing-along choruses. MIKESCHAIR was produced by Jason Ingram and Rusty Varenkamp (Bebo Norman, Tenth Avenue North), with the exception of "Otherside" produced by Sean Neff.
The band supports mikestable. At every MIKESCHAIR show, audiences are welcomed to visit the table, which is dedicated to offering information for various causes such as Food for the Hungry, IJM, Love 146 and more. It is the band's hope for people to be aware of what's going on in the world in terms of need, to give them empowerment while also give options.
In addition, it's the band's mission to invite everyone to bring a non-perishable food item to their shows where every donated food item is then taken to local food banks and church outreach programs. This venture, which has actually been underway for a few years now, is continuing to grow as more items are donated at each concert.
MIKESCHAIR is managed by Creative Trust, Inc., and booked by Jeff Roberts & Associates, both located in the Nashville, TN area.
www.MIKESCHAIR.com
For more info on MIKESCHAIR, visit the JFH Artists Database.


[2021]
Jan. | Feb. | March | April | May | June | July | Aug. | Sept. | Oct. | Nov. | Dec.
[2020]
Jan. | Feb. | March | April | May | June | July | Aug. | Sept. | Oct. | Nov. | Dec.
[2001 - 2020]
Visit our complete MUSIC NEWS ARCHIVE