JFH MORNING NEWS SHORTS FOR MONDAY SEPTEMBER 14, 2009
News on Newsboys, Third Day, Project 86, Starflyer 59, Family Force 5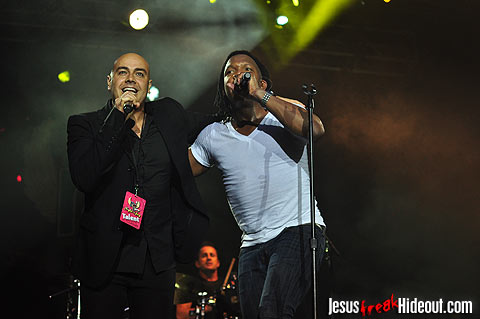 NEWS SOURCE: a Jesusfreakhideout.com report
September 14, 2009
>> Furler Makes Final Newsboys Appearance In Orlando
This past weekend, Jesusfreakhideout.com attended Disney's "Night Of Joy" in Orlando, FL, where Newsboys headlined the Magic Hat Stage at Disney's Hollywood Studios theme park on Saturday. While the band performed two back-to-back sets, former Newsboys frontman Peter Furler joined new vocalist Michael Tait on stage both times to perform their hit "Breakfast" with the band. During the second and last performance of the night, Furler announced that this would be his final appearance with the Newsboys. When it came time to introduce the band members during the song, Tait insisted Furler have the honors. The pair hammed it up quite a bit for what would be a rousing bow for the Aussie singer. It was certainly a bittersweet moment! Check out a video clip we took of the last moments of the song! (Sorry for the crummy audio!)
>> Third Day To Be Inducted Into Georgia Music Hall Of Fame Sept. 19
"Third Day has the great honor of being inducted into the Georgia Music Hall of Fame on Saturday September 19th. Other inductees include Collective Soul and songwriter Brian Michael Cox. Third Day and Collective Soul will each perform 2 songs with the award ceremony to follow. Come celebrate this huge honor with Third Day! Individual tickets and tables are available here." (source: Third Day)
>> Project 86 Frontman To Release New Book
Late last week, Project 86 made this announcement -- Andrew Schwab has a new book coming in October! The name of the book is "FAME IS INFAMY." This is a collection of short stories, poetry, and other creative writing confronting our culture's current obsession with self-promotion and fame. Andrew reflects on our our collective identity crisis and asks some soul-searching questions along the way. This will be an entertaining and spiritually uplifting read for anyone who is searching for meaning in a meaningless time. More to come!!"
>> Starflyer 59 Heads Back To Studio
Last Wednesday, Starflyer 59 announced plans for another new studio album! Jason Martin writes, "Starting work on a brand new album this Fall...new demo of a song called 'Kick The Can' up now...Will be posting new songs here and there for your listening pleasure. SF59" Unfortunately, it looks as though Martin has since yanked the demo, but keep your eyes peeled to their MySpace for the latest as the new album develops!
>> New Family Force 5 EP To Hit Target Stores Sept. 15
Family Force 5 has teamed with Target and Skelanimals for a Halloween ad campaign that features an exclusive new song, "Keep The Party Alive." According to a new blog the band has released, the song will release as an EP exclusively to Target Stores this Tuesday, September 15th! The guys are also hosting a cool new contest...
Hey guys!

First off...thanks for the great comments about our new song "Keep the Party Alive" featured in Target's Halloween campaign. If you haven't seen the amazing video yet featuring our little Skelanimals friends, check it out below.

So, you all want to get your hands on the full song. Well, that's coming soon enough, but let us tell you, it's going to be a better game of twists and turns than you ever expected! We love those little Skelanimals and have teamed up with them to put together a month full of exciting contests, prizes and scavenger hunts!! Hope you guys are ready...really. It's going to blow you away!

This party's just getting started and starting today we need your help!

We need one helper in each city that Dance RAWR Dance III is hitting to help us hide clues! Here's the deal:
* We need ONE helper in each city to hide a secret clue the morning of the show. We will provide you with the exact location once you are chosen for this secret mission.
* For your help, you will receive a super exclusive disk containing NEVER BEFORE SEEN FF5 content! We might throw in a few other surprises as well, depending on how well you do your job!
* You will need the capability to take a picture with your phone and send it to our clues address once you have hidden your clue.
* You must be able to provide your own transportation for this mission.
* If you think you've got what it takes, send an email to: ff5clues@gmail.com
* Email subject MUST read like this: CLUE HIDER - SHOW CITY - SHOW DATE
Ex: Subject: CLUE HIDER - CHICAGO, IL - SEPT 17, 2009
Message: Full Name:
Mailing Address:
Phone Number:
Any emails NOT formatted like this will be void and not chosen. One clue hider per city will be chosen on a first come/first serve basis. If you are chosen you will be contacted via email with your mission and your clues to be hidden will be sent to the mailing address which you provide.

Oh...and if you didn't know yet, this Tuesday, Sept 15, is the day you can get your hands on KTPA at a Target store near you... but, we'll be releasing it on our Myspace page this Monday, so check back...oh, and umm...we kinda wanna pick up a copy ourselves, so we'll probably be poppin into a Target store at some point. Maybe we'll see you there...follow our Twitter accounts for clues on where we will be shoppin... @soulglowactivtr @chapstique @fattyff5 @croutonff5 @nadaddy

xo, SGA, Crouts, Fatty, Nadaddy and Chappy
Check out the new Skelanimals ad featuring the song! (Minus the spider, it's pretty stinkin' adorable!)
For more info on these artists, visit the JFH Artists Database.


[2021]
Jan. | Feb. | March | April | May | June | July | Aug. | Sept. | Oct. | Nov. | Dec.
[2020]
Jan. | Feb. | March | April | May | June | July | Aug. | Sept. | Oct. | Nov. | Dec.
[2001 - 2020]
Visit our complete MUSIC NEWS ARCHIVE