TIM HUGHES RELEASES FIRST-EVER LIVE DVD/CD, HAPPY DAY, OCT. 20
Includes Four New Songs, CCLI Chart Topping "Here I Am To Worship," "Beautiful One," "Happy Day," "Consuming Fire," More

--------------------

Recording Features Delirious? Members Martin Smith, Stu G

"Easily, the best live worship recording of the year" – Worship Leader Magazine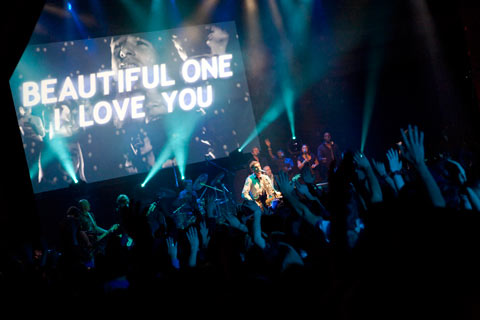 NEWS SOURCE: Hoganson Media
September 21, 2009
(Nashville, TN) September 21, 2009 – Modern worship songwriter, two-time Song of the Year GMA Dove Award winning artist Tim Hughes releases in the U.S. his first-ever live DVD/CD, Happy Day, Oct. 20 on Kingsway with distribution by EMI CMG.
Directed by Andy Hutch (Delirious?, Darlene Zschech, Matt Redman), produced by Nathan Nockels (Chris Tomlin, Passion, Point Of Grace) and mixed by Sam Gibson (Pearl Jam, dc Talk, Crowded House), the high-energy, celebratory Happy Day was recorded live before a capacity crowd at the famous London venue, Shepherds Bush Empire. Opening with the brand new corporate anthem "Jesus Saves," the recording features a combination of favorite worship songs and brand new tunes written by Hughes, 12 in all on both DVD and CD.
For the recording, Hughes led an acclaimed team of worship musicians, with Delirious? members Stu G handling guitar work for the CD/DVD and frontman Martin Smith joining Hughes on his No. 1 CCLI song, "Here I Am To Worship." Also featured on the rousing "Dance" are rappers from The 29th Chapter and the dance team Sacred.
Tim Hughes has led worship for tens of thousands across the globe and currently has four top songs on the CCLI charts, all featured on Happy Day: "Here I Am To Worship," "Beautiful One," "Happy Day" and "Consuming Fire."
The new songs on Happy Day, in addition to "Jesus Saves," are "Remember," "Give Us Your Courage" and "We Won't Stay Silent," which is also featured on the CompassionArt: Creating Freedom from Poverty recording. All the royalties ever received from this song will go to benefit the poorest of the poor.
Besides the music, the hHiHhhigh definition, 56-minute DVD includes Hughes telling the story behind some of the songs, teaching how to play select new songs and giving suggestions for leading worship. It also contains worship visuals and a talk from Soul Survivor's Mike Pilavachi.
Calling the CD/DVD "easily, the best live worship recording of the year," Worship Leader Magazine goes on to say, "…the massive British sound and expansive approach to worship that includes both proclaiming the truth and moving beyond the walls of the Church, make this an excellent release for all worshipers."
To see video clips and photos from the DVD, hear music from the CD, receive a free music download and more, click on this link: Tim Hughes Ecard.
The full DVD and CD track listing follows:
Jesus Saves
Beautiful One
Give Us Your Courage
Here I Am To Worship
Remember
Happy Day
Dance
Consuming Fire
Everything
We Won't Stay Silent
God Of Justice
When I Survey
Artist-worshipper, songwriter, author and UK-native Tim Hughes encourages listeners to take worship further than Sunday morning by freely worshipping Christ in every thought, action and aspect of daily life. He has written songs sung by millions each week in churches and concert venues across the world. Having received two GMA Song of The Year Dove Awards for "Here I Am To Worship," which has also been recorded by artists such as Michael W. Smith, Chris Tomlin, Rebecca St. James, Jeremy Camp, Passion and more, Hughes further heads up Worship Central, a new school of worship to train and equip worship leaders, musicians and worshippers (www.worshipcentral.org). The Director of Worship at London's Holy Trinity Brompton, Hughes is also an acclaimed author of the Regal Books release, Holding Nothing Back.
More information on Hughes can be found at www.myspace.com/timhughesmusic, www.timhughesmusic.com and www.kingsway.co.uk.
# # #
For more info on Tim Hughes, visit the JFH Artists Database.


[2022]
Jan. | Feb. | March | April | May | June | July | Aug. | Sept. | Oct. | Nov. | Dec.
[2021]
Jan. | Feb. | March | April | May | June | July | Aug. | Sept. | Oct. | Nov. | Dec.
[2001 - 2021]
Visit our complete MUSIC NEWS ARCHIVE