JFH NEWS SHORTS FOR MONDAY SEPTEMBER 28, 2009
News on Switchfoot, Family Force 5, Project 86, Everyday Sunday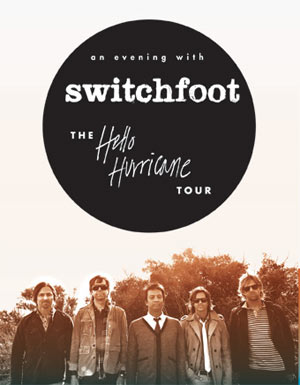 NEWS SOURCE: a Jesusfreakhideout.com report
September 28, 2009
>> Switchfoot Announces "Hello Hurricane" Tour Dates
The upcoming Sparrow/Atlantic Records release of Switchfoot's new album Hello Hurricane has inspired the band to launch a new tour in support of the record. Check out the band's announcement and tour dates list below...
"The Hello Hurricane Fall Tour is coming! We are playing some of our favorite venues across the country as an "An Evening with Switchfoot." We will be playing Hello Hurricane from start to finish, as well as some of our favorite songs from our past albums and a few surprises!"

11/11 West Hollywood, CA The Roxy Theatre
11/13 Scottsdale, AZ Martini Ranch
11/14 Tucson, AZ The Rock
11/16 Oklahoma City, OK Diamond Ballroom
11/17 Dallas, TX House of Blues
11/18 Austin, TX The Parish
11/20 Houston, TX Warehouse Live
11/21 New Orleans, LA Parish @ House of Blues
11/22 Nashville, TN Exit In
11/24 Atlanta, GA The Loft at Center Stage
11/27 Anaheim, CA House of Blues
11/28 Ventura, CA Majestic Ventura Theater
>> Family Force 5 Posts The "Party" On iTunes
Are you going crazy trying to find the Family Force 5 Keep The Party Alive EP at Target? Have no fear! The exclusive title track has now been added to iTunes! Check it out here. Also, the band has posted some new tunes from next week's release of The Family Force 5 Christmas Pageant on their MySpace page! And get ready for a killer Christmas tour coming up this Christmas season (it's a pretty sweet line-up, we're not gonna lie!). More details to come...
>> Project 86 Announces Tour With Disciple, Children 18:3
This just in today from Project 86... "Project 86 is proud to be a part of THE LIFELIGHT TOUR with Disciple and Children 18:3, coming in NOVEMBER! Please check our dates, as we have just added the full itinerary. Pre-sale tickets are on sale NOW for very affordable prices. Stay tuned for more info, coming shortly"
>> Everyday Sunday Remix Only Available Til End Of Year?
Today, Everyday Sunday made this little announcement regarding the "Family Force 5" remix of the title track from their latest record, Best Night Of Our Lives... "Right now, you can download the Family Force 5 remix of our single, Best Night Of Our Lives, as a part of our album on iTunes. You can also buy it on there as an individual single for only 99 cents! It's called "Best Night Of Our Lives (Soul Glow Activatur Remix)" from Best Night Of Our Lives Our record label is saying this will only be available, as of right now, through the end of the year. So we would LOVE for you to go to iTunes and check out our new album there if you don't have it yet. And if you all ready have the album, but don't have the remix, go buy it on there. It's less than a dollar! Thanks for not stealing it!
Kevin, Nick, Trey, & Tyler"
For more info on these artists, visit the JFH Artists Database.


[2022]
Jan. | Feb. | March | April | May | June | July | Aug. | Sept. | Oct. | Nov. | Dec.
[2021]
Jan. | Feb. | March | April | May | June | July | Aug. | Sept. | Oct. | Nov. | Dec.
[2001 - 2021]
Visit our complete MUSIC NEWS ARCHIVE