INTENSE MILLENNIUM RECORDS to re-release FRONTLINE MUSIC Catalog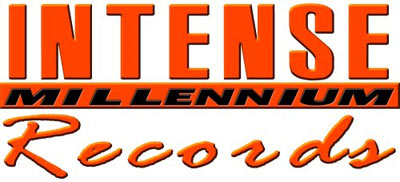 NEWS SOURCE: Roxx Productions
June 30, 2010
Intense Millennium Records is a partnership between Divine Metal Distro, Roxx Productions, and two additional individuals Josh Dieckmann and Sandy Scafedi. We have come together under this one umbrella to form a company that is dedicated to releasing fully licensed material from one of the most prolific group of record labels to exist in the Christian Metal scene, the Intense/Frontline/Alarma Records group. This will be the first time that many of these titles will have seen any form of quality release since their original releases back in the 1980s & 1990s.
Our first batch of releases is scheduled for release in November of 2010 and include classic albums from Vengeance Rising, Sacred Warrior and Bloodgood. All of our releases will be completely re-mastered to give these albums the best modern audio quality that is available today. As well each release will have brand new artwork based on the original cover designs, along with 8 page booklets complete with lyrics, and liner notes. When possible bonus material will be added as well.
The first 5 titles that will be released are:
Vengeance - Human Sacrifice
Few albums can claim to have started a musical movement like "Human Sacrifice". While thrash metal had already been well established by 1988, only a handful of bands had attempted to combine such fast, heavy music with lyrics reflecting faith in Christ. None of these bands had released anything more than demos or a couple tracks on compilations until this monster of an album came roaring onto the scene. Fusing fast riffing, driving bass and drums, hyper-speed bluesy lead guitar, and just enough melody to make things more memorable, "Human Sacrifice" did more than just introduce Christianity to the genre - it revolutionized the developing style of "Christian metal" in a way no previous band or album had done. Vengeance Rising raised the stakes and gave fellow thrashers a unique album that set the bar for future releases.
Vengeance Rising - Once Dead
Where Vengeance Rising's debut "Human Sacrifice" stormed onto the scene and created quite a stir, "Once Dead" tightened the thrash attack into a well-oiled machine. While the band's debut was experimental and diverse, "Once Dead" was a snapshot of a band seasoned by touring and songwriting, with a more consistent approach that capitalized on thrash metal's calling card - velocity. Vengeance Rising's second album is rife with fast, thrashy anthems that take their sound to the next level, ramping up the volume, intensity, and energy even more. When other thrash bands were starting to slow down, Vengeance Rising took the opposite approach for maximum effect.
Sacred Warrior - Rebellion
The burgeoning Christian metal movement had several notable bands by the mid 1980's. None, however, took the progressive elements of pioneers like Queensryche and Fates Warning and combined them with the pure energy and heaviness present in much of the thrash metal of the time. Enter Sacred Warrior - a band that skillfully and successfully combined these two elements to create a metallic attack that rivaled many of their contemporaries, and stands the test of time as one of the greats of the era. "Rebellion", the band's auspicious debut, capitalizes on that potent mixture by offering up searing riffs, lightning fast solos, soaring vocals, and a rhythm section that thundered with authority.
Bloodgood - Bloodgood
Heavy Metal has been accused by its detractors as all sounding the same. While the mid-80's saw a glut of metal bands cashing in on the style, many of which sounded the same as the next band, no one could accuse Bloodgood of being a sound-alike. Combining a melodic, classic heavy metal approach with the uniquely operatic vocals of Les Carlson, Bloodgood carved out its own niche in the metal scene by offering up listeners a potent mix of high-pitched vocal wails, melodic yet energetic guitar riffing, a tight rhythm section, and memorable songs that would stay with you for weeks. This powerful blend came shining through on Bloodgood's self-titled debut album, and quickly set the bar for metal bands wishing to share their faith with the world.
Bloodgood - Detonation Bloodgood's second album, "Detonation", was the perfect follow-up to their high-energy debut, and raised the bar even higher for faith-based metal bands. The fast songs were faster, the emotion in the songs was more intense, and the musical attack was tighter. The lyrics were also stronger, as the band took on some fairly unpopular topics like suicide and homelessness. Truly a landmark album in the scene, this classic contains the duo of songs "Crucify" and "Messiah" that showed what a real metal band could do with such emotionally charged subject matter and pull it off with such ease.
Beginning in January of 2011 we will unleash two classic Frontline titles per month. With such a vast catalog of titles at our finger tips we welcome any suggestions from you the fans in regards to what titles you would like to see released the soonest. There is currently a poll on our website, feel free to stop by and let your voice be heard.
Visit our website at: http://www.intensemillennium.com to stay up to date on the latest news.


[2022]
Jan. | Feb. | March | April | May | June | July | Aug. | Sept. | Oct. | Nov. | Dec.
[2021]
Jan. | Feb. | March | April | May | June | July | Aug. | Sept. | Oct. | Nov. | Dec.
[2001 - 2021]
Visit our complete MUSIC NEWS ARCHIVE