KARI JOBE'S "YOU ARE FOR ME" MUSIC VIDEO
TO DEBUT ON gmc WEDNESDAY, AUGUST 18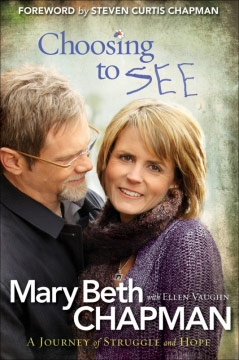 NEWS SOURCE: Spinhouse PR
August 16, 2010
Nashville, TN - August 16, 2010 - Mary Beth Chapman, sharing her story for the first time with her new book Choosing to SEE: A Journey of Struggle and Hope, is set to appear on three major radio broadcasts this month. Joined by her husband, award-winning recording artist Steven Curtis Chapman, Mary Beth will be heard promoting her book on Family Talk, FamilyLife as well as Focus On The Family.
The interview with Family Talk, hosted by Dr. James Dobson and joined by his son, Ryan Dobson, will air in a two-day series starting tomorrow, Tuesday, August 17th and conclude on Wednesday, August 18th. To kick of this two-part interview titled "Steven Curtis and Mary Beth Chapman: Choosing to SEE," Family Talk is re-airing the 2008 interview with Steven Curtis Chapman and Dr. Dobson, which can be heard today. To hear the interviews, for times in your area and for more information, please visit MyFamilyTalk.com.
Later in the month, both FamilyLife and Focus On The Family's radio broadcasts will air. Airdates will be announced shortly.
Choosing to SEE: A Journey of Struggle and Hope (ISBN: 978-0-8007-1991-3, $21.99, Revell), which will hit shelves this September, was co-authored by Ellen Vaughn, a New York Times bestselling author and inspirational speaker. At the turn of each page, Chapman bares her heart and soul in Choosing To SEE as she shares honestly about her personal journey - from her childhood, to challenges of married life, to the sudden and tragic loss of a daughter. The book also follows her lifelong wrestling match with God, questioning why the life she had planned so carefully doesn't seem to match to the plan that God has mapped out for her.
Along with media appearances and radio interviews, Mary Beth Chapman will be speaking at 12 upcoming Women of Faith conferences this year, as well as on the "A Night With the Chapman's" concert tour scheduled for this fall. She is represented by Creative Trust Literary Group located in Nashville, Tennessee.
For the most updated conference and tour dates, for more information on her blog, Facebook and Twitter, please visit:


[2022]
Jan. | Feb. | March | April | May | June | July | Aug. | Sept. | Oct. | Nov. | Dec.
[2021]
Jan. | Feb. | March | April | May | June | July | Aug. | Sept. | Oct. | Nov. | Dec.
[2001 - 2021]
Visit our complete MUSIC NEWS ARCHIVE