AWARD WINNING ARTISTS BIG DADDY WEAVE AND AARON SHUST
TO EMBARK ON NATIONAL "HOPE RESTORED TOUR" ON AUGUST 27TH
SPONSORED BY ONEVERSE, THE HOPE RESTORED TOUR WILL VISIT 45 CITIES NATIONWIDE RAISING AWARENESS FOR THE IMPORTANCE OF TRANSLATING THE BIBLE INTO ALL LANGUAGES ACROSS THE WORLD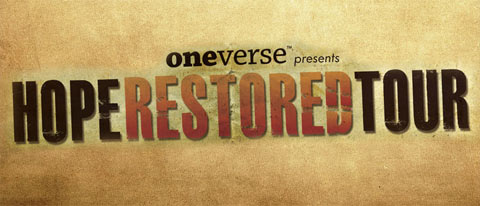 NEWS SOURCE: Rogers & Cowan
August 19, 2010
Los Angeles, CA (August 19, 2010) — Dove award winning artists Big Daddy Weave and Aaron Shust, along with Andy Kirk, will be bringing their passionate and elevating live performances to 45 cities across the country while on the Hope Restored Tour from August 27th through November 14th. Sponsored by Wycliffe Bible Translators affiliate, The Seed Company, the tour will raise awareness for its innovative program OneVerse which provides Bible translations for all languages across the globe.
Tickets are currently on sale and special VIP tickets (admitting holders to a separate meet and greet time with the tour's artists) are available in most markets and are already in demand.
With five number one singles under their belts, Big Daddy Weave's reputation for recording songs dear to the hearts of thousands is eclipsed only by their reputation for bringing incredible heart and passion to each and every live performance. Big Daddy Weave's live performances are one-of-a-kind experiences that join the artist and audience in a unique, singular voice and the Hope Restored tour expands that experience even further for the band. "We are so excited to be a part of this amazing season of evenings on the Hope Restored Tour!" says Big Daddy Weave lead singer Mike Weaver. "I've personally been a big fan of Aaron Shust's music for the past few years. I look forward to sharing the stage around the incredible and ever timely cause of translating the most important message of all time into every language on our planet. We also have shared some serious road time with our good friend and gifted worship leader Andy Kirk and are very glad to be reunited for the tour as well."
Also appearing on the Hope Restored Tour is three time Dove Award winning artist Aaron Shust, who is best known for the song "My Savior, My God," the second most played CCM song of the decade behind "I Can Only Imagine" by MercyMe. The simple tune he penned for his local church took radio by storm, topping six different charts at once. "My Savior, My God" helped earn Aaron a trio of Dove Awards for Song of the Year, Songwriter of the Year and New Artist of the Year. It also propelled the Georgia-based singer into the spotlight and onto the road in a whirlwind of concerts, sharing the stage with the likes of MercyMe, Casting Crowns and Michael W. Smith. While on the Hope Restored Tour Aaron will be performing songs from his latest release, Take Over, and sharing the album's central message of submission and relinquishing control to God. Shust comments, "One of the common threads that shows up in a lot of these songs is that we can't achieve anything from our own efforts – certainly not salvation. We can work out our salvation, but it's only through what Christ has done on the cross that we have any hope."
Rounding out the tour is 22 year old, Nashville-based singer, Andy Kirk whose first single "Love Is the Only Thing," from his debut album, Wake Up My Soul , hit #1 on Christian Radio Weekly's Global AC indie chart, August 1, 2010. Before being approached by 1CN Records/Provident to record Wake Up My Soul Kirk lead music for one of America's largest churches, LifeChurch in Oklahoma City, singing in front of over 3,000 -10,000 people a weekend. Kirk now serves as an Artist in Residence at Hopepark Church in Nashville in addition to keeping up with his nation-wide touring schedule.
For more information please visit:
About OneVerse and The Seed Company
The Seed Company was launched by Wycliffe Bible Translators in 1993 with a mandate to accelerate Bible translation in languages across the globe. OneVerse is a program of The Seed Company that supports local Bible translators as they make God's message available in the language of their people. Today, The Seed Company is working with several hundred local translators on more than 350 language translation projects. These translators are responding to the local churches' and ministries' need to make Scripture available more quickly for church planting and discipleship.
###
For more info on Aaron Shust, visit the JFH Artists Database.
For more info on Big Daddy Weave, visit the JFH Artists Database.


[2021]
Jan. | Feb. | March | April | May | June | July | Aug. | Sept. | Oct. | Nov. | Dec.
[2020]
Jan. | Feb. | March | April | May | June | July | Aug. | Sept. | Oct. | Nov. | Dec.
[2001 - 2020]
Visit our complete MUSIC NEWS ARCHIVE