3rd ANNUAL ROCK AND WORSHIP ROADSHOW
ANNOUNCES ALL-STAR CAST
LINEUP INCLUDES MERCYME, JARS OF CLAY, THOUSAND FOOT KRUTCH, LECRAE, MATT MAHER AND THE AFTERS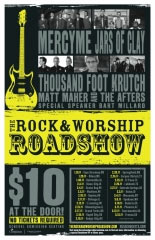 NEWS SOURCE: The M Collective
December 9, 2010
Dec. 9, 2010…Nashville, TN…Drawing over 350,000 to concert venues across the country since it's successful launch in 2009, the Rock and Worship Roadshow, is ready to embark on it's 3rd Annual run of the popular concert series. Compassion International will serve as the executive producer and is proud to announce the star-studded cast which includes the recent American Music Award winning band MercyMe, critically acclaimed band Jars of Clay, Thousand Foot Krutch, Matt Maher and The Afters. In addition to this stellar lineup GRAMMY ® Award nominated hip-hop artist LeCrae will join the tour starting February 24.
The tour will entertain audiences in major cities such as Chicago, Colorado Springs and Phoenix and more while on the 25-city tour. The fun will kick off January 28 and carry through until March 13. (to see full list of tour dates click here)
The tradition continues, as admission prices will again be $10 at-the-door, making it an affordable event for the whole family. In addition to bringing a night of exciting performances, the tour is also dedicated to a much greater purpose: helping children through Compassion International, a Christian child advocacy ministry that releases children from spiritual, economic, social and physical poverty and enables them to become responsible, fulfilled Christian adults. For more information on Compassion International go to http://www.compassion.com.
For more information on the Roadshow please visit www.rockandworshiproadshow.com.
###
About MercyMe:
Since their debut in 2001, Grammy-nominated, American Music Award and multiple GMA Dove Award winners MercyMe have sold nearly 6 million units in CD and DVD sales, while being one of few Contemporary Christian music groups to have had all of their recordings certified Gold or Platinum, as well as garner 22 No.1 multi-format Christian radio singles, and four consecutive mainstream radio hits with "I Can Only Imagine," (No. 4 AC/top 25 on Top 40/Hot AC), "Here With Me" (No. 4 AC), "Homesick" (top 10 AC), and "So Long Self." In 2009 BILLBOARD named MercyMe's "Word Of God Speak" the #1 Song of The Decade and the group the #1 Christian Songs Artist of the Decade, with an additional #1 as the Christian AC Song Artist of The Decade as one of the industry's most notable talents. MercyMe recently made history as "I Can Only Imagine" surpassed 1 million digital downloads, making it the first song in Christian music to go platinum in the digital domain. The multi-platinum selling band has sold out venues including Radio City Music Hall and has been seen on The Tonight Show, CNN, Fox New Channel's Fox & Friends, ABC News, CBS' The Early Show, and on the pages of Entertainment Weekly, The New York Times, USA Today, Billboard, and more. http://mercyme.org/
About Jars of Clay:
Jars of Clay, made up of members Dan Haseltine (vocals), Charlie Lowell (keyboards), Stephen Mason (guitars), and Matt Odmark (guitars), launched its breakout career with the multi-format hit "Flood" in 1995. Since then, it has amassed more than 6 million in career sales (5 Gold, 2 Platinum and 1 Double Platinum certification), three GRAMMY Awards (from 8 nominations), an American Music Award nod, six GMA Dove Award nominations, 17 No. 1 radio hits, and numerous film credits and BMI honors for songwriting and performing. The band's GRAMMY-nominated 10th album, The Long Fall Back to Earth, debuted at No. 1 on SoundScan and on Oct. 5, 2010,
Jars of Clay released the compelling and community-minded project, Jars of Clay Presents The Shelter featuring guest artists including Matt Maher and Audrey Assad.
The band recently wrapped its fall co-headlining tour with Brandon Heath, which sold out 7 cities during the 23-city run. In partnership with Blood:Water Mission and Food for the Hungry, the tour saw nearly 25,000 fans and more than 400 kids sponsored.
While celebrated for its music and writing, Jars of Clay is most concerned with the needs in Africa. Compelled to make a difference, the group successfully launched the Blood:Water Mission, a non-profit organization promoting clean blood and water in Africa. Since the band's debut, Jars of Clay has built an extraordinary career based on the uncompromising integrity of its music, worldview, and humanitarianism. For more information, please go to www.jarsofclay.com.
About Thousand Foot Krutch:
Thousand Foot Krutch, started by frontman/songwriter Trevor McNevan, have sold over 750,000 copies to date of their albums Set It Off, Phenomenon, The Art Of Breaking, The Flame in All of Us and Welcome To The Masquerade. The band hit the musical scene with the independent album Set It Off and their album Phenomenon branched into mainstream radio with the single "Rawkfist". TFK's albums have garnered 10 No. 1 Christian Rock singles, four Top 25 Active Rock Singles, and five Top 10 Christian CHR singles. The past year has been a whirlwind for TFK since the release of their fifth studio album, "Welcome to the Masquerade," which has produced three No. 1 Christian Rock singles, two top 10 Christian CHR singles, one top 15 Active Rock single, as well as numerous TV, film, gaming and sport arena placements including being featured at the Super Bowl in February as well as ESPN's use during recent NCAA games. The album was touted by media as a "their best," the "best album of its genre to be released," and one of the "very best albums of the year." They've headlined a variety of festivals and have performed with acts Skillet, Three Days Grace, Breaking Benjamin, Chevelle, Tobymac, Switchfoot to name a few. For more information on TFK visit their website (www.thousandfootkrutch.com, MySpace (www.myspace.com/thousandfootkrutch) Facebook ( http://www.facebook.com/thousandfootkrutch and Twitter - @officialTFK.
About LeCrae:
A graduate of University of North Texas, Lecrae now resides in Atlanta, GA with his wife and children. He and his wife are small group leaders at Blueprint Church, and his passion for impacting urban culture persists. With four successful albums to his name, touring worldwide along with the 116 Clique, and inspiring a generation of young believers across the globe, Lecrae is humbled by his position in leading others towards Christ. His hope is that Reach's impact will spread far beyond simply the music and into the lives of individuals across the world, ultimately exalting Jesus Christ. Lecrae is the co-founder of Reach Life Ministries and Reach Records.
About Matt Maher:
Matt Maher – worship leader, songwriter, singer and recording artist – has taken his calling as a "musical missionary" to create a substantial impact on a national and global stage. As an award-winning songwriter, Maher gained notice as the writer of the internationally renowned modern-worship song, "Your Grace Is Enough" which is currently on the Top 10 of the CCLI chart, marking their popularity in church worship services around the world. Highly sought after for his poignant yet poetic writing style, Maher has recently had songs recorded by such artists as Michael W. Smith; Chris Tomlin; Hawk Nelson; Phillips, Craig & Dean; Audrey Assad; Brenton Brown and others.
Maher garnered Album of the Year and Song of the Year at this year's Covenant Awards (GMA Canada) as well as six award nominations at the 41st Annual GMA Dove Awards including nods in the prestigious Song of the Year category and Worship Song of the Year for "I Will Rise," a song recorded by Chris Tomlin. He picked up another nod in the Worship Song of the Year category for the song "Alive Again" as well as one for Praise & Worship Album of the Year for his acclaimed sophomore project Alive Again. Maher claimed a Dove Award in the Special Event Album of the Year category for his contribution on the Glory Revealed II: The Word of God in Worship project.
Amid busy touring and writing schedules, Maher finds it important to serve alongside ministries including Life Teen and Adore Ministries. Further, he serves as a regular host for Worship Together's "Newsong Café." Maher, recently honored with a Praise Award as Worship Leader's Breakout Artist of 2008, has been featured on the covers of Breakaway and Christian Single, performed live on "FOX & Friends," written for Billboard Magazine and is an active, bylined contributor to OnFaith.com ( www.newsweek.washingtonpost.com/onfaith), an interactive conversation on religion.
For more information on Matt Maher, please visit: www.mattmahermusic.com. For the latest in Matt Maher news and updates, follow him on twitter: http://www.twitter.com/mattmahermusic.
About The Afters:
Texas-based band The Afters were propelled into the national spotlight with their INO/Sony Music Label Group debut I Wish We All Could Win. The project spawned the swirling, melodic hit "Beautiful Love," earning the band an enthusiastic following when the song was selected as the theme track for MTV's "8th and Ocean". "Beautiful Love" was also the most downloaded track of 2006 on the iTunes ® Inspirational charts and garnered the band an mtvU award as well. The Afters' sophomore release Never Going Back To OK (INO/Columbia Records) debuted in the Top 50 on the Billboard Top 200, and proved to be sensation on the silver screen with "Grey's Anatomy" (ABC), "Dr. Phil," "Army Wives" (Lifetime) and "Rachael Ray." A slew of media including Rolling Stone, Seventeen.com, E! News Live, TV Guide, Premiere Radio and more also picked up on covering The Afters' earlier releases as well. Their latest album, Light Up the Sky (INO/Columbia Records), includes the No. 1 CHR hit of the same name.


[2022]
Jan. | Feb. | March | April | May | June | July | Aug. | Sept. | Oct. | Nov. | Dec.
[2021]
Jan. | Feb. | March | April | May | June | July | Aug. | Sept. | Oct. | Nov. | Dec.
[2001 - 2022]
Visit our complete MUSIC NEWS ARCHIVE