MULTIPLE AWARD WINNING GROUP DOWNHERE LAUNCHES "OUT AND ABOOT TOUR" IN MARCH
Award Winning Rock Band Rush Of Fools To Join Tour As Featured Guest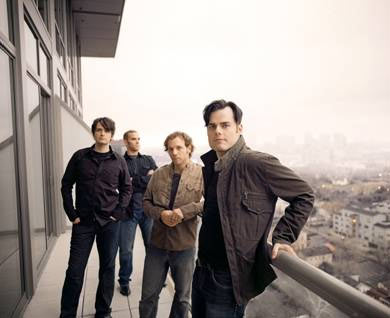 NEWS SOURCE: Bozeman Media
March 7, 2011
Nashville, TN (March 7, 2011) ----- Downhere, the Dove, Convenant and Juno award winning group, is scheduled to launch their first Out & Aboot Tour March 11, 2011. The 17-date tour begins in Alabama and concludes May 7th in Pennsylvania. Downhere also announced award-winning rock band, Rush Of Fools, as the featured guest for the tour.
"Last fall we hit the road with Rush Of Fools for the first time, "says Downhere's lead singer, Marc Martel. "From the moment they arrived at the first venue we played together, I sensed a rare, easy kinship in ministry and calling with them. Aside from their obvious talent, what impressed me most was their eagerness to help out, to serve, and to put on a well-crafted show no matter where we were. With this knowledge going into the Out & Aboot tour, I'm excited to band together with Rush Of Fools again and put on an even more unified concert. My hope is that everyone attending will sense that brotherhood we have, making the music and message we tell all the more inspiring. And in case you were wondering, Rush Of Fools is "Out", and Downhere is "Aboot." It's a North American thing.
Downhere is currently recording their highly anticipated new studio project that is scheduled for release on August 23, 2011. Mark Heimermann (Michael W. Smith, dcTalk) is once again at the production helm and recording is taking place at Dark Horse Studio and The Workshop. The new CD will feature all new original compositions from the band and weekly updates of the recording process are available for fans online at www.youtube.com or www.twitter.com/downhere. Their previous studio project received impressive reviews from such outlets as USA Today, Tennessean and DallasMusic.com and an appearance on Nashville's Fox 17 Tennessee Mornings.
Rush Of Fools is also in the studio recording their new album that is the first project with their new label, eOne Christian Music. The project features all new compositions from the band and other high-profile co-writers. Rush Of Fools is no stranger to high-profile success as their hit single, "Undo" from their debut self-titled album, reached the #1 position for an incredible 7 weeks. Their second CD, Wonder Of The World featured the hit single "Never Far Away" (with Jim Brickman) and brought mainstream recognition to the group through CNN.com, Daily Buzz, and WGN's Midday News.
About Downhere
During their illustrious eleven-year career, Downhere has garnered 11 Covenant Awards, 3 Juno Awards and a Dove Award for Modern Rock Recorded Song of the Year. Fans and radio continue to keep their singles at the top of the charts with "Here I Am" and "Hope Is Rising" peaking at #5 and #17 on the AC charts, while "My Last Amen" peaked at #5 on the CHR charts. All of the songs are from Downhere's previous project Ending Is Beginning that media heralded as their strongest studio album so far. While Downhere was songwriting for their new studio project, Centricity Music released Two At A Time that featured 9-B sides and 2 brand new songs, including their last single, "You're Not Alone." For more information on Downhere please visit their website, www.downhere.com or www.myspace.com/downhere.
####
Out & Aboot Tour Dates (tentative):
March 9 Pell City, AL
March 11 Thomasville, GA
March18 Bellville, GA
March 19 North Charleston, SC
April 1 Lynchburgh, VA
April 2 Wilmington, OH
April 7 Henning, TN
April 8 Knoxville, TN
April 9 Charlotte, NC
April 15 Wilmington, OH
April16 Palos Park, IL
April 27 Madison, WI
April 29 Grennville, IL
April 30 Gallant, AL
May 1 Louisville, KY
May 6 Hardyston, NJ
May 7 Quakerstown, PA
For more info on Downhere, visit the JFH Artists Database.


[2021]
Jan. | Feb. | March | April | May | June | July | Aug. | Sept. | Oct. | Nov. | Dec.
[2020]
Jan. | Feb. | March | April | May | June | July | Aug. | Sept. | Oct. | Nov. | Dec.
[2001 - 2020]
Visit our complete MUSIC NEWS ARCHIVE