Maranatha! Music Releases
Broken. Restored. Loved-CBC Live
from Josh Lopez
Available In Stores March 22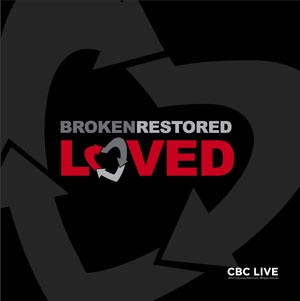 NEWS SOURCE: TKO Marketing
March 7, 2011
Los Angeles, CA, (March 7, 2011) – Maranatha! Music releases Broken Restored Loved - CBC Live from Josh Lopez available in stores March 22, 2010. Lopez recorded the 13-song album live from Community Bible Church (CBC) in San Antonio, Texas.
Lopez gained inspiration for the album through his own personal journey with God as he invites the listener to experience stories and songs of brokenness restored by God's love.
"God takes our broken life and makes something beautiful. He restores us to what our life was meant to be and continues to show us that we are loved when we receive His love." Lopez shares.
Broken Restored Loved features the CBC Choir and worship team and is produced by Ray Jones, Marius Perron and Lopez. Songwriters include Chris Tomlin, Phil Wickham and Lopez.
Maranatha! Music is a pioneer in praise and worship music resource publishing. Best known for the Praise Series, Praise Band Series, The Invitation CD and Top 25 Series; Maranatha! Music has sold more than 30 million records worldwide. For more information, visit www.maranathamusic.com.
Track Listing includes:
1. Nothing Is Impossible
2. Glory To The One
3. Rise And Sing
4. Our God
5. Because Of Your Love
6. God, You Are God
7. Great
8. Jesus
9. We The Redeemed
10. Jesus Come
11. Oh, The Blood
12. Te Alabo (I Will Praise You)
13. Loved
# # #


[2021]
Jan. | Feb. | March | April | May | June | July | Aug. | Sept. | Oct. | Nov. | Dec.
[2020]
Jan. | Feb. | March | April | May | June | July | Aug. | Sept. | Oct. | Nov. | Dec.
[2001 - 2020]
Visit our complete MUSIC NEWS ARCHIVE