BRITT NICOLE HEARD IN MAJOR MOTION PICTURE
SOUL SURFER IN THEATERS APRIL 8
Sparrow Records' Female Vocalist Garners Dove Nomination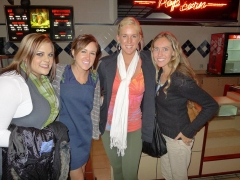 Caption: (From L to R) Hamilton's youth pastor Sarah Hill, Britt Nicole, Bethany Hamilton and Hamilton's sister-in-law Becky Hamilton at screening of Soul Surfer.
NEWS SOURCE: The M Collective
March 10, 2011
Nashville, TN…March 10, 2011…Sparrow Records' Britt Nicole can be heard in the upcoming major motion picture SOUL SURFER, starring AnnaSophia Robb and Helen Hunt, with Carrie Underwood in her film debut, and Dennis Quaid. Songs featured during the film include "Like a Star" from her sophomore album The Lost Get Found and "Set the World on Fire" from her freshman release Say It. TriStar Pictures releases SOUL SURFER in theaters nationwide on April 8th, 2011.
SOUL SURFER is the true story of competitive teen surfer Bethany Hamilton, who lost her arm in a shark attack and courageously overcame all odds to become a champion again, inspiring millions worldwide through her sheer determination and unwavering faith. To watch the full-length trailer, click here.
"Britt has really fun contemporary music with great lyrics," says Hamilton. "Her music fits the feel of the movie really well; I'm stoked to have it in SOUL SURFER!"
Britt also was recently nominated for "Female Vocalist of the Year" at this year's 42nd Annual GMA Dove Awards. The ceremony will be held on Wednesday, April 20, 2010 at the Fox Theatre in Atlanta, GA. The event will be televised nationwide on GMC, Easter Sunday, April 24, 2011 from 7-9p.m. EST.
"I am so honored and humbled to be nominated for 'Female Vocalist of the Year,' and with so many great artists," expresses Britt. "Thank you so much to everyone who voted, God is so faithful."
Currently, Britt is performing some fan favorites before thousands of teen girls on the Dream On Revolve Tour, alongside Group 1 Crew, Hawk Nelson, Jenna Lucado Bishop and more. For additional information please visit RevolveTour.com.
For more information on Britt Nicole, please go to www.brittnicole.com.
###
About Britt Nicole: Hailing from Salisbury NC, pop-rock artist Britt Nicole burst onto the Christian music scene in 2007 with her Sparrow Records debut, Say It. The finely crafted pop collection produced 3 Top 10 radio singles "You," "Set the World on Fire," and "Believe," while earning Britt a slot on "The Winter Jam 2007 Tour" and Superchick's spring 2008 "Cross The Line Tour." Her songs have been featured on LucasArt's Thrillville 2 video game, "Legally Blonde 3" DVD, MTV's "The Hills," NBC's The Biggest Loser and featured on the soundtrack for the family friendly film "Ice Castles." In addition, Britt's "Welcome to the Show" was heard on televisions across the country during ABC Family's "Campus Crush" promo, highlighting their TV shows series and original movies while "Like A Star" and "Set The World On Fire" can be heard in the upcoming major motion picture "Soul Surfer." The recent Dove Female Vocalist nominee's sophomore project, The Lost Get Found, (Aug. 11, 2009) produced by Robert Marvin (Mat Kearney, tobyMac) and Dan Muckala (Brandon Heath, Backstreet Boys), debuted at No. 1 on the Billboard Top Christian Albums chart, No. 62 on the Billboard 200, went straight to No. 1 on iTunes' Christian/Gospel Top Albums chart, and peaked in the Top 10 on iTunes Top 100 albums chart. The album's lead single, "The Lost Get Found," rocketed to No. 1 on the Radio & Records CHR chart, spending eight consecutive weeks in the top position while climbing to No. 1 on iTunes' Christian/Gospel Top Songs chart as well. For more information about Britt Nicole, please visit http://www.myspace.com/brittnicole, www.brittnicole.com, http://www.facebook.com/brittnicole and follow her on twitter @itsbrittnicole.
For more info on Britt Nicole, visit the JFH Artists Database.


[2021]
Jan. | Feb. | March | April | May | June | July | Aug. | Sept. | Oct. | Nov. | Dec.
[2020]
Jan. | Feb. | March | April | May | June | July | Aug. | Sept. | Oct. | Nov. | Dec.
[2001 - 2020]
Visit our complete MUSIC NEWS ARCHIVE