LARA LANDON EMERGES AS ONE OF CHRISTIAN MUSIC'S TOP INDIE ARTISTS TO WATCH
Singer-Songwriter Stays Busy with New Albums, Heavy Touring, a Feature Film Debut and a Non-Profit Organization Offering Relief Aid to Haiti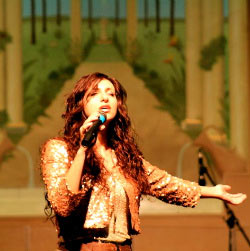 NEWS SOURCE: Nashville Publicity, a Jesusfreakhideout.com Report
March 10, 2011
(NASHVILLE, Tennessee) -- While singer-songwriter Lara Landon has not disclosed her New Year's resolutions, it's safe to say that taking it easy was not among them. While the music business continues to falter and even established artists are struggling to stay busy, Landon has managed to find one opportunity after another. As 2011 unfolds, Landon will be releasing two new albums, touring heavily and appearing on screen in her feature film debut.
Landon is currently on the road with her New Reality Tour, with stops in Arizona, Arkansas, California, Texas and Washington through March 28th. Landon spent much of 2010 on the road, including the Traveling Troubadours Tour (with Carolina Story and Joy Whitlock), Family Life Radio Tour and 20 dates in 22 days on the iLove Christmas Tour benefiting Save the Youth of America.
On the heels of the current tour is the spring release of the worship/electronica album New Frontiers from Club Dream Lab. Landon collaborated with DJ Magellan, co-writing and providing vocals for the project. The two had teamed up a few years back for DJ Magellan's Worship Revolutions album, which was a collection of popular modern worship songs remixed in a dance/ trance/euro style and performed by guest artists including Landon, Tammy Trent, Rachael Lampa, Krissy Nordhoff, B. Reith and others.
"Magellan and Lara had such a great experience doing that track together that when it came time for him to work on his project, Magellan's first thought was to ask Lara to be a part of it," says the project's producer Paul Buono. "She was such a perfect fit for the New Frontiers project. I love the emotionality of her voice and her creative expression. She brought a tremendous amount of energy and determined focus, which allowed us to push each other toward some new territory, hence the project's title. Lara truly believes everything she sings and you can hear that passion in her performances."
As if her music wasn't keeping her busy enough, Landon has embraced her first acting role as "Lauren" in the upcoming feature film Frontier Boys, which stars multi-platinum country artist Big Kenny (Big & Rich) and Christian music hit maker Rebecca St. James. For more information on the film, visit the official website at http://www.frontierboys.com/.
"This has been an amazing year of new opportunities and doors opening for me," says Landon. "It's really a dream come true and I'm trying my best to be a good steward of the opportunities I now have to share God's love through my music and through my non-profit work."
Landon emerged in 2009 with her debut album, Beloved, which was released by Whiplash Records/Bema Media and distributed by Provident-Integrity Distribution (SONY). Produced by GRAMMY® Award winning producer Michael Omartian (Christopher Cross, Amy Grant, Whitney Houston, Rod Stewart), the album received stellar reviews while drawing comparisons to groundbreaking mainstream artists like Sarah McLachlan, Imogen Heap and Tori Amos.
The radio single "Closer" caught the attention of radio programmers, spending five months on Billboard's Top 50 AC Chart, and the music videos for "Closer" and the title track received airplay nationwide, including rotation on major networks and video shows. Landon also appeared on numerous television programs in support of Beloved, and she was featured in seasonal promotional spots for GMC.
Following the earthquake in Haiti, Landon joined Michael W. Smith, Wynonna, Amy Grant, TobyMac and many others to record "Come Together Now," for which all the proceeds of the single and music video were used to benefit relief efforts in Haiti.
Her relationship with Haiti is much deeper than one single evening in a Nashville recording studio. Landon is the co-founder of New Reality International (NRI), a U.S. non-profit 501(c) 3 organization dedicated to helping those who are victims of extreme poverty, disease and injustice to access health care, shelter, basic human services and vocational training. Just two months prior to the devastating earthquake, Landon spent a few weeks in Haiti assisting in ongoing efforts there to bring medical aid to a country in desperate need. NRI continues to provide aid to the ongoing relief efforts.
For more information on Lara Landon, visit her official website at http://www.laralandon.com/, or on Facebook at http://www.facebook.com/laralandonmusic.
# # #


[2021]
Jan. | Feb. | March | April | May | June | July | Aug. | Sept. | Oct. | Nov. | Dec.
[2020]
Jan. | Feb. | March | April | May | June | July | Aug. | Sept. | Oct. | Nov. | Dec.
[2001 - 2020]
Visit our complete MUSIC NEWS ARCHIVE