INTRODUCING
Bright Light Parade
Featuring Sisters Lex And Torre Anderson
Bright Light Parade's Fanbase Continues To Grow, Thanks To Millions Of Views From YouTube Posts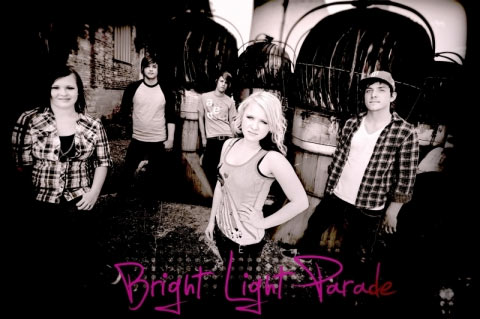 NEWS SOURCE: Vining Media
March 15, 2011
Nashville, TN - March 15, 2011 - VSR Music Group and EMI CMG Music Distribution are proud to announce the addition of Minneapolis-based band Bright Light Parade to their artist roster. Proclaiming a powerful message of purity and seeking the will of God in everyday life, Bright Light Parade is made up of sisters Lex (vocals, guitar) and Torre (bass, background vocals) Anderson. The group is obtaining a continually increasing fanbase, thanks to a steady tour schedule and millions of views from their YouTube posts.
Lex Anderson is well-known for her acoustic remakes of today's popular songs and sharing them on their YouTube page. Her cover of Owl City's "Fireflies" has over two million views.
The band's first single, "Right Now," is currently impacting at CHR radio, and as of today "Right Now" and their song "Smile" are both available on iTunes. The band is currently working on their EP during the release of these first two singles.
Their lyrics, which delve into the depths of teen and adult life through a Christian perspective, describe the ups and downs we all go through coming from the perspective of pursuing growth in following Christ.
"Bright Light Parade is one of the most exciting new bands I have seen in some time," states Ken Mary, President, VSR Music Group. "They have talent, chemistry, some great songs and the unbridled energy you see in a new band when you sense something big is going to happen!"
Although the band is still relatively new, along with their growing number of fans they have developed strong relationships with youth pastors across the country and are allied with both World Vision and World View Warriors. Bright Light Parade is also developing strongly as a touring band having played around the country at Christian clubs, colleges, retreats, camps, and festivals, including Sonshine and the main stage of Lifelight. Next on their touring schedule is performing on the Voices in the Night Tour this spring with VSR Music Group's very own Silverline along with Tooth and Nail recording artists I Am Empire.
"We love what we do," shares Lex Anderson. "We are just excited for this single to get out there and we hope that it will inspire and encourage young men and women to stand up and live their life for Christ. We are very blessed to be able to share our lives in Christ with each and every person, and hope they understand and realize that the dreams that God has set on their hearts He will fulfill."
For more information about Bright Light Parade, please visit BrightLightParade.com and VSR Music Group.


[2021]
Jan. | Feb. | March | April | May | June | July | Aug. | Sept. | Oct. | Nov. | Dec.
[2020]
Jan. | Feb. | March | April | May | June | July | Aug. | Sept. | Oct. | Nov. | Dec.
[2001 - 2020]
Visit our complete MUSIC NEWS ARCHIVE