DOMINIC BALLI RELEASES SOPHOMORE PROJECT, AMERICAN DREAM, JULY 26
Album Features Eclectic Mix of Reggae, Rock, and Hip Hop Sounds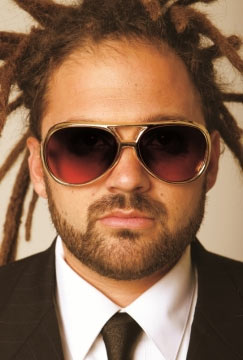 NEWS SOURCE: Savvy Media
April 26, 2011
(NASHVILLE, Tenn.) April 26, 2011--California native Dominic Balli releases his first new project in three years, a 12-song album titled American Dream, available July 26. True to his signature style, which Balli describes as "CaliRockReggae," the record features a unique blend of rock, pop, reggae, and hip hop sounds.
The long-awaited follow up to his 2008 debut Public Announcement, which landed among the Top 30 reggae albums at iTunes that year, American Dream is a continuation of what Balli does best. Written and co-produced by Balli with contributions by Sonny Sandoval of P.O.D., Jamie Moore (tobyMac, Mandisa), as well as Brazilian roots artist Nengo Vieira, among others, the album merges reggae-flavored vocal stylings and pop hooks wrapped in an undeniable groove.
"Art is an expression of who you are," Balli says. "I'm just a half Italian, quarter Greek kid from California, but somehow inside of me there's this little reggae dude just trying to get out. The most common comment I hear is, 'I don't even like reggae, but I love your stuff.' I love that because it means that my music has become accessible to fans that might otherwise totally shy away from anything even reminiscent of reggae."
Lyrically, the record is equally diverse. Stand-out track "Favela," featuring Nengo Vieira, is a commentary on the Shanty Towns ("Favelas") Balli encountered during his visits to Brazil, while "Twenty Seventeen" re-tells the story of 2 Chronicles 20. "Daisy's Song" is a tribute to Daisy Merrick, daughter of Balli's pastor Britt Merrick, who was recently diagnosed with cancer, while songs like "Take My Love" and "Again and Again" speak to issues of love relationships with God and others.
The debut single and title track from American Dream will vie for adds at Christian Hit Radio and Christian Rock radio beginning May 6. A music video for the song is also in the works; additional details are forthcoming. American Dream will be available via all digital music outlets and select physical retailers. For more information, visit www.dominicballi.com.
Stepping onto the music scene nearly six years ago, reggae-infused pop/rock artist Dominic Balli hails from Oxnard, Calif. With influences ranging from Stevie Wonder to Bob Marley to Lauryn Hill, Balli's music is a combination of pop-reggae melodies, gripping lyrics, and make-you-move grooves. His first independent release, Public Announcement (2008), sold more than 20,000 copies, landing Balli's debut effort among iTunes' Top 30 Reggae Albums in 2008. The project additionally produced a Top 30 Christian Hit Radio single with "All We Need Is Love" in 2010, while affording Balli the opportunity to perform alongside such top artists as Natasha Beddingfield, Jazon Mraz, Big Head Todd and the Monsters, George Clinton and the P-Funk, Ziggy Marley, Hawk Nelson, Lecrae, Phil Wickham, and Barlow Girl. For more information, visit www.dominicballi.com or follow Dominic on Twitter at twitter.com/dominicballi.
###


[2022]
Jan. | Feb. | March | April | May | June | July | Aug. | Sept. | Oct. | Nov. | Dec.
[2021]
Jan. | Feb. | March | April | May | June | July | Aug. | Sept. | Oct. | Nov. | Dec.
[2001 - 2021]
Visit our complete MUSIC NEWS ARCHIVE