THE GREAT TRANSPARENCY ANNOUNCES NEW EP, REBUILD YOUR LOVE, AND RADIO SINGLE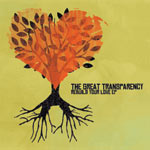 NEWS SOURCE: Razzbarry Records
April 26, 2011
Power Pop Rock band The Great Transparency (Razzbarry) is happy to announce the upcoming release of their new EP Rebuild Your Love for this Spring. The title track from the EP will be releasing to national radio this Friday, April 29.
Through the release of their EP Rebuild Your Love, Columbus, Ohio's own The Great Transparency seeks out those who understand that this world needs a redefinition of love. Singer Miah Wagner says, "The kind of love that this world clings to in today's culture is what is portrayed in movies, magazines, love songs on the radio, etc. It's fiction, and it will fade away when stacked up against eternity. This world needs to know what true love is, as there is hope. People need to be brave enough to share love and to live it out loud."
Love. This word is universally used more than any other. It describes a powerful force that affects us all. The meaning, however, is losing its power as the frivolousness of the word grows. With all the violence, stress, and frustration that surround our world, there are only two options left: give up on love, or set out to make it stronger-rebuild it.
"Rebuild Your Love" is already gaining attention from stations such as The Effect, M88 and Christianrock.net. Though the upcoming radio release date is not until Friday, April 29, there is an exclusive listening party for the entire EP at Jesusfreakhideout.com for previewing and pre-ordering.
ABOUT THE GREAT TRANSPARENCY
The Great Transparency (Columbus, Ohio) consists of band members Jeremiah Wagner, Tommy Clingan, Jameson Leasure, and Marshall Wilver. The band has toured the country while both independently selling over 2,000 copies of their last EP, If Worse Comes To Worst, and eagerly anticipating the release of their new EP, Rebuild Your Love.
ABOUT RAZZBARRY RECORDS
Razzbarry Records (Jacksonville, Florida) is an independent label and management company founded by Barry Blaze in 2007. Their current roster includes The Great Transparency, Code of Ethics and Blaze's solo worship venture as Barry Blaze.


[2022]
Jan. | Feb. | March | April | May | June | July | Aug. | Sept. | Oct. | Nov. | Dec.
[2021]
Jan. | Feb. | March | April | May | June | July | Aug. | Sept. | Oct. | Nov. | Dec.
[2001 - 2022]
Visit our complete MUSIC NEWS ARCHIVE